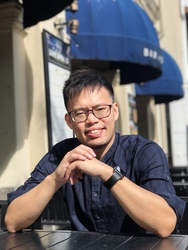 Life Coach, Leadership Coach, Career Coach
Certified Professional Coach, Certified Life Coach
I help working Millennials gain clarity, make bold decisions to achieve greater fulfilment.
About Me
*You seem to be doing everything except what you're meant to really do
*You have goals and ambitions that you want to achieve in your business/career and life, but you're not confident
*You overthink and end up doing 'nothing' which makes you feel 10x worse
*You're frustrated with the minimal progress you've made after so long
Success and fulfilment is not always about doing the right things. It's about making bold decisions.
Decisions that puts you outside your comfort zone, decisions that might not necessary be popular among your peers and families even. Often, it's a decision that you know you have to make but fearful to do so.
​It's easy to get lost in the realm of information, overthinking, paralysis analysis when we're doing it all on our own. The first thing we need when making a bold decision is support.
How did I know? Because that was me.
Stakes are high, odds may not be in your favor, some sacrifice may be required of you.
My role as your coach is to walk with you through the valley of uncertainty, doubts & fear, helping you stay on course so you will prevail.
Having a Bold Mindset requires you to shift the beliefs & perspectives that may be holding you back, uncovering your zone of genius & working on a strategy week in week out.
Fulfilment lies beyond the valley of bold decisions.
Get in touch and start learning how you can develop a bold mindest and achieve greater fulfilment.
Reviews
2 reviews (5.0)
Tony demonstrated critical skills, knowledge and abilities that will make him a valuable employee to any organisation. I am often inspired by his professionalism and admirable personal qualities. I wholeheartedly recommend Tony.

Ida
I was stuck at a mid-life professional crossroads. To continue at my current job, to explore going solo, but also to prepare myself for a third potential route of leaving my current company and joining another. The sessions with Tony were the catalyst I needed to unlock hidden values of what makes me fulfilled, and uncover some limiting beliefs that I wasn't aware of and needed addressing. From there, Tony helped me piece back together an emotional shift, a coherent actionable plan that empowers me to make the right decisions on firm foundations for my happiness and success. I would recommend coaching sessions with Tony if you are looking to find your own clarity of mind and move forward to a more fulfilling place.

Stewart