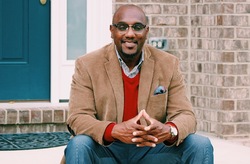 Life Coach, Leadership Coach, Relationship Coach
If you are tired of doing the same thing and wonder why you keep doing the same thing. Welcome! We eliminate the symptoms by getting to the root of the issue. You receive, true liberation! Ready?!?!
About Me
I'm Ularc Redfern, dedicated life coach and mindset mentor with Seed B4 Seeing. Working closely and collaboratively with my clients and using a proven training method customized for specific issues and changes—I help my clients make their life goals a reality.
We reframe norms, thoughts, and behaviors to fuel desired results. I work with clients of all ages with many different challenges through an effective, holistic approach and address the root causes of what holds them back—not just the symptoms of their limitations. Together we are able to release the chains of limiting beliefs and replace them with actionable solutions. We foster true and complete healing and replace hurt with hope and achievement. In an environment of authenticity, acceptance, and trust—my clients feel safe and empowered to build their best lives. We bring mind, body, and soul to a healthy, positive place where change and improvement thrive. Seed B4 Seeing serves as your partner in life transformation.
Reviews
2 reviews (5.0)
Ularc is a great person. His goal was definitely trying to provide me with the tools I needed for a better mindset to accomplish whatever I wanted. While going through the TIR course, I discovered I was definitely on track and had a lot of the mindset pieces to be successful. I was already aware of that. I wondered what I was missing to take it to the next level. Ularc and his course helped better understand what I was missing and how I needed to better align myself with my goals. Ularc was very flexible with trying to work with my schedule and offer feedback from questions I had about the course as I was going through lessons. There were times we had to reschedule and was willing to do it. Ularc talking with me about the lessons and seeing how they were applicable in life helped put missing pieces to better my success. Getting to know yourself may seem like an easy task. You may already be conscious about all of your strengths and weaknesses. Looking at them from another perspective can either help or validate your self awareness. Ularc is a great, relatable coach and has a resolve to see you succeed in life. I would recommend Ularc to help you out.

Cordell K.
Ularc has a great Coaching program. The material is very well written and easy to understand. He makes sure you have everything you need to gain benefit from all the exercises included. His coaching has helped me gain clarity on what is really important to me and identify what my top priorities really are. Using those insights as guidelines, I've made several very positive changes in my life. If you are ready to embark on a journey of self discovery and personal growth, having Ularc as your coach will help you discover and create a life you love.

Bonnie S.