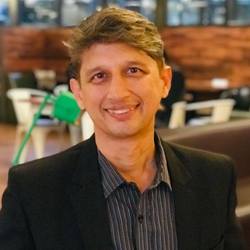 Vaibhav Datar

Mumbai, Maharashtra
Life Coach, Career Coach, Relationship Coach
Certified Coach, 300+ clients, International client base
I work with high energy, powerful and ambitious women in their mid life, who want to make a mark in the world. I support them in building loving relationship with partners
Details

Mumbai, Maharashtra
Send Message
Hourly Rate: $70 to $130 US Dollars
Gender: Male
About Me
Managing your relationship with partner can be a huge headache…
For one thing, you have to not only take up responsibility of your own life, but also motivate your partner to do well.
You also have to work on your professional front and even handle the emotional issues that crop up because your partner does not own up his share of responsibility.
Plus, there's the challenge of managing mood swings and unscathing attacks on your ego.
As a result, managing relationship with partner turns out to be a huge challenge, where sometimes, you just want to walk away.
Fortunately, there's a better way…
I am certified LIFE coach and a published author of two books. The biggest turning points in my life have been my father's death coupled with me starting my new business, with no sales background. It has been tough then to make ends meet but I have learnt it the hard way. Today, I have taken the knowledge gained from my experiences and created tools to help my clients live their dreams and win at life despite adversity and challenges. My process includes experiential learning techniques combined with Graphology, Hypnosis and meditation.
I offer a free 45 minute consultation, give me a call today to get started.And we'll also create a life book for your future, focusing on what you want from life and how to get it.And I will be your accountability coach, so that you remain focused on what you wish to achieve.
As a coach, I will be with you in your tough as well as happy times, identify and take you closer to your goals, look at the actions you need to take and make you more accountable towards your goals, be a patient listener and problem solver.
Understanding and changing your mindsets, helps you create a modified set to attract new possibilities into your life. You will also drop energy draining activities and focus on energy gaining activities.
Moreover, you will suddenly become aware of yourself, have a deeper understanding of life, career and relationships.
Reviews
10 reviews (1 verified) (4.6)
Didn't even connect.

Raj
Ah! So many a-ha moments for me. These sessions have been a set of realizations. I discovered so many beautiful things about myself. Thank to Vaibhav's coaching, I am a completely changed person now looking at life through happiness spectacles only Thank you

Sameera, VP, MNC Bank, Mumbai
Dear Vaibhav, Thank you so very much. You have showed me what happiness really is. I had never bothered to look at this aspect of my life. I was always so deeply entrenched into my work, my challenges and my sorrows. Thanks for showing me the way.

Satish R, CIO MNC IT Company
It was a great pleasure to get introduced to Vaibhav. Not only was I more comfortable in the coaching sessions, discussing the problems but was really surprised how curiously he was listening to them. It was just the 2nd session and I was looking at my life very positively. He made me reach the core of how exactly I got lost and turned to the wrong path through curious questioning. Very passionate about people and helping them, he showed me all the possibilities of turning my life around. The art of being grateful in life, being enough and helping me realize that I am the source of joy and happiness of my life.

Sumant Velhal, Sales and Marketing Consultant
It has opened up my mind to a broader perspective.

Smita C, Business Owner, Ecosacs
After the coaching sessions with Vaibhav there are changed no the personal n work front. Got more focused n learnt to manage the time better n even achieve targets.

Barkha G, Director, Nirmiti - The Construction People
Positive attitude. Refocus on Meditation. Banishing negative thoughts. More calmer. More better with family. Inspiring to others.

Gaurav Manjrekar, CIO & HR Head www.activitas.in
First of all I would like to say thank you for being such a motivator and friendly guide! I feel so much more confident and enthusiastic in facing my life issues after our sessions. I used to be very doubtful about myself and my career choices, and wanted to just quit on everything. But after our sessions I started believing in myself and gained a more positive attitude towards my life. So Thank you for that!

Anang, Creative Head
Being introduced to Vaibhav was a gift. He helped me to see myself in a new light. I learnt to work on my stress. He is very simple and easy to communicate with. With him every problem has a solution. The lessons I have learnt from him will always help me in future. I am forever thankful to you and I know I can always turn to you for help.

Clare, Business Woman
It was an awesome experience meeting and opening up with a person who is more of a friend than a coach. A friend who not only guides you to think positive but helps you to face the problems , from a different perspective so that you get a confidence to solve it.

Ridima, IT Professional, Mumbai
The Smart Way To Find A Coach

1 Describe Your Goals

2 Get Matched

3 Free Consultations
Find My Ideal Coach Now