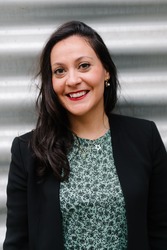 Valentina Squitieri

Basel-City, Canton of Basel-City
Life Coach, Career Coach, Leadership Coach
I coach entrepreneurs and people in professional career who feel lack of fullfillment and direction. I help them raise self-awareness and confidence becoming empowered human beings with a clear vision
About Me
Hello! My name is Valentina Squitieri and I'm a trained Life Coaching Professional.
The coaching model I apply is based on the Co-Active model founded by the Coaches Training Institute (CTI), one of the oldest and most well established international coaching training.
As human beings we are all naturally creative, resourceful and we all possess the capacity for knowing what is best for ourselves. Through the journey of our lives we encounter conditioning at multiple levels which may let us feel disconnected from the path to our true self or the life we are really meant to live.
As a trained Co-Active Coach I will use my authentic being, my listening skills and encouragement, to uncover the best in you and help you feel connected to your purpose in life.
Co-Active coaching is not just about setting goals and achieve them, it is a transformation path at individual level.
I founded The Nomad Coach to inspire and empower other human beings by sharing the tools that can drive them to self-discovery, self-awareness and transformation to move forward into their life.
If you know who you are at a deeper level and what you stand for (values, purpose, strengths, etc.) you become an empowered individual that can live life in a fulfilled manner and rock any obstacle on the way to achieve your dreams!
I'm Italian and temporarily based in Switzerland. Painter, Coach and Senior Manager in the pharmaceutical industry. I'm an open minded, positive and energizing human being. I love traveling, art, nature and connection with other humans. My favorite place in the world is the world itself! And whenever I can I travel somewhere.
One of the most beautiful things I enjoy doing is to talk to people…in shops, on the street, on a beach, in café, anywhere I feel thrilled to explore others, with all their stories, doubts, thoughts, fears, wishes, dreams. An explosion of colors could be the material translation of the happiness I may feel when connection happens!
Reviews
3 reviews (5.0)
Before starting coaching I felt the need for some guidance and was intrigued about coaching to open myself up to new ideas and approaches to my private life, work, interests and potential changes. Through coaching sessions I found peace and more calm, I take time to seek out new interests and putting these into my daily life. I now meditate daily, first thing in the morning. These changes and improvements help me in every aspect of my life work, family, relationships. I like working with Valentina immensely. She is very considered and calm, approachable and knowledgeable. She quickly gained my trust , immediately understanding my goals perhaps even before I did. Her working methods are interesting and intriguing often gently pushing you to think outside of the box. I would definitely recommend Valentina to others - any one wishing to explore any aspect of their life and seek calmness and clarity.

Genevieve
Valentina is a very professional and knowledgeable coach with a lot of empathy which makes it easy to also discuss delicate topics with her and for which she always has a good recommendation. I would very much recommend her as a coach.

MC
I like Valentina lots. I am glad I met her. She is my coach, my friend, and somebody that understands life force really well. I share her lots of my personal stories, and those great moments and being vulnerable in front of her just because of our connection, and trust I have for her.

Hok Sovanvotey