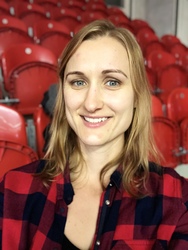 Valeriya Berezhynska

Houston, Texas
Life Coach, Health and Fitness Coach
Welcome to Mindset Training Camp, I help people to break the cycle of same thoughts - same feelings - same behaviors - same results.
Details

Houston, Texas 77079
2816248417
Send Message
Hourly Rate: $75 to $100 US Dollars
Gender: Female
About Me
Hey, my name is Valeriya (Val).
Being a professional athlete I know first hand that your mindset is the X-factor, not your environment. The beautiful thing about this concept is that your mindset is fully within your control. You are the creator of your inner world and when you don't like an aspect of it, it's entirely up to you to recreate it.

Breaking the cycle of same thoughts - same feelings - same behaviors - same results happens by learning to understand yourself through challenging your thoughts, beliefs and habits.
Coaching Philosophy:
What we do, how we think and feel are all products of what we believe about ourselves and the world on a subconscious level. Your life/experience is a reflection of what's going on inside your head. Resolutions, affirmations and diets don't work because they attempt to change the symptom, not the root cause. Repeating that you're confident won't make you confident, decimating the belief that created your lack of confidence will.
I aim to provide my clients with enough knowledge and tools to be able to eventually apply them without outside help. You will understand not only what works, but also why it is working. The only pre-requisite is that you accept full responsibility for yourself and the work laid out before you.
Credentials:
BA in Psychology [Rice University]
MA in I/O Psychology [Touro University Worldwide, June 2020]
Professional Life Coach Training [iPec, ICF accredited]
Cognitive Behavioral Therapy [Achology]
Professional Athlete 12+ years
Reviews
Valeriya is a brilliant coach whose compassion, understanding and patience with me gave me the advantage I needed to become successful in my media business . Her empowering support and ability to ask thought provoking questions displays her mastery of the coaching profession. Through her mentoring and positive support I was able to develop an action plan and follow through with it. She empowered me to believe that I can accomplish whatever dream I choose for myself when I make up my mind and follow through.

Sasha E