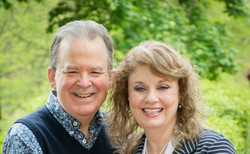 Dr Jeep and Vanessa Naum

Wheeling, West Virginia
Relationship Coach, Life Coach
BS, MBA, D.O.
Is your marriage/relationship in a rut? Whether it's help with communication, reconnection, or sex; with our Clarity to Connection program, you can have the relationship of your dreams!
About Me
We are Dr. Jeep and Vanessa, Co-Founders of Best Friends Again, LLC, and our goal is to reignite connection in marriages/relationships.
Our approach is customized to your given situation, whether you need to reignite your passion, rediscover your love for each other, or simply reopen the lines of communication. We help those with busy schedules, most notably health care professionals because we understand that life gets in the way of our relationships.
Dr. Jeep, has been a physician for nearly 30 years and a couples coach for over 25 years with his wife, Vanessa, an MBA and highly qualified sex and relationship coach. The team brings a wealth of knowledge and insights to share, drawn from their own vast reservoir of distinctive experiences. Vanessa provides an insight into somatic sex coaching not often seen in marriage/relationship coaching.
Dr. Jeep is the author of What's Forever For? A Physician's Guide for Everlasting Love and Success in Marriage. Together, the Naum Team is featured on many online podcasts and are regular contributors to Physician Outlook Magazine and NewScript - a physician coaching platform.
Reviews
4 reviews (5.0)
I have had a unique opportunity to witness the genius and caring combination that is Jeep and Vanessa. They have a genuine approach to their coaching that creates a comfort with their clientele, and provides a safe haven for sharing and growth. I would highly recommend this team to anyone looking to rekindle a spark, improve communication, or simply find a new dedication to your future!

Russ
Dr. Jeep and Vanessa are genuine, caring and compassionate. They are truly concerned about you and your relationships issues. They have a solid foundation in their own relationship to be able to work with you through your difficulties.

Anonymous
Dr. Naum's magic is in the warmth and kindness of his heart and the level of care and concern he has for each client. We found relief through his words and wisdom. Our marriage is back on track!

Rebecca and David
Vanessa partners with you as a cherished friend: her expertise and hard-earned life wisdom are shared with humor, humility and empathy. As a coach she is just as devoted to mirroring what she sees happening in you as she is to teaching you new skills: this is invaluable because often that mirroring is insight you never would have gained on your own. If you want someone who genuinely cares about you and your relationship, continually adds to her knowledge base and skill set through new training, and has lived through the day to day ups and downs of what it means to maintain heartfelt intimacy in a long term relationship through many life challenges, you are in good hands with Vanessa.

Amy