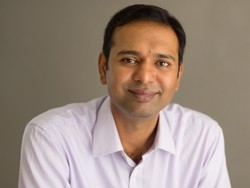 Veda Vyas

Hyderabad, Andhra Pradesh
Leadership Coach, Relationship Coach, Spirituality Coach
Professional Core Life Coach, Nuclear Scientist, Meditation Expert (Brahma Kumaris), Certified Enneagram Professional
Unlocks our true potential by converting all painful emotions into strengths. Work on core beliefs helps in personal, professional and business development for uncompromised balance. Creating Destiny.
About Me
Brief Profile
Veda Vyas is a Life Coach with a passion for creating tangible transformation for each and every client in shortest possible time. He is a unique combination of a Scientist & Spiritualist, constantly creating unique coaching methods synergizing eastern and western concepts and practices of applied spirituality, philosophy & psychology. Helping clients transform & reinvent life just like that.
Started his career as a scientist at BARC a nuclear research center. During this period he was associated with Brahma Kumaris Organisation, first as a spiritual student and later as faculty. He conducted meditation programs for scientists & their families for about 9 years. Later conducting training programs and lectures for scientists, engineers, and managers in research centers, industry, corporate, and educational institutions traveling all over India as part of Scientists & Engineers Wing of Brahma Kumaris. He has wide exposure to various spiritual practices like Isha, Vipasanna, Reiki, Radical forgiveness, etc.
During his practice as Life Coach, he observed that stress is a weakness/blind spot, a meaningful belief conflicting with personal reality. When this belief is aligned with reality, it becomes strength working for clients instead of draining time, energy, health, and performance. He uses innovative custom guided meditation methods he has developed to transform difficult stress into strength in a matter of few hours getting results for clients.
He has a Masters degree in Philosophy (Osmania University) and Bachelors in Engineering(Mech.) from Osmania University College of Engineering, Hyderabad. Certified Enneagram Professional. Has 15 years experience in Personal Development and over 4 years as a professional Life Coach & Healer. Proud member of BNI Hyderabad helping entrepreneurs achieve their dreams. Volunteers as a panel life coach at Global Action on Poverty.
Facebook page: zestinlifecoaching
Instagram: zestinlifein
Reviews
7 reviews (2 verified) (4.86)
To achieve my goal of enriching relationships both at personal and professional dimension, the technique adopted by Veda was bang on. The realisation was brought in subtly but with a lot of internalisation. It is something very tough to go about and I am quite pleased with the results. Veda is a very good coach, patient listener and gets to the point in a way that is aligned to the result. the goal is then on auto mode to achievement. Coaching has helped me look at pain areas with a different dimension and how to overcome them. Veda coached me into a perspective which was missing and implementing it in day today life. Coaching has helped me become more assertive without being confrontational. Simple tweaks in approach has enabled a positive change in my outlook and relationships.

Tanya Mukherjee
I took L'amuri life coaching from Veda to deal with challenges I was facing at work place dealing with aggressive senior leaders in high visibility company projects. Earlier, I was unable to handle stressful situations when leaders become demanding (which happened quite often). After taking few sessions, I began to see my own incorrect judgements were leading me to feel stressed. Afterwards, Veda helped me understand different personality types and how to tactically switch my communication style based on others personality type. This was of immense value to me since it helped me generate goodwill in general with my colleagues since earlier I was driven by own personality style of being too detail oriented. I now feel that I am now in control of my own negative feelings in almost any life situation. In addition, Veda combined his coaching with Indian spirituality based on my current beliefs, which helped me become much stronger as a leader at my work. With his coaching, I have become an assertive speaker and able to handle a variety of business contexts. Therefore, I would highly recommend Veda Vyas's life coaching to anyone who is dealing with anxiety, stressful situations at work or in personal life!

Rajeev
I met Mr. Veda Vyas when he contacted me for drawing up content for his website. After the initial discussions, we both felt that the writing, to be true to his coaching, should be based on experience. So, I went through a Heal Your Heart session. The first thing that I noticed was that he gets to the core of the challenge lightning fast. The session helped me overcome a sense of deep personal loss and the grief that encompassed me. I had suffered the grief for close to 7 years. However, after the session, the grief disappeared. The pain disappeared freeing me. That's a tremendous improvement. I would like to thank Mr. Veda Vyas for the support. I happen to be an ardent follower of Isha. So, when I felt that I should go through the session, I wondered if the session would be in line with my Isha practices. But my dedication to my writing prevailed and I went ahead with the coaching session. Today, I can gladly say that the session helped me in every way and I continue with my Isha practices as usual.

Surya Prabha Vallae, Content Writer, Lotus Tech
I had a challenging situation at work and was spending a lot of time at work and was unable to give enough time to my family. When my fellow BNI members spoke highly of Veda Vyas's coaching programme, I decided that I should take his help. And what followed was amazing. My challenges at work not only vanished but I also started devoting enough time to my family. My family and my staff at work, both feel the change and life is a stress-free and I feel more at peace.

Nilesh Jain, Jai Rajendra Jewel Palace
When I started with VedaVyas Garu, I did not know that there is a big change is gonna happen after 2 hours. I spoke to him during my first meet regarding the blockages which I was going through for some time last few weeks. I had few areas which were troubling for quite a some time which I always felt that roadblocks are part of me cannot be healed at any course of time and I had to live with them all through but at end of the session felt that the issues which I was dealing not big a deal and doesn't matter to me at all. I have an overwhelming feeling of peace and calm and a solid feeling where I should be. I have found a new in-built energy which became my strength that is giving me everything that is important to me and I would not have been able to do it without VedaVyas Garu. I cannot thank VedaVyas Garu enough for the wonderful insight, and the support and encouragement. I am embarking on a new part of my life and I am so excited! Instead of a mid-life unravelling, I feel like a door has been opened to the most exciting part of my life - I can't wait! Thank you, Thank you,

Shilpa Jeedigunta, Neo-Hire Services, Hyderabad
I had an amazing life coach session with Veda Vyas... It was truly liberating ... I finally rediscovered my inner Joy which felt lost for so long! My muscles feel more relaxed and I'm excited about more inner transformations. So much clarity was experienced through the sessions... Amazing how we hold the answers to all our concerns but just need to be asked the right questions to find them! A must for all who want to feel Free!

Janita Hargoven, Meditation Teacher, Harare, Zimbabwe
Veda Vyas is a natural coach and a mentor. He coached me over the past 5 years on all aspects of my life – career, personal issues, personal growth and spiritual progress. Though he is young, he brings immense maturity and patience to each conversation. My life has transformed after he introduced me to 'conversation as meditation' method. His approach is practical and very doable. That's what makes him a real Life coach.

Deepti Panuganti, Head HR & Academics, K12 Techno Services, Mumbai (IIM alumni)