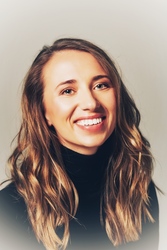 Vero Shalimo

New York, New York
Life Coach, Entrepreneurship Coach
NLP with Neuroscience Program
I help millennial entrepreneurs with anxiety, negative thinking, and low self-confidence issues. My signature program will help you develop unshakable confidence and mindset for success.
About Me
Do you self-sabotage and procrastinate on your personal and business goals, and most importantly, you don't know why?
Are you feeling socially anxious and dependant on the positive judgment of others?
Do you feel like you are holding yourself back due to fear and self-doubt?
If you don't understand what is holding you back, you will never be able to move forward. To change your life, you need to seek out what is stopping you. This is where I come in.
My signature coaching program helps Millennial Entrepreneurs solve self-confidence issues. You start feeling and thinking small, powerless and fearful, and by the time you finished all the steps, you will think and feel confident, in control of your life, happy and courageous.
It will guide you through actionable material on developing unshakable confidence and mindset for success. After completing the coaching program will be ready to:
- Practice confidence on command
- Silence negative self-talk
- Be more decisive, assertive and ask for what you want
- Banish your fears, social anxiety, and insecurities
- End the excuses, comparison to others and self-doubt
- Communicate with authority and conviction
- Believe in yourself and feel fabulous at whatever you do
- Dig out the roots of failure and procrastination
In the decade before becoming a certified Transformational Life Coach and NLP Practitioner, I was hard at work transforming my own life and growing a couple of successful businesses. One of them received a nomination as the best Escape Room Company of 2017 in the USA.
I know what it takes to get where you want to be, and I learned a few shortcuts I can share!
I may be excellent at what I do, but I'm not for everyone. I'm going to ask lots of questions, get straight to grips with your situation so I can figure out if I'm the right person to help you move forward.
I would love to connect with you and discuss how we can work together.
So let's set up a time to meet and talk things through.
Reviews
4 reviews (5.0)
Coaching with Vero helped me immensely. Specifically, she helped me discover my own strategies and solutions by asking really useful questions. We explored beliefs that weren't serving me and were holding me back and explored where they'd come from, as well as more empowering beliefs I could replace them with. Due to her own experience and personal development, she was very professional, built a good rapport and I had a genuine sense that she wanted me to achieve my goals. If you're looking for someone to help you transform your thinking, get a better understanding of yourself and how you can achieve your goals and someone to help hold you to account, then get in touch with Vero.

Regina Minchuk
Its difficult to put in words and convey just how profound my experience of working with Vero has been in the last few years. She has shifted my perspective on my inner self and the world around me in magnitude and speed I havent felt before and simply put, I now see a clear line between my life before and after meeting her. She helped me see my true talent, understand my strengths and develop a meaningful sense of deep confidence, which has changed just about everything in my professional and personal life. My work with her has been, for a lack of a better description, an upgrade from the passenger to the driver seat of life.

Niko Seizov
I was fortunate to meet Vero during a very difficult time in life. Various counsellors understood my feelings but constantly encouraged past reflection and this wasn't what I needed. Vero helped reshape thought patterns to help get through the week and get what I needed to get done done. In doing so, I have learnt skills I will carry for life. 

John Monok
I always lacked confidence and it was hard for me to start a conversation first and not to feel socially awkward. I was always looking for excuses to stay in my comfort zone. But at some point, I realized that I need to do something with this because it was affecting my personal and professional lives. After working with Vero I found the real cause of my anxieties and confidence blocks, learned how to navigate my fears and gain confidence, cleared my goals and created the action plan. After each session I was experiencing deep changes Ive never thought can be possible. As a result, even my husband noticed my transformation and I finally decided to change my job. Thank you Vero, you helped me to change my mindset so fast and in such amazing way that my life will never be the same.

Anastasiya Pisarevskaya