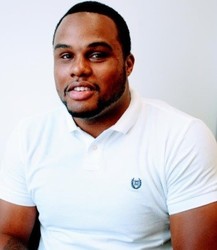 Wafeeq Amin

Richmond, Virginia
Life Coach, Family Coach
Certified youth, parent, and family coach. Certified professional life coach.
Successful strategies,focus and fortitude, generates goals! This is the premise of a purpose filled lifestyle. Lets collectively develop a game plan that fits your personal or professional needs.
Details

Richmond, Virginia 23237
9106700746
Send Message
Gender: Male
About Me
Growing up in a poverty-stricken community taught me valuable life lessons that propelled me to a keen understanding of life. The development of my interpersonal skills gave me the ability to adjust to adversity, sidestep setbacks, and overcome obstacles at a high level.
With my interpersonal skills in place, but still lacking the experience and education piece of my development.I decided to pursue a career in the human services field.I was able to accumulate a great deal of specializing training, but ultimately still felt uninspired.The need for change on a personal and professional level was consuming my day-to-day process.
I started researching the internet for hours looking for a new career. I came across a training course for life coaching and instantly felt inspired. That day, I understood my passion and purpose in this world. After completing the necessary training.I became a certified life coach through the life coaching Institute of Orange County. I've also became certified as a youth, parent and family coach and professional life coach through the World coach Institute.
My primary goal is to provide exceptional services that inspire,motivate, and stimulate people's lives to their fullest potential.I strive to accomplish this with heartfelt personal engagements, while utilizing my authentic business practices.
Reviews
2 reviews (5.0)
Wafeeq is thorough and thoughtful in session. He does well with assessing client needs and making sure he understands their objective through active listening and clear communication.

Shanirah Sweeper
The entire experience was extremely positive. I liked how Wafeeq first set up the process. He informed us how the entire session would go. He allowed each individual to be heard and he stayed clear of taking a side....his ability to be able to have everyone see their contributions to making some situations toxic, without saying a word, is genius. I enjoyed the session. And look forward to the next!

Letetia Thompson