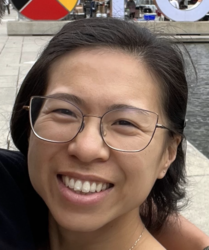 Whitney Chew

Redwood City, California
Performance Coach, Career Coach, Life Coach
Board Certified Internal Medicine Physician
I coach driven folks who are conventionally successful (MD, JD, C suite, finance, tech) but aren't happy. They want to create an enjoyable life around their job, start a side hustle, or change careers
Details

Redwood City, California 94061

4086875028 (text me to set up a phone call)

Send Message
Visit Website
Hourly Rate: $200 to $300 US Dollars
Gender: Female
About Me
If you're like me, you were promised that life would be perfect once you became a doctor, lawyer, engineer, finance, C suite, etc. Just work really hard in your 20s-30s, and then life will be set.
But once you reached that goal (board certified internal medicine physician, for me), you realized, this isn't what you thought it would be. You spend way too much time working at a job that doesn't give you the sense of impact, purpose, and freedom you really crave. You keep chugging along because everyone around you (parents, friends, society) tells you that you've made it- you should be happy!
And yet, you have a gnawing, unsettled feeling that eats at you, asking you, "Is this really it? I thought that this is what I had wanted, but why aren't I happy? Is this what the rest of my life will be like?"
After I burned out from residency training during the pandemic, I realized that I didn't have to continue on this path. With the help of powerful coaching, I made the decision to leave medicine forever and pursue my passion of coaching full time.
And I want the same for you- the curiosity to explore what's possible, the clarity to figure out what's right for you, and the courage to make that a reality.
You have proven that you have the discipline, motivation, and skills to succeed. You just need a thinking partner to help you discover and pursue the goals that are most aligned with your values and dream lifestyle.
As your coach, I focus on identifying core values, challenging thinking traps, and creating mindset shifts to help you live a life that is true to the highest version of yourself.
Right now, you have a default future that will occur if life doesn't change. If that default future isn't what you want, my goal as a coach is to help you change that trajectory by converting your dreams into a project that we manage together.
If any of this resonates with you, please don't hesitate to reach out! Let's connect for a chat! I'd love to hear more about you.
Reviews
3 reviews (5.0)
My experience with Whitney has been phenomenal! She has a passion to help others that I can feel every time Im on a coaching call with her. Her coaching really helped me to change my view on my professional life. I was closed off to some ideas and with her help I ended up changing my career path in an unexpected direction! Im really looking forward to these nexts steps in my career. She helped me to realize the values I hold and what jobs really align with that and get out of my own way with my limiting thoughts around them. Im grateful for my time with her and cant wait to see where these next career steps will take me! She has been so helpful for me to help lead me to my own accountability and how to show up for myself. Thanks Whitney!!

Sara Modlin-Tucker D.O.
The authentic, thoughtful, and caring space that Whitney provides is a kickstarter for self-compassion and empowered action. Through our sessions I have felt a consistent sense of trust, and with her deep listening and insightful questions I have made tangible progress in improving my work and relationships. I started working with her during a time when I was particularly stressed, and I have continually felt seen while also encouraged to see new possibilities inspired by my values.

Greg Gianopoulos
Whitney is an incredibly intuitive and empathetic coach! Through our sessions together, we have worked on managing my time, setting achievable goals, and prioritizing my responsibilities. She gave me the tools and encouragement I needed to take charge of my life and make the necessary changes that have led to a healthier and more fulfilling life. What I appreciate most about Whitney is her genuine passion for helping people. She truly cares about her clients and goes above and beyond to ensure they reach their fullest potential. I highly recommend her to anyone looking to achieve balance, fulfillment, and success in their life!

Arna S