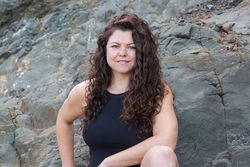 Whitney Kaminsky

Henderson, Nevada
Life Coach, Health and Fitness Coach
NASM
I work with folks who are stuck and need guidance moving forward. I predominantly work with women looking to lose weight, build confidence, & who want to recreate the vision they have for themselves.
About Me
I'm a life coach and personal trainer driven to guide people out of their ruts in order to experience a life that's more fully expressed and overall delicious. My life purpose and mission is to help people break free from the world of "should", "shouldn't", and "maybe I wasn't destined to______".
As a coach who is also a personal trainer I work predominantly with women who want to change course on their health journey. Though health is one of my personal passions I also work with folks simply looking to move in a new direction in other life arenas as well. I am a very compassionate, empathetic, and genuinely judgment free person by nature. Having been on a challenging weight loss and career journey of my own I deeply understand how daunting this change in course can feel. I can assure you that the anticipation and fear outweighs all of your capabilities. Our aim while working together will be to discover and break old self sabotaging patterns and beliefs that are no longer serving you. By delving in and discovering the life you truly desire to be experiencing we will use accountability, goal planning, and other tools to ensure you are being guided by your intuition to live and experience your literal best life. Whatever appears to be out of reach is most certainly not. It simply takes you deciding that change can and will happen. Whether you work with me or someone else, take that step! Know that you are worth all that you desire and that small actions can lead to massive leaps before you know it.
I have a background in marketing & advertising having attained my MFA in Copywriting in Advertising. Once I landed the "dream job" I realized advertising made me deeply unhappy. I then attended the one year Accomplishment Coaching program and pursued Life Coaching for a couple of years before putting in on the shelf to continue my own self work. Later I attained my NASM personal training certification and have been coaching and personal training since.
Reviews
2 reviews (5.0)
My first call with Whitney was in February and and by call I mean 60 whole minutes of me just sobbing into the phone. I was in an extremely dark place; totally overworked, foggy with negativity, and smothered by an overwhelming sense of hopelessness. It is only now, after working with Whitney for six months, that I realize nothing was actually wrong with my life. The only thing wrong was my perception of my life and myself. I had so many amazing things right at my finger tips, but I couldnt access or acknowledge them because of my complete and utter lack of self-love. I wasnt respecting my body, my time, or my worth. Whitney was the last person I spoke with before I marched into my boss office to put in my two weeks notice. She wasnt my Mom, who, frankly, had had enough of my self-pity. She wasnt my best friend who didnt understand just why I was so unhappy at this job. She was simply a voice and a beaming light of positivity and hope on the other end of the phone saying, Im here to remind you that you are not crazy. You are making a sober, responsible, and healthy decision. Why postpone your own happiness? We worked towards this moment together and when I finally did it, my life grew exponentially fuller in a matter of weeks. She taught me how to get completion around experiences in my life, what my conditions of satisfaction are in love, what my survival mechanisms are for coping, and even helped me discover what my essence is as a human being. Because we live in different states, she put me in touch with a local personal trainer and also gave me invaluable nutrition advice. I could honestly go on and on and on about all the feelings and self-love Ive acquired through coaching, but I think numbers speak louder than words in this case. February - July - Went from working 6-7 days a week to 3-4 days a week - Increased my annual salary by $7,000 - Acquired 8 new freelance opportunities - 1 internship in a new field Im interested in - 1 off each arm, 2 off my waist, 3 off my shoulders, 5 lbs gone and counting - From 0 romantic prospects to quite a few dates + a new outlook (Wait4Fate!!) - 0 regular exercise to 1 triathlon sprint accomplished Whenever I thank Whitney for any of the above she says its all you. I know this is true to a certain extent, but I truly believe I could not have reinvented my life without her coaching me from the sidelines. In my ear, cheering me on, holding me accountable, and pushing me far and beyond my comfort zone and into healthy, flexible, positive, and rewarding world I never thought I couldve created. Again, thank you for changing my life, Whitney.

Carolyn Tubekis
When I was in my 20s and 30s, I was a pretty big fitness junkie! I had run marathons, worked out regularly at the gym and was overall living a healthy lifestyle. But, after having my daughter, I found it very difficult to make the time to focus on my physical fitness and gained about 10 pounds. Then the pandemic hit and I found it even harder with all the work stress, family obligations and lack of options to move, I gained 10 more pounds. In December of 2020, I knew I needed to get out of the spiral and make time for my health. I found Whitney on an app called Next Door we were neighbors. When we met, she felt very warm, understanding of where I was at in my journey and confident that I would see results after working together. I love the 1:1 care she provides even over zoom! Weve met twice a week for over 6 months now, missing only a couple days here and there when it doesnt work with our schedules. Ive lost the pandemic 10 pounds and now am on to crushing the next 10 to get to my goal weight. Though I have to say, Im already feeling more comfortable in my body. I have strength, stamina and even better posture from the strength and hiit training. I love that I can work out in my own home, every workout has a diverse, challenging set of exercises and I sweat like crazy every time we meet. Im going to continue working out with Whitney even as gyms are reopening because it fits so easily into my lifestyle and I dont have to drive somewhere to stay active. I would recommend anyone to Whitney, if you are looking to get back in shape or starting from scratch. She is kind, caring and will kick your butt if you want her too! I also recommend working with Whitney if you find it difficult to get away from an already busy lifestyle one extra perk is shes even got my daughter excited about fitness since she watches me workout!

Mariah Howard