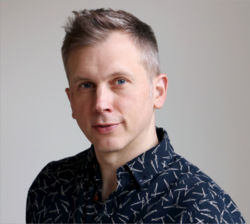 William Rees

Minneapolis, Minnesota
Life Coach, Career Coach, Executive Coach
BA, Inspired Life + Mindset Coach
As an award-winning Coach and Life Strategist, I support creative minds in search of the clarity and confidence to quickly create inspired lives and rewarding careers. And have fun along the way!
About Me
Feeling stuck or stressed in a life story that no longer inspires you? Looking to quickly:
1. Create Meaning + Momentum
2. Reduce Stress + Anxiety
3. Improve Awareness + Accountability
As a Certified and Accredited Coach I empower clients around the world to reclaim confidence and clarity in their lives, both personally and professionally through my award-winning coaching practice, Keylight.
My energizing coaching model will swiftly reunite you with your core strengths and values, empowering you to take inspired and satisfying action steps within your relationships and your career.
- - -
I'm William Rees. A creator, a caretaker, a curator of happiness!
My fascination with humanity's quirky brilliance led me to study at the acclaimed International Center of Coaching where I proudly earned my Certification as a Coach Practitioner.
Crystalizing the most impactful moments and mindset-shifts from my practice, I've created The Keylight Model - a premiere, 1 on 1 coaching program which inspires clients, near and far, to cast their experiences in a heroic and visionary light.
Using the proven methodology of Transformative Coaching and drawing upon my background as an award-winning filmmaker, I help shine a cinematic sense of adventure and wonder on the sometimes tricky but ever triumphant journeys of my clients at Keylight.

Wherever you are in your unique story, I show up with honor and warmth, accredited by the International Coaching Federation.
- - -
key light
(n.)
In cinematic arts the key light is the first and most important light a scene composer utilizes to highlight the form and dimension of the subject
Reviews
15 reviews (1 verified) (5.0)
I couldn't have asked for a better coach for my first coaching experience. Through the sessions, we explored and discovered my values and found useful tools to use on my journey. I found his approach to using the sources of light (values), storytelling references, and visual metaphors to be very helpful to me coming from a visual storytelling background. He was patient and listened intently to explore ideas and concepts at a pace that worked well for me. I gained new perspectives and new tools that have made a substantial positive change in my life already. I would highly recommend William to anyone seeking a coach.

Yuta
William Rees' Keylight Life Coaching has really helped me to discover the better version of myself that I had lost. Over the course of 10 weeks, William guided me through challenging questions to dig deep within myself, helping me to get out of the rut that I was stuck in for so long. William has a very calming and easygoing approach to the sessions and they encapsulate the Six Sources Of Light that have been so powerful in determining my thought process in moving forward to reach some pretty big goals that I have for myself. The 10-week course that William offers is a very valuable investment. It has enlightened me and I always feel so motivated and on such an upswing after every meeting with William. Very highly recommended! A++++

Anthony LeDonne
William is a gifted Life Coach. He is skilled at guiding his clients through issues they have identified that are problematic, and helps find solutions that are life changing and lasting. I highly recommend William as a practitioner.

Anonymous
William came along at the perfect time in my life. Ive been grateful for his guidance and encouragement. Since our first session I was made to feel comfortable and at ease. He asks the best questions and assisted me to uncover powerful intentions. I had wanted to try life coaching for a long time and it did not disappoint. So grateful I had William to help navigate my way through a big decision recently, having a rational, impartial, discussion on my various choices and outcomes was eye opening.

Tanya
Working with Willam was such an incredible treat to myself. Working with Will on a weekly basis allowed me to uncover hidden values and traits about myself that I didn't ever see clearly until Will and I started meeting. The magic about working with Will is that he doesn't sit there and tell you, "You need to do this and you need to do that." While he does sometimes offer advice, his approach is more so to listen carefully and to help GUIDE you the self-realization that you discover through his well-thought out questions in response to what you talk to him about. Will was highly personable and he has such a great spirit and energy about him that is rare to find these days. I can't say enough great things about my experience working with Will. I'm grateful to have found him when I did.

Jay Davis
Williams coaching is supportive, flexible, and inspirational. Each session produced new strategies to accomplish my career objective. Im so grateful for William and his stellar talents in coaching! Thank you!

Nicole
Will is an incredible coach and an even more phenomenal human who truly cares about his clients' growth. I thoroughly enjoyed working with him and would walk away from our sessions more eager and motivated to pursue my life and career goals. For anyone considering life coaching, Will and Keylight Coaching is a must!

Madison
William is the real deal. I absolutely loved working with him and he provided me with some much needed clarity. I feel overwhelming lucky to have stumbled upon him by just googling around for coaches. Big points for being licensed, too. We did several sessions and I really appreciated his structured, yet unstructured approach. He came off as an expert immediately and I truly feel like I've gained a lot from his sessions. THANK YOU

Ryan
I had never had a coach before, and part of me was definitely skeptical of the process. From the start, William was willing to take his time explaining the process and then checked in throughout our sessions to make sure that they were meeting my expectations. But, although he continued to check in on how the process was going, he continue to push me and challenge me, which is ultimately what I wanted. He was always professional and I could tell that he prepared for each session that we had and had thought about my unique situation and challenges. I would definitely recommend William to others considering coaching.

Dwayne
William has helped me gain new perspectives and deeper insight about my current situations and experiences in life. He was very patient, professional, and relatable in a way that allowed me to feel safe and comfortable to express myself authentically. I really enjoyed the creative visualizations and methods he used to help me reframe my thinking.

Jamie Jara
I sincerely enjoyed my coaching sessions with Will. He is extremely patient and attentive. Not once did I ever feel unheard and misunderstood. Also, after each session I always saw something from a positive, different perspective. I definitely recommend his services.

Larry B.
Will is caring and a professional. He was able to tap into areas of my personal life to help me bring more clarity to unresolved issues. I would highly recommend him to others. Thanks Will.

Greg P.
Before finding Will my anxiety was very difficult to deal with, he has helped me realize how to cope and mostly where it comes from. He has helped me so much, I can not thank him enough.

Shawn Raycraft
Halfway into one session of working with William I felt like my mind had been cleared of years of confused and heavy thoughts. I am now able to look at myself and my career as adventures filled with opportunities - and the amazing thing is: how easy it was for William to help me make that switch in my mind. I am experiencing an excitement about my life that I honestly dont think I felt since I was a kid. I worked with a coach before but it was nothing compared to the intuition and impact that William was able to provide me with.

Jay Seaver
I decided to work with William at Keylight Coaching because I was feeling unmoored from the creative and professional goals I had once set. William's approach to coaching put me at ease and made me feel I had a champion in my corner. His coaching helped me to reconnect to my goals for writing and performing by shining a light on the values I hold dear. It feels incredible to be excited again and boldly commit to my dreams.

Patrick McGraw, Editor and Creative Non-Fiction Writer, Minneapolis, MN