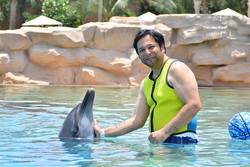 Yadavindra Chopra

Bangalore, Karnataka
Life Coach, Relationship Coach, Family Coach
I coach individuals who are interested in establishing good relationships in their personal and professional lives. My coaching sessions are for Individuals, couples and families.
About Me
I consider coaching as a relationship of progress. The area of progress usually being one's Self awareness and confidence in one's relationship. My whole approach is influenced by philosophy. The aim of philosophy is gaining knowledge and understanding of something. Here it would mean to gain knowledge and understanding of one's desires, ideals and goals for their relationships. The means used in this pursuit is Reflective thinking, that bring mental clarity. Insights that arise out of reflection becomes a framework to use for establishing satisfactory balance in one's relatedness to their romantic, familial and professional lives.
I have been practising philosopher for over 11 years with knowledge of numerous philosophies such as Vedanta, Zen, Gnosis, Sufi, Kabbala, Greek, Tao and more.
Reviews
Yadavindra doesn't have any reviews yet.