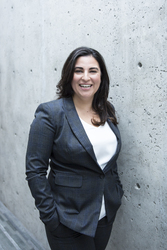 Yasmina E Jimenez

Montreal, Quebec
Business Coach, Entrepreneurship Coach, Team Coach
BA, MBA, Better Business Bureau, Business Project Development, Mediation & Conflict Management, Leadership Development, etc.
Entrepreneurs and Mid-sized companies Executives to scale up their organizations, improve their leadership, teams and operations.
About Me
Does your business need to be restructured?
Are your employees having difficulty pulling together as a team?
Do you find yourself fighting fires day after day with no time to plan for the future?
Do you find yourself extremely anxious about making a difficult, yet necessary change, for you, your team or your company?
Whether you an a new entrepreneur, a seasoned business owner or executive, overwhelmed by uncertainty, self-doubt, and too many responsibilities. I am here to help.
As a Business coach (I invite you to read my bio in my Noomii article section), I help YOU evaluate these and other challenges, pinpoint your priorities, create an action plan and assure you are supported and guided during it's implementation.
These are the top 12 challenges I help my clients with, but not limited to:
1. Cash flow management / Strapped budget
2. Hiring employees
3. Time management
4. Delegating tasks
5. Choosing what to sell
6. Marketing strategy
7. Capital
8. Organizational climate
9. Business launch & growth
10. Team performance
11. Choosing and managing business partners
12. Self-doubt - negative mindset
Whether you are looking for solutions regarding these or other challenges as they pertain to your particular industry and business, or you are interested in exploring a B2B partnership that would benefit our mutual networks, book your discovery session and let's get talking!
Reviews
3 reviews (1 verified) (5.0)
Yasmina was a great help to me in laying down the foundation on how to start planning my life coaching business. I had a mind-opening session and learned some new perspectives on starting my coaching business. I have learned so much in a short time.

Reem Shams
I've had the valuable opportunity to have several sessions with Yasmina, as a business coach. But I must say that thanks to the values that she possesses, she is not only an inspiration and an example to follow in the world of entrepreneurship but also in life. I have been able to learn many things to improve my business plan and the strategies in order to have a prosperous business. As well as to find areas of opportunity in any situation. She is a very professional person and at the same time a great human being with qualities that help improve the well-being of others, including her family, her country and her community.

Araceli Valencia
That was truly one of the best coaching experience I had. I would most definitely recommend it to any entrepreneur. A great attention and empathy was given to providing advices, contacts and also on follow-ups.

Youri Dominique