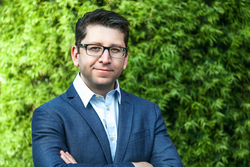 Zach Loeb

Los Angeles, California
Career Coach, Executive Coach, Spirituality Coach
I coach professionals who are struggling in their job search or want to be happier in their career. Let's create your ideal work life together.
About Me
Is your job search taking too long? Do you feel like you're just sending resumes into a black hole? Or maybe you don't know what you want to do next. Or you have an idea of something you'd love to do, but it seems almost impossible to make it happen.
It doesn't have to be that way. Drawing from my business experience and using my intuition, I provide insights that can help you see the missing pieces that have been holding you back and clarify what you want. Together we'll put a plan together to help you reach your goals. After sessions with me, clients tell me they feel more ease, empowerment, inspiration and relief.
A career coach for 11 years and previously an executive recruiter, I advise on all areas of career, including: career decision making, building a marketing plan, resumes, interviewing, negotiations and more. I also deliver workshops on intuitive development, helping people to listen, see, hear, and feel in new ways, and develop their own gifts.
I hold a Bachelor's degree in Communications from the University of Colorado and a Masters in Career Development from JFK University. My style is relaxed and informal; I tend to focus on the key issues and get quickly to the point, approaching the process with creativity, compassion, and techniques that get results.
My education training, business expertise and intuitive gifts make the perfect combination in helping you create success and abundance in your personal life and career endeavors.
Reviews
6 reviews (5.0)
Zach has been an excellent career coach. I've been working with him since 2012, and since that time I have sought his advice throughout my career from my time as an entry level Recruiter all the way to a Senior Recruiter that managed full life cycle recruitments. His insight on the Recruiting profession, experience in different industries, and his ability to listen are what set him apart from other career coaches. Zach truly cares about the success of his clients, and is great at providing guidance to get people where they want to go in their careers.

Brian Decal, Recruitment & HR Professional, Berkeley CA
Zach is a bridge between worlds, merging business with spirituality. This niche market is exactly where Zach is meant to be due to his ability to intuitively receive guidance and deliver it to clients in a digestible way. I would recommend Zach to anyone looking for insight and deeper awareness.

Maggie Kay, Yoga & Wellness Consultant, Los Angeles CA
Zach helped me transform my resume from a general summary of my job history to a well written, intriguing presentation of my most marketable qualities and achievements. In preparing me for interviews, he demonstrated how to answer questions and the best way to present myself to potential employers. I think one of the most important things that distinguishes Zach from other career coaches is that his help doesn't just stop when you get the job. He has coached me through tough salary negotiations, helped prepare me for delicate conversations with supervisors and helped me navigate an out-of-state commuter job. As cliché as this sounds, I honestly wouldn't be where I am professionally without Zach's knowledge and guidance.

David Wolf, Financial Advisor, Denver CO
Before finding Zach, I had worked with another career coach, and with Zach's help, I accomplished much more, in half the time. I needed someone who would motivate me and stay on top of me throughout my job search, and he did just that. Within two months, I found the type of job I was looking for. And a year later, he is helping me explore my options again. This time, along with the career search, he is working with me on how I present myself to future employers: body language, vocal tonality, confidence, etc. I'm impressed with how much he can cover.

Danny Beckman, Personal Chef/Wellness Coach, Los Angeles CA
I dreaded going to work every day -- and when I met Zach I was immediately drawn to his positive outlook -- he was knowledgeable, realistic and encouraging, all at the same time. Zach made my career move, something I had been struggling with a long time, incredibly easy. I got more interviews for jobs I actually wanted in the first two months working with Zach than I got in the past three years combined. And within about six months, I landed a new job. His services are a total game changer and worth every penny.

Nancy Schultz, Marketing Associate, San Francisco CA
Zach was my career coach for four months during a mid-career transition and he was marvelous to work with. He helped me focus on pursuing my dream job, rather than a (more comfortable) second-best--and that is what I achieved! He also was invaluable in giving me the strategies and guidance to stay productive in my search, as well as to stay calm and focused through the anxious moments. I recommend Zach wholeheartedly.

Aaron Keefe, VC and Strategy Professional, Sherman Oaks CA