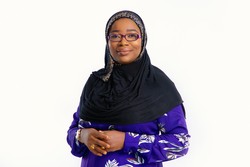 Zainab Saheed-Alalade

Lagos, Lagos
Relationship Coach, Life Coach, Family Coach
I can help you quickly uncover the essence of what you want out of a partnership, guide you around painful issues, and create a safe cocoon as you face your fears and discover your true desires.
About Me
I am a Lagos-based registered Couple and Family Counselor, Master Life Coach and an NLP Master Practitioner with over a decade experience working with families.I am one of Nigeria's most sought-after therapists and is regularly called upon as a relationship expert in national media.
Known for my warmth and engaging personality, I have the ability to identify and help people work through many of the key issues facing couples and families today, and this has had a profound and transformative effect on many of my clients' lives.
As a Relationship Coach and Life Coach, promoting change and personal growth, to help couples and individuals move towards love, intimacy, connection and happiness together is my passion.
As a Kids and Adolescents Mindset Coach, my mission is to enlighten the youth to the power of the mind and to teach them to use that empowerment as they face challenges in life. I also teach mindful and visual meditation techniques to help with emotional stability, improving attention and connecting with intuition.
I am always in training and striving to make improvements within myself in order to help others do the same.
Reviews
7 reviews (5.0)
When I booked to have sessions with Zainab, I expected that she would advise me on what directions to take in life in other to be happy. To my disappointment, at the beginning, she made it clear she won't give me advices. Later I realized what she actually did was teach me in order that I can make my decisions and grow as an individual, rather than being dependent on others for direction. Since having sessions with her, I have improved relationships with my family and friends. Above all, I have begun a new journey of myself, which is the greatest gift she gave me.

S. Akerele, Business Development Executive
Zainab really cares about people. She demonstrates a rare kind of connection with everyone. She asks you questions that make you shift position and change your ground and leave you wondering "did I get to a new state just by talking with Zainab?" I can say emphatically that I would forever cherish the moment my path crossed Zainab's path. If you are ready for a change, see Zainab. She's absolutely awesome.

Mabel, HR Executive, Lagos Nigeria
Dear Mrs Zainab, This is Mariam. My mum is here for visiting day so I decided to say hi to you. I would like to say a very big thank you for the experience you gave me during the summer holiday. As I'm back in boarding house now, I have been able to participate actively in class and this has improved my learning experiences. Everyone is asking how I made such transformation. Would you believe, I walked up to the new girl in my class and started a discusion with her? I now have friends and they are asking me to tell them how I gained my confidence. I already told my mum I want to see you during the Christmas break and she says yes. I love you so much for helping me find happiness.

Mariam, Teenager, Lagos Nigeria.
I love Zainab's coaching, she has helped my son to believe in himself. My son did self confidence coaching with her and it really helped him to see how his thoughts can affect his self-belief and confidence. He now practices better self-talk on himself and I'm more confident of his performance improving this school year. Zainab is an excellent coach and she's a very good listener and she just has this way she bonded with my son and he opened up to her. We love you Zainab.

Mrs Ladenegan, Lagos Nigeria.
"I met Zainab just when I was giving up on any hope on my son. My son now concentrates better in class is able to truly express himself better without any rage and most importantly, he sees that the world is beautiful. My family simply adores you Zainab."

Mrs Jacob, Lekki Nigeria
"My wife and I are very happy with Zainab even though our sessions are through Skype and Phone calls. She is wonderful at creating ways for us to move towards mutual change without apportioning any blame. She is intuitive, understanding, and empathetic."

Marzuk & Kemi, Ilorin, Nigeria
"We like Zainab a lot. Though blunt and to the point, she shows adequate empathy and is good at digging into topics and asking questions that really make us think and reflect. We've only had few sessions with her, but we have already made some positive progress in our relationship since seeing her. "

Ahmad & Khadijah, Surulere, Lagos