Day 22: And The Winner Is...
I did this!

75
Posted on December 22, 2015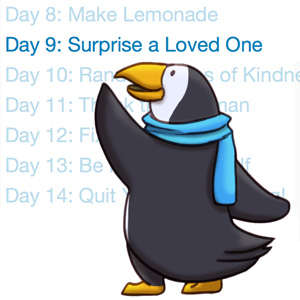 Two days ago we asked you, our kind readers, to recommend an Act of Kindness for the group, and we're happy to say that you didn't disappoint. The only sad part is that we had so many amazing suggestions, it was hard to choose just one.
But choose we must, and the winner is CM Beach, who suggested the following:
Go back and do an Act of Kindness from another day that you missed out on, but really want to do!
Thanks so much CM for the great suggestion, and thanks to everyone else for your great recommendations. And incidentally, when doing this don't be limited to one of the AoKs from the calendar. Feel free to do one of the many awesome entries from the contest if you prefer. But whatever AoK you choose, remember to let us know how it turned out in the comments below!
P.S. CM please email support (at) noomii (dot) com to claim your prize.