Do Client Reviews Really Matter?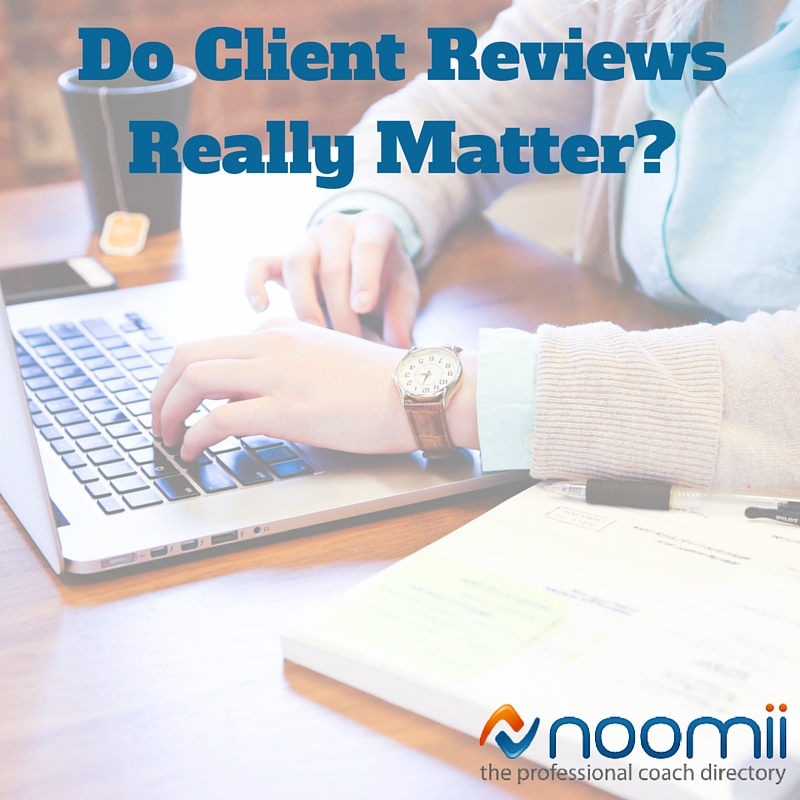 This is a guest blog post written by Dawn Camacho. Want to contribute? Check out the 2016 publishing calendar.
You know you're a good coach. You've trained, you've read the books, you've gone to meetings, you've taken classes and now you've launched your business. You've worked hard to make everything about your coaching practice stand out and represent you — a nice logo or headshot, a pitch, a profile — and have now begun building your clientele. So how important can it be to collect and share client testimonials?
Why testimonials are important
Whether you're an established pro or just getting started, getting feedback and reviews from your clients is an absolutely vital and invaluable way to grow your business.
According to the 2014 BrightLocal's Local Consumer Review survey, "88% have read reviews to determine the quality of a local business."
In fact, I'll let you in on a secret — for my business, reviews have proven to be the single most important factor in the company's growth.
What do you look for in a service provider?
If you were planning for a rare and wonderful night-out somewhere new with your significant other or some friends, which would sell you more: The restaurant with a fanciest profile or the one that had 59 five star reviews raving about every aspect of the business? It is no surprise that many of us rely on online reviews when choosing where to eat, drink and shop. Reading up on the different opinions and ratings also help us make a decision when shopping around for products and services. Indeed, reviews resonate with us even more when like-minded individuals are the ones offering the feedback. So, why would looking for a suitable life coach be any different?
Strengthens your focus and skills
Authentic feedback can provide an invaluable mirror to your services. Positive reviews can reinforce that you're doing a great job at coaching and showcase that you are providing the right services to the right people. That being said, if you receive reviews or testimonials that feel 'negative' or unexpectedly jarring, they can often provide even more valuable direction than the complementary ones.
However, it's important to determine the source of this type of feedback. If it comes from someone outside of your ideal client niche, this can serve to validate your focus on a different population. Also, recognize the individual's intentions and their focus when deciding how seriously to take the words. If it does come from someone you consider a member of your ideal audience, then use the feedback to constructively direct your business and further sharpen your skills and the focus of your coaching.
Provides the ultimate free advertising
The reviews my business has received have increased our visibility and led to measurable growth. We ask every prospective client where they found us and we know approximately 80% of our new clients are coming in as a direct result of the positive reviews we have on one listing. So, before deciding to fork over a ton of cash for advertisements, look within your network and ask current and former clients to write a review. Having these personal stories about how your methods worked out there for the public to read will leave a lasting impression and they hold a lot more meaning than a flashy banner ever will.
Builds connection
Following up with clients and asking for feedback and reviews should be an integral part of your client management system. Each time you send a personalized request for a client's opinion and testimonial, you are reconnecting with that client, and, even though you are asking something of them, it's an opportunity to remind them that the connection you have with that person is important to you. Once they provide you with the feedback, send along a simple thank you email. Showing your appreciation, even after they are no longer a client of yours, is a great way to leave a lasting, positive impression on that person, one which they will likely want to share with their friends and family.
Gives "authority"
If a client who you consider to be a perfect representative of your core niche shares a positive experience about you and your process, it increases your authority. There's a big difference between you saying that you are great and powerful and someone else expressing that. Especially if the experience they had with you truly changed their lives and the impact you had on them.
Going back to the aforementioned study, not only do 88% of consumers rely on reviews, 88% also said they trust online reviews as much as personal recommendations.
Now that you know about the importance of reviews, let me explain how you go about getting them.
Target your ideal audience
Don't be afraid to reach out and ask for a testimonial and review from individuals and companies whose opinions you trust.
While it may be good protocol to ask every client a few questions of evaluation and feedback, to start out I would recommend targeting your efforts to clients whose comments and professionalism you trust to best reflect your company. Their words will be seen as a reflection of YOU.
Create a template email and personalize it. Work on drafting up something that clearly, simply and authentically asks if they would share an honest review of your services, as it is so beneficial to your business. If relevant, include the links to the review sites. However, note that sites such as Yelp do not permit this - if you send a direct link, their tracking software may flag that review for removal. For your Noomii profile, you'll want to request permission to post their feedback.
It's also worth noting that, good business protocol suggests not to offer any specific discount or reward for writing a review, but if the process is made simple enough, happy clients are generally more than willing to share their experience. Wouldn't you?
Highlight specific services that matter to you
When requesting a review or testimonial, you can also use it as an opportunity to profile one or more specific aspects for the business. Don't be shy to ask your clients if they would mind mentioning how their marketing has changed since working with you, how their confidence has shifted or what an amazing speaker you were at that luncheon.
There is nothing wrong with asking for specific information or prompting an answer that fits into a certain aspect of your business. In fact, it may be easier for clients to respond to clear-cut questions opposed to being asked to provide a generic answer. If the question is too simple, such as "How was your experience working with me?" You might receive simple, short word answers.
Post reviews on listings that target your ideal audience
Once you know you've collected the information from your ideal niche, make sure to use it on listings that target your ideal clients. Sites like Noomii and Yelp can be great to use if you understand the analytics of who is most likely to visit their site. Don't be afraid to ask!
You should also be very conscious of where you are posting. For example, advertising on Facebook will target a somewhat different crowd than promoting on a professional site like LinkedIn. Just as in the real world, paying for a spot in a local parenting magazine will draw a different audience than setting up a booth at a local technology expo.
So what's holding you back?
Embrace the fear and push through. It does get easier. It's normal to feel a little reluctant to ask for anyone to give us anything for free, but people are often more than willing to give their opinion when asked. For those who genuinely had a good experience, they tend to be grateful for an opportunity to return the favor.
Set yourself a schedule to reach out to current and former clients. Maybe aim to put aside some time once a month to go through your lists and see who you might ask, or follow up with, for a testimony or review. And pay it forward- as your business expands, you'll have more and more opportunity to use your abundance to serve others.
About Dawn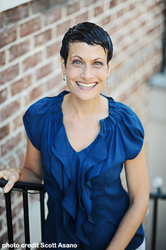 Dawn Camacho is the founder of Whole Life Solutions. She is a coach for professionals at a crossroads, and a motivational speaker helping professionals feel like they can get off the hamster wheel, make the "right" choices for the most fulfilling and purposeful career, and find the ultimate balanced, efficient, and joy-filled life. She can be bribed to exchange tips and tools for cupcakes. Connect with Dawn through Noomii or her website.
Check out these related articles: