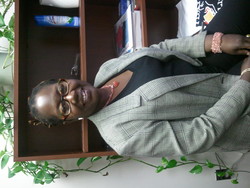 Adrienne Charles

Washington, District of Columbia
Life Coach, Health and Fitness Coach
M.D. ( Doctorate of Medicine )
I coach women in business, the office and the C-suite, ages 35 to 60+, achieve clarity, confidence, work-life balance and healthy boundaries.
About Me
After a life of giving to everyone in your circle, you're starting to feel the toll it's taken on you. And on your body. You've focused your time and attention on your spouse, your kids, your parents and your work. Life is a never ending to-do list.
If your idea of self-care is some ice cream and cookies and an extra hour of sleep, you deserve better.
If you're so tired you'd rather do takeout or nuke something in the microwave than cook something, I'm here to help you.
If the real reason you love mani pedis is 90 minutes of peace and quiet, we need to talk.
If your stress is so high, it causes stomach issues or difficulty sleeping from your mind's racing thoughts, I can help you.
As a medical doctor, I've been caring for and helping my patients with those same problems. I combine my skills as a coach and counselor with my knowledge and experience as a physician to partner with you to design and create the life and health you deserve.
At the end of our time together, you will have the clarity, calm and confidence to trust yourself, your choices and your decisions.
Schedule a call and let's begin.
Reviews
4 reviews (5.0)
I was struggling with work-life balance and contemplating a career change. Working with Adrienne is easy and fun. She's an active and perceptive listener and knows just when to direct my thinking and when to let me wander. Now I trust my thoughts and decisions and have greater clarity about my priorities. I recommend Adrienne to anyone looking for a sounding board to help them get unstuck in life.

Nicole
I came to Adrienne for health and wellness. It took a lot of vulnerability on my part but I felt comfortable with her. I loved how easy it was to talk to Adrienne. She's deeply insightful, engaging, honest, motivational and funny. She believes you can achieve wellness and transformation no matter where you are at in your life. After working with Adrienne, I started making meals for myself, even though I grew up on fast food. I've lost weight, learned how to set boundaries and honor what I put in my body as well as in my mind. I've also returned to work, in part due to working with Adrienne. I've found work life balance. Thank you, Adrienne, from the bottom of my heart. This journey with you was well worth the hard work.

Tymika
I started working with Adrienne because I wanted to start a business. I didn't know where to begin and was feeling stuck. I was also caring for my mom during an illness, while taking care of my family. Juggling all three created a so much stress and conflict for me, my family and my business. Working with Adrienne was a pivotal moment for me. It was wonderful to work with a Black female coach. I was only working on the surface issues, before working with Adrienne and everything felt complicated in my mind. After working with her, I knew how to structure my time and had a plan to get to the next level. She's calm and not judgmental. After our sessions, I felt like a load was lifted off my shoulders. It was perspective shifting and often like...,"why didn't I think of that?". Her coaching have been a blessing, especially at this phase of my life. I am forever grateful for Adrienne. I absolutely recommend her!

Alyscia
When I met Adrienne, I was going through the most important event in my life, my husband's diagnosis of cancer and I was at a loss as to how to support him. The result of working with Adrienne was enormous! I stopped trying to get my husband to do things my way. I was able to support him by being there as he went through the process. I found resources to support me as I supported him. This experience brought me peace of mind in an incredibly stressful situation. I would ABSOLUTELY recommend Adrienne to anyone facing any challenge or problem or to someone ready to move forward in life. Why? Because I am so deeply satisfied with the outcome. She's an amazing resource who helped me to solve a significant challenge in my life. Her gift is dedication to helping others, as a coach and as a physician!

Vanessa