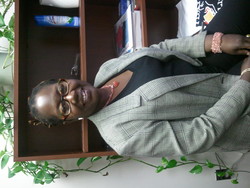 Adrienne Charles

Washington, District of Columbia
Life Coach, Health and Fitness Coach
Medical Doctor
I help women caretakers who put themselves last rediscover and reclaim their voice, their life and say "Yes!" to themselves.
About Me
After a life of giving to everyone in your circle, you're starting to feel the toll it's taken on you. And on your body. You've focused your time and attention on your spouse, your kids, your parents and your work. Life is a never ending to do list.
Your idea of self-care is some ice cream and cookies, a bath and an extra hour of sleep. You're too tired to cook for yourself and rather do takeout or put something frozen in the microwave. And now the Covid weight. Maybe some stomach issues too.
When you look in the mirror do you even recognize the exhausted person looking back at you? Are you asking what about me? Saying to yourself there has got to be more to life than this.
What would it take to pour into you to revive and replenish yourself? What could life look like then?
As a certified medical doctor and certified life and health coach, I can help you. You have access to my 20+ years of medical experience. You also get my experience as a coach and as your accountability partner.
Schedule a call to explore your next steps.
Reviews
Adrienne doesn't have any reviews yet.