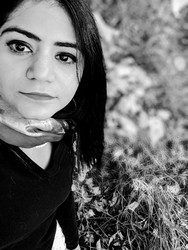 Ala Aldahneem

De Pere, Wisconsin
Life Coach, Business Coach, Executive Coach
BA, MBA, Business Coach
Aspire. Live. Achieve. Ala is passionate about helping adults aspire to new heights, live out their dreams, and achieve success.
Details

De Pere, Wisconsin 54115
Send Message
Gender: Female
About Me
Ala Aldahneem is the principal of ALA, LLC, a business advisory and life coach practice. The company's name, ALA, is both Ala's first name and an acronym that describes Ala's goal for the clients she coaches: Aspire. Live. Achieve. Ala is passionate about inspiring others and helping them reach their goals.
• As a business coach, Ala is dedicated to helping entrepreneurs turn their ideas into reality.
• As a life coach, Ala is committed to helping clients bring out the best in themselves.
Embracing life
Ala has stumbled in life, but by overcoming her personal struggles she has gained empathy and understanding. A native of Saudi Arabia, Ala emigrated to the U.S. in 2007 and has embraced life in her new home of Green Bay, Wisconsin. Adjusting to a new culture was overwhelming at times but has given Ala a rich, global perspective.
Valuing education
Building on a Saudi Arabian diploma in computer programming and databases, Ala earned a Business Administration degree with a focus in computer science at St. Norbert College in De Pere, Wisconsin, and a Master of Business Administration in International Management at Niagara University in Lewiston, New York.
Solving problems
She has worked as a Computer Support Specialist for a Green Bay marketing company and as a Global IT Business Analyst for a Green Bay dairy company. Although she enjoys the world of IT, Ala is a people person who has redirected her analytical and problem-solving skills to help her clients find personal and career success.
Volunteering in the community
She offers support and compassion to sexual assault victims as an advocate with Family Services
Providing insight
Ala believes that you are the expert in your life. She is the coach, providing the insight and motivation you need to start a business, change a habit, and find success in your life and career.
Reviews
10 reviews (5.0)
Working with Ala assisted me in identifying how to work with personalities that I cant always relate to. It made aware of my surrounding and realize that I cant do everything for everybody and be everything for everybody. I am definitely a perfectionist and I realized that not everyone is and I cant hold them to same expectations that I expect from myself. I always took a lot of stress home from work because I work with customers and that have high expectations. I have learned to close the book at the end of the work day and leave it at work. This has provided a better home life for me. Working with Ala has also taught me to deal with stress by releasing it through activities that I enjoy doing and sticking to those activities.

Michelle
Ala is a very kind, loving, warm, understanding, and unique individual. She really takes the time to get to know you personally and work with you to achieve whatever kind of goals you set out. She is determined and resourceful. She truly embodies every characteristic that it takes to be a successful leader, mentor, and friend. I would recommend her to anyone that is searching for the next step/adventure in their life.

Kaila VanLieshout
When I first met Ala, I was very comfortable talking to her because of her warm, positive energy! I started taking a class with her and in a few days I naturally decided to sign up with her coaching services because I knew how helpful it would be. About four months later, Im so happy I dove into her program. Shes helped me find the change that I wanted for myself and I wouldnt be the person I am proud of today if it wasnt for her!

Natalie Zeman
Testimonial - Working with Ala as a Business and Life Coach When you have experienced success in life, you have typically learned to make trade-offs and sacrifices. Sometimes the success reinforces the choices we make and over time we define our preferences accordingly. I have always told myself that emphasizing work over family and a social life was justified since it was creating the basis for living a good life in the first place. Working with Ala has given me the opportunity to step back and evaluate my current as well as desired life balance and implement step-by-step changes in my thinking and actions which are moving me closer to a sustainable mix which creates a higher level of benefits. I am no longer deferring investments into health or into maintaining and growing friendships. Precious time spent with my family is no longer a trade-off against more important priorities, but a source of happiness which I allow myself to enjoy without discount. And I am even becoming more productive through improved work habits and routines. Ala has a gentle, yet clear and effective approach to guiding her clients to this "new state" in your life and I am truly grateful for the opportunity to have met her and to be working with her.

Oliver
I understand myself more than ever. Ala is helping me with my dreams. I never thought I can live the life I deserve, healthy and prosperous. I work out, eat healthier, and feel connected with people that matter to me. Ala hold me accountable, she is restrict with me to follow the life I pictured... I am so glad she is my coach.

Matt B
I understand myself more than ever. Ala is helping me with my dreams. I never thought I can live the life I deserve, healthy and prosperous. I work out, eat healthier, and feel connected with people that matter to me. Ala hold me accountable, she is restrict with me to follow the life I pictured... I am so glad she is my coach.

Matt B
Ala reminds me of Judy in the movie Zootopia. She sure does not know the meaning of giving up. I appreciate the help and support from Ala. She is a good listener, work hard and care about her clients. My business is running and I feel good about my family/life.

AM S
Before I made a decision between two important things i stayed with Ala , she given me full support and ask me questions to make important decision in my life ???? I would have done it without her.

F A
Ala is a very caring person. She helped me focus on what goals were important to me and then helped come up with realistic solutions to achieve my goals. I highly recommend ALA.LLC. Ala is not only your professional coach but also the owner of her company. James Aug 24, 2018

JJ S
It was great to work with Ala, Love how she deal with her customers taking care of the customer and provided value advice Sep 3, 2018

Ward by Mas
The Smart Way To Find A Coach

1 Describe Your Goals

2 Get Matched

3 Free Consultations
Find My Ideal Coach Now