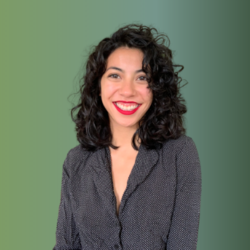 Alysha Chin

Toronto, Ontario
Career Coach, Business Coach, Leadership Coach
Psychology, Career Development Practitioner Certificate
Are you tired of capitalism keeping you in a soul sucking job? I empower my clients to find meaningful work that aligns with their values & needs. We will determine your career goals & achieve them.
About Me
Do you feel trapped in your current job?
You want to find meaningful work but you have no idea where to start.
You are overwhelmed by the number of career options and scared to make a change.
You find yourself looking and applying to new jobs with no direction.
You feel undervalued and under appreciated at work and crave a career that you would be excited to talk about.
I want to let you know that you do NOT need to settle for a job that makes you feel like you are just trading your time for money.
Together we can discover what fulfills YOU. What work aligns with your values, your skills and interests, and explore careers that excite you.
Together we will do a deep dive into what really matters to you and what brings you to life. We will figure out your strengths and skills and how to phrase them for prospective employers. We will not only cover the self-discovery portion but also the practical job application component so that you learn all the tricks of writing a killer application!
For my experience: I did my undergrad in psychology and a post-graduate in Career Development Practitioner program. I am very passionate about helping people find work that is fulfilling and getting out of toxic work environment.
I personally struggled with guidance counsellors and career adivsors and know how important it is to have strong support through your career journey. I have also worked in incredibly toxic environments so I know how trapped and overwhelming it can feel. I want to take my skills and experience and give you the support to get out of these companies that are taking advantage of you and help you find and identify work that will treat you well and support your life.
My clients have told me that they gained a sense of confidence in their abilities and an understanding of their needs. They have gained practical skills that help them navigate the working world while feeling more fulfilled and accomplished.
Reviews
9 reviews (5.0)
Alysha was really down to earth and straightforward with me. I was considering staying at a job that was so stressful for six months while I was getting my portfolio set up for a career change. She questioned me whether or not it was worth it to even stay for those six months if it was causing me undue stress (maybe it wasn't a career change I needed?). With her advice, I applied to places and responded to a recruiter for a job that I wasn't sure I wanted to do anymore. I got both jobs (turned down one), and both of them over doubled my salary with less job duties. I needed a kick in the butt. Also when I talked shop with resumes she's the genuine deal. I've had resume helpers that just reformatted my resume and changed a word here or there, instead of talking to me to help elicit better points in a resume or cover letter. I've recommended her to my colleagues.

Mel K.
I recently had the privilege of working with Alysha Chin, who went above and beyond in guiding me towards professional fulfillment and success. Throughout our coaching sessions, I experienced a transformative journey that exceeded my expectations in every way. Allow me to share my remarkable experience with Alysha. From the very first interaction, she took the time to understand my unique aspirations, strengths, and challenges, creating a strong foundation for our collaboration. Her ability to establish a trusting and supportive environment set the stage for what was to comea journey of self-discovery and empowerment. What struck me most about my career coach was her deep expertise and insightful guidance. She possessed an impressive knowledge of various industries and trends, ensuring that her advice was both relevant and practical. Their ability to identify my transferrable skills and highlight areas for improvement was instrumental in crafting a comprehensive career development plan. Throughout our sessions, she provided invaluable guidance on resume and cover letter building, job search strategies, interview preparation, and networking tactics. Her constructive feedback and tailored suggestions were instrumental in refining my personal brand and enhancing my professional presence. One aspect that truly set my career coach apart was her ability to foster introspection and self-awareness. Through thought-provoking questions and exercises, she helped me uncover my true passions and align them with my career path. She encouraged me to explore different possibilities, pushing me outside my comfort zone to pursue opportunities I had never considered before. Alysha's unwavering support did not end with our coaching sessions. She provided ongoing resources, recommendations, and accountability measures to ensure that I stayed on track and maintained momentum. The genuine interest in my progress was evident as she regularly checked in, celebrated milestones, and offered guidance whenever needed. I genuinely felt like I had a reliable ally in my corner, supporting me at every step of my career journey. Thanks to the incredible guidance and expertise of my career coach Alysha, I have experienced a great transformation in my professional life. I have successfully secured a position that offers the growth opportunities I had been seeking. I credit a significant portion of my success to the invaluable insights and strategies shared by my career coach. If you are seeking a career coach who combines exceptional knowledge, unwavering support, and a genuine passion for empowering others, I wholeheartedly recommend Alysha Chin. She is a true partner in professional growth and has the remarkable ability to unlock your full potential. Prepare to embark on a transformative journey that will not only elevate your career but also empower you to thrive in all aspects of your life.

Fernando Delgado
Before I started working with Alysha, I was stressed and felt hopeless about finding a job and a career I loved and wanted to pursue. When I found Alysha and she reached out to me, I immediately just got really great vibe from her. We set up a meeting just to check if we were the right fit and immediately I knew it was. Over the next few sessions we worked out different options and exercises and in the end she helped me realize what my prioritys were and we found something that I am so excited to start working towards. Alysha was kind, funny, understanding, patient, supportive, and very helpful. If I could give 100 star rating for her I would. Since working with Alysha I've not only found a career path I am so excited to work towards. I've found motivation to work towards it. She also helped me create plans and steps on how to achieve my goals. Using the plans we made together, I successfully completed all the classes I needed to apply for school. I have also successfully have gotten into a fantastic program that I am so excited about. Even though we made the plan together for this specific path, I still use the techniques and planning steps in other aspects of my life. You truly won't be disappointed with her and she has made a positive impact on my life, Thank you again Alysha!! :)

Olyvia D
I recently worked with Alysha to support me through a major career transition. Alysha was so knowledgeable and supportive through this process by working with me to gain better understanding of my skills, increase my confidence, and knowing that I am worthy and deserving of a career that I find truly fulfilling. After being in the same industry for over 10 years, I felt it was really daunting and challenging for me to make a big switch but I'm so glad I did. Last week I was offered a Human Resources Manager position in a company whose values and goals align with where I want to be. Thank you so much Alysha for your coaching, guidance and support. I would highly recommend her services to anyone who needs career support as they navigate and make changes in their professional lives.

Sarah Ahmad
I came to Alysha looking for some help after leaving a job I hated with no prospects to fall back on, I couldn't understand why I was applying everywhere and hearing nothing back. I had hoped Alysha would review my resume and give me some changes to make. But, Alysha did some much more, she taught me about the process of applying for work on different mediums (HR recruiting sites, Linkedin easy apply, direct networking, ect.) on top of reviewing my resume with me. She's supportive, knowledgable and empathetic, answered every dumb question I had with sincerity and grace. I finally got interviews after connecting with and now work in an environment that I am excited about every morning. I couldn't be more grateful for Alysha's help during it all. Thank you Alysha!

Amanta Selmanoska
My experience with Alysha was excellent. She helped me narrow down a career path that I'd like to pursue and updated and improved my job application process. I am also now working on a certification program that she referred to me and I'm absolutely loving it. Alysha's really validating, encouraging, and overall very wonderful to work with. Would definitely recommend.

Megan W
Alysha is fantastic! She is very attentive and clearly dedicated to career coaching. I always knew she was listening and never felt like she was trying to push a rigid agenda. She followed up in a very timely fashion with any points or feedback following out sessions. I honestly cannot say enough good things about Alysha's work and I would highly recommend her to anyone seeking career guidance. She really helped me become more confident in my abilities and helped put me on a trajectory I never would have thought about before our sessions. You would be hard pressed to find a better coach!

Ryan Charkow
Working with Alysha has been an eye-opening delight - she asks questions that might feel challenging at first, but really help you get a better picture of what you might be looking for in your career, even if you start out not being too certain, like I did. She works with you not only to uncover your strengths and skills, but how to feel confident in sharing them with potential employers! Alysha has not only helped me think more critically about what I want in my personal career, but has played a part in my feeling confident in expressing those needs and showcasing my best self.

Jelena Ilic
I thought I would never need career coaching but I was wrong. I was feeling lost, under-valued, overworked and "lost". Such a common feeling that continuously kept creeping up on me. Over the last few sessions, I can honestly say my perspective of my future has changed, thanks to Alysha. We got to the root of the problem quickly and now I have goals that I'm so excited to hit. I can't wait until our next meeting!

Caroline Bexfield