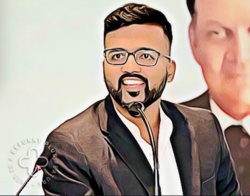 Ankit Chhajed Freedompreneur

Jaipur, Rajasthan
Career Coach, Business Coach, Entrepreneurship Coach
B.Tech from IIT Delhi
I coach people who are struggling with their careers, not liking 9 to 5 and willing to do something more aligned to their true nature.
Details

Jaipur, Rajasthan
Send Message
Hourly Rate: $20 to $50 US Dollars
Gender: Male
About Me
A lot of people want to quit their jobs, and get out of the 9 to 5 bounds, even if they like what they do. Why? Because boundation restricts success. Success happens when you freely follow your intuition and your curiosity, it takes you to places you wouldn't be able to think of going through logic and planning.
Even someone who is not working full-time isn't able to explore freely. Why? Because they lack the freedom to explore and are in a consistent hustle of trying to achieve a certain income level, before they are even able to think of something else.

And what is stopping you from attaining this freedom? This stability of income itself! Of meeting your needs at the month end!
​And thus a lot of people in jobs set goals, that once they save a certain "X amount", they will quit and finally start their life! But that never happens! Your lifestyle keeps upgrading with time, your X keeps increasing and you are never able to get out of that loop.
​And even if you do quit, without having an ongoing current income, you would still be stuck in the "where will money come from next?" mindset loop.
Now what if you could have this income created through skills that you already have in place keeping your freedom in your hands? And what if it would take only a portion of your weekly working hours? And what if you are able to invest the rest of your time in other things that you are curious about?
Wonder happens.
>>> You find your unique niche <<<
You are able to move towards the authentic version of who you are and what your mission for the world is! And that's how you start attaining more and more freedom everyday! But this doesn't happens overnight. It will be an exponential curve, with a very humble and modest start.
But what you will immediately start to notice what it is doing to the overall fulfillment you have in life!
So, are you ready to embark on a lifelong journey of freedompreneurship, a place where passion and money co-exists?
Reviews
2 reviews (5.0)
Ankit happens to be a very effective coach. His techniques are not just out of the box, but they leave an imprint on you. He doesnt generally goes by any specific coaching frameworks, but builds a personalised technique for you by observing your current state of mind and your general habits. The way he lead me out of my low income work rut into a high ticket project work which I now realise was just changing my belief system, and help me recognise how I am a meticulous person who likes attention to detail, and the way I was rushing up things to do so many things was not helping anyone, was a real insight. And frankly, he never said so, but he made me reach that insight, by asking me the right questions. Now that I think of it, dude, this guy is a real genius!

Chris Coobert
When I left my previous employer, I wasn't very sure of where to go and what to do, but I did not wanted to take up another job, and I have failed in 2 businesses before my last job so I was afraid to start another one. This guy help me figure out my real passion for design, he helped me connect the dots, and helped me see a common pattern that I have been pursuing design for over 6 years now in all my startups. He even helped me figure out the way to reach there. What platforms I could use to start my practice, and how to gradually scale my revenues. This was back in 2017, when I started with Fiverr. He set up gradual milestones for me to achieve in terms of finances, and clients, and within 6 months, I was making more than in my previous job and was super happy with my lifestyle. I used to roam around, living the digital nomad life, stay at a place for 1 month, work from there, and move. It was super fun. 3 years down the line, I now have a good running business, with a big team of designers and content writers, and I am already getting the kind of clients and projects I would love to work on. Frankly, every time, I need help with business strategy, I still call Ankit up, and he is super helpful all the time. Over and above, he is a great heart-centered coach and quickly helped me find my center and re-envision my career in a way I never had done before. If I go deeper, he brought out from my inside, what I really wanted to pursue which I already knew but was afraid to accept. And not just that, he also made me determined about the possibility, and showed me the way to profitability.

A.Jain
The Smart Way To Find A Coach

1 Describe Your Goals

2 Get Matched

3 Free Consultations
Find My Ideal Coach Now