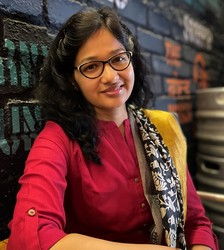 Archana Gupta

Pune, Maharashtra
Life Coach, Performance Coach, Family Coach
PhD, Certified Emotional Wellness Coach, NLP Practitioner, Inner Engineering- Isha Foundation, Reiki- Basic level
I will coach you to "make Emotions work for You". I help my clients to capitalize on Emotions to convert their POTENTIAL to PERFORMANCE. Reclaim your Life. Be LIMITLESS.
Details

Pune, Maharashtra

+918459618199

Send Message
Visit Website
Hourly Rate: $75 to $200 US Dollars
Gender: Female
About Me
Emotions are what makes us all who we are. They are E-Motion - our energy in Motion.
Emotional intelligence is something we are never taught in schools. We are always taught how to earn money, earn livelihood, have food, shelter, car and live a happy life. But how to live a happy life with all these things do we all know? We have learnt how to earn a livelihood, but do we know how to live a life?
How can Emotions be handled intelligently so that we can become the director of our own life movie?
I partner with ambitious & forward-looking clients who feel stuck due to overwhelming EMOTIONS. My clients possess huge potential but are not able to convert that to PERFORMANCE in their career and personal lives. If you are searching for answers to these, you are very close to finding it. Partner with me, to KNOW your emotions, make them FLOW to let yourself GLOW
3 step "KNOW FLOW GLOW" module offered in 4-5 sessions is simple & effective enough to implement and bring a lasting impact to your lives
I will partner with you to offer a perfect blend of EASTERN WISDOM & International Coaching Federation (ICF) framework. I have gained eastern wisdom by researching on science behind ancient practices and how they can be a part of modern lives

It took me 10 years to discover myself in a very scattered way. There was a point, when my career was at peak with a hard-earned PhD, my personal life had everything. It was hell of a moment when I took a decision to embark on a journey as a coach, leaving a secure job as a doctor-academician. I reclaimed myself over a period and brought my own learnings in a practical way to impact others life positively.
There are limitless possibilities available to us in this limited world. Question is, do we allow ourselves to be limitless? Do we allow ourselves to be a free bird and feel light as air?
Explore your strengths and self-limiting beliefs & EMPOWER yourself in a way you have never explored before.

KNOW YOUR UNKNOWN SELF with me
Reviews
7 reviews (4.71)
There are times when you have no answers for the problems you are dealing with ,there are times when solutions are there and we know about them but something in us stopping us from taking steps towards them. These are the times you require an emotional coach. This was the time when I approached Archana Gupta who is an emotional wellness COACH. My sessions with her helped me search solutions within me. She asks you such questions that you automatically find solutions to your own problems. She also lets you explore all possibilities and then arrive at the most suitable one. She is good in her craft. Thank you Archana for helping me find out solutions with in .

SHUBHANGI HARSHAD CHATI
There are situations in your life where the help you get from your dear ones is not enough. Everything just seems to be collapsing and nothing gets better, every effort you put are in vain. I went through a phase where my professional life seem to be going downhill and I felt I just could not find anyway out of my problems then I found Dr. Archanas GrayMattersInLife. The feeling that someone is able to understand what a person is going through and is empathetic helped me to share my problems with ease. Eventually with few coaching sessions from Dr. Archana I was able to figure out a lot of reasons as to why I have been reacting to situations in a particular fashion. Dr.Archana literally opened up my mind to the new perspective I could look at situations which I felt were a problem at once. She changed my lookout at things in life. My attitude with dealing things both at professional and personal life changed tremendously. Dr. Archana is a true life coach and the lessons you receive from her are truly beautiful. Thank you Dr. Archana maam for your help and guidance. -Dr. Madhura Shekatkar Dentist by profession. Location: Nigdi, Pune.

Dr. Madhura Shekatkar
I used to feel lonely, taken advantage of, and there was always this academics-related stress that would haunt me during my time here away from family. I wanted someone who would lend a patient ear to me and just be a good listener (and maybe even help me find a solution to it). However, I can't open up to just any Nobody/College friends to display my problems to them, as I know somewhere in their mind, they _would_ judge me (or could use that against me). Dr. Archana ma'am has always been a good, patient and empathetic listener and her interactive, guiding sessions helped me change my perspective to viewing things in life. She helped me realise that I need to adopt certain qualities within myself to deal with troublesome things in life (Self-confidence being one of the prime qualities). Because of self-confidence, I could once again overcome my stage fear, when I participated in Singing in my College's Cultural fest. Even Dr. Archana ma'am appreciated it and I'm glad I could bring in that side of me to show it to the world. I'm really grateful for those sessions as they helped me get past my cribbing habits, expressing too much happiness or sorrow and learning to solve my own problems without having to depend on my family, Dr. Archana ma'am or friends. I shall always be grateful to her for everything. Thank you Dr. Archana ma'am.

Anonymous
Hi, I'm in HR profession and Archana Gupta really helped me to resolve my issues My morning used to be very stressed because I was not able to wake up on time. So before leaving for office, I used to be in a hurry state and exhausted state which was ruining the whole day. I was in a confused state. I was able to find out the exact problem with the help of sessions with Archana, which was- I had not set up a specific time to sleep and bcz of that I was not able to wake up on time. Her questions made me setup a particular time to go for sleep. Earlier I was not aware that I sometimes I continue being in a confused state.She asked me to make a choice to get free from confused state. While I was interacting with her, I was feeling ease and comfort and bcz of that I was able to open up in front of her. She could understand my emotions and my sensitive nature. Now most of the days I reach on time in office. And it makes me feel disciplined and good. I don't stay in a confused state anymore.

Anonymous
While writing my 12th board exam I was also doing an NLP foundation course and that's when I got to know Archana. I'd spoken to her couple of times and I felt really calm and comfortable when I spoke to her. After Every session I had with Archana, it just helped me delve in further into knowing who I am, what I want and who I want to be. I've always wanted answers to all my problems and Archana knew how to ask the right questions that made me think in a way I never thought I could. Whenever I was in an unresourceful state, she coached me and helped me make that resourceful. She was understanding, empathetic and was not judgemental in our sessions.. Every session with Archana I realized a new thing about me that helped and will guide me to flourish into a new version of myself.

Ritika, student, Bangalore, India
I had a couple of sessions with Archana Gupta. The sessions helped me realise get direction towards my goal. Separate the noise from the sound in my mind, by prioritising certain tasks. I highly recommend her as a life coach. Looking forward to my next follow up session.

APJ
I connected with Archana in a high state of confusion. I was not able to understand my emotional state in certain situations of personal and professional life. I gained awareness about myself during series of coaching sessions. Archana helped me to navigate through fog in my life and helped me to decide & take actions to bring necessary changes in my perspective. Blend of eastern wisdom and her unique 5-step framework helped to connect with myself and now I am at peace in most of the situations. Now my emotions don't control me...I regulate them at my own will. Thanks Archana for helping me out and bringing out a better version of myself. God bless.

Aman (38 years)