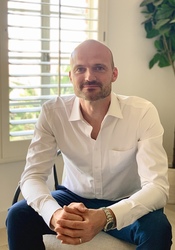 Arno Koch

Malibu, California
Relationship Coach, Executive Coach, Team Coach
NLP Master Practitioner, Hypnotherapist, Master Practitioner of Mental & Emotional Release©
Arno's intentional, relationship-based coaching drives trust, communication and connection to heal personal relationships and elevate executive and team performance in the corporate environment.
About Me
Arno is the father of a 3-year old son and an 1-year old daughter, husband to a wonderful wife and his best friend, dog dad of a goofy Rhodesian Ridgeback and lives in Malibu, California.
As a Relationship Coach, Arno empowers spouses to create change in their marriage without involving their partner. His three step process of overcoming persistent negative emotions, mastering your state of being and becoming your best self in high stress situations and speaking love-based Language to create a deep connection between you and your partner, gets fast and long lasting results.
As an Executive Coach, Arno enables managers to strengthen the communication and relationships with their direct reports to increase productivity, commitment and motivation.
As a corporate trainer, Arno helps to elevate the communication between employees, within teams as well as customer facing. Arno's trainings improve the corporate culture, increase productivity and lower attrition rates.
Arno is an engineer by trade, a master practitioner in NLP and a hypnotherapist with 25 years of experience in the field of personal development.
Reviews
3 reviews (5.0)
Arno is a great coach with excellent written, visual and audio materials to supplement his training. Like anything in life, one has to put in the work of practice to ultimately improve and be successful. I would highly recommend him to anyone seeking to improve their personal or business relationships and communication skills.

Dan S
You are such a great & brilliant Coach Arno! I admire how you do the coachings - your ability to empower & teach, without acting like the one who knows everything & explaining the world to someone stupid. Its a great feeling to talk to you because one can directly notice that you really want the other person to rise & succeed - and this is something that cant be faked. That you are so authentic & really seriously interested in your coaching partner as an individual (& adapting your skills & knowledges to that specific person & situation) is so very very special & valuable in this area I think. Thank you so much for your support!

Carina
I don't even know where to begin to express how much Coach Arno has done for our lives. He understands the pain of trauma and painful childhoods. He helped me let go... I'm 52 years and even though I've been through therapy before nothing has truly let me let go and feel better like Arno. His techniques have saved my marriage and myself from myself. The best part is he truly cares. He has gone over and beyond to help us and get to know us at a deep level. He gave me hope when I had none and has helped me see the other side of things. I know he's done so much for my husband also. I can't even begin to state how much I appreciate this man and what he has done for our family. Worth every penny and more. If you need someone to help you and make your mental life better please use Arno.

Jessica Christensen