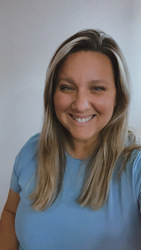 Ashli Fragomeni

Ballston Spa, New York
Life Coach, Leadership Coach, Career Coach
Executive Director, step mom, MBA in leadership
I coach women looking to gain clarity, chase goals, and unlock their purpose. My goal is to help clients break down barriers, stand empowered and celebrate their achievements.
About Me
Hello! My name is Ashli and I can't wait to meet you! I have spent over a decade in the human service industry and my favorite part of it has been helping people in their pursuit of moving forward, regardless of it being personal movement or professional movement.
I have both my MBA in leadership and a level 1 certification in professional life coaching from The Certified Life Coach Institute. My goal is to create a community that enhances the strengths of women and empowers all to achieve their goals.
On a personal note, I am a step-mom, a wife, a dog mom (3 dogs!), sort of a runner, more of a jogger, tacos are my favorite food, I love to read, and live music is truly everything!
My philosophy around coaching is rooted in how we see ourselves - I truly believe that all goals are worth pursing because all goals are a reflection of how capable we believe ourselves to be. I believe in small wins being the backbone of incredible success. I've worked with clients who are were trying to figure out what success would look like to them after moving to a new city after life altering changes in their relationships status and clients who have a booming career and loving home life but lack the clarity to figure out how to balance the two.
I also have years of experience in working with clients who are looking to get back into the work force; I enjoy resume editing and creation, I enjoy working with clients who want to interview prep, I enjoy working with groups of people, and I enjoy thinking big and creating space for clients to talk "it" out, whatever "it" means to them!
Reviews
I had a great experience with A. Frag Coaching! Ashlis willingness to listen, inspire and help me reach my goals was exactly the motivation I needed to maximize and realize my potential. Ive used her in multiple facets of her business resume reviewing, interview preparation, and simply navigating a time in my professional life where I needed a non-profit professional to bounce ideas off of in the uncertain world of COVID. Shes attentive to my needs, cheers me on when I need it most, and our weekly one on one meetings have been extremely productive and positive. I recommend A. Frag Coaching to ANYONE and EVERYONE shes next level & top shelf!

Calli Moise