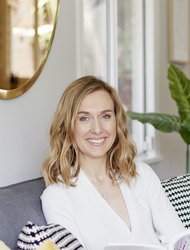 Bianca Riemer

London, England
Leadership Coach, Executive Coach, Team Coach
Stakeholder Centered Coach, Language and Behavior Profile Trainer, Chartered Accountant, Board Member at International Coaching Federation UK
I work with mid-career professionals who are struggling to get promoted. I help them refine crucial leadership skills that will take their career to the next level via stakeholder centered coaching.
About Me
You have worked your socks off to get to where you are in your career, but you secretly wish you were further along by now.
Despite all your best efforts at training up your team, they still need you to step in all the time, and if you want anything done properly, you have to do it yourself.
You have tried pitching your ideas to the higher-ups on how to do things differently but nobody ever seems to listen to you.
You are exhausted and wonder how much longer you can go on like this. At the same time, you're frustrated to see others who are less qualified than you get promoted ahead of you.
The truth is - doing what you've always done will not help you get ahead in your career. As the saying goes "what got you here won't get you there" - also the title of the New York Times bestselling book by Marshall Goldsmith, founder of Stakeholder Centered Coaching.
As evidenced by hundreds of thousands of case studies world- wide, the one thing that will help you get ahead from here is changing how you interact with others at work, and how you are perceived at work.
This is where my coaching comes in. I involve key stakeholders in the coaching process to ensure we work on the most crucial leadership behavior, and that you get acknowledged and recognised for your new behaviors.
Why work with me:
As a former top-ranked, multi-award-winning stockmarket analyst at Morgan Stanley, I have learnt how to communicate effectively with the C-suite and their stakeholders, and I am currently a board member myself.

Besides being a professional certified coach with the ICF, I am also a certified communication trainer and stakeholder centered coach and have helped dozens of mid- to senior level executives in global corporates up- level their careers, salaries and quality of life without burning out.
If this resonates with you, let's schedule a zero-pressure call, where I can listen to you and see whether I can add tremendous value to you or not.
Reviews
6 reviews (5.0)
I met Bianca on a coaching program for managing directors at UBS. I initially picked her as my coach as she had worked in investment banking before and was able to relate to the specific challenges that I was facing on the trading floor. This was the first time where I actually really enjoyed coaching sessions. Bianca is honest, a great listener and I always got some great insights and useful actionable tips that helped me navigate the complex landscape at work without sacrificing my core values. I would 100% recommend Bianca

Cecile Retaureau - EMEA Head of Financing & FI Solutions Distribution at UBS
I met Bianca on a coaching program for high-potential directors at HSBC. We started working together at a time of organizational change and the resulting increased uncertainty, and my main goal for our time together was to hone my leadership skills by becoming seen as a trusted partner, adopting an entrepreneurial mindset and being more effective at influencing others. Bianca and I had bi-weekly coaching sessions for 6 months to work on these goals. What I loved about these sessions was that Bianca challenged me to see things from different perspectives, and at the same time gave me a lot of space to think things through properly. This helped me arrive at insights about myself and others, such as whether my intention as a leader was to be liked or to be respected... The sessions got me to think and act differently, to the benefit of me and my team. The program with Bianca has helped me become more confident in my ability to evolve as a leader with my own personal leadeship style. Not only that, I also feel that I understand much better what makes people tick and how I can positively challenge and influence them. Bianca has helped me become a more effective leader at a time of increased change and uncertainty. I can wholeheartedly recommend working with her.

Kimberley Ruddlesdin - Wealth and Personal banking at HSBC
Bianca is a unique executive coach. Thanks to her financial and corporate experience, Bianca has a deep understanding of the complex challenges faced by her clients but manages to reduce them to their simplest expression. Her tool kit is impressive and she is an unusual coach who drills into topics and issues with a true commitment to her clients' goals. At the core of her teaching is a focus on listening and analytical skills - which we tested and practiced relentlessly in group sessions with fascinating, like-minded entrepreneurs and professionals. One of the best elements of the group session was to witness other clients' results - whilst one on one sessions were precisely tailored and uniquely uplifting. Bianca is a coach I highly recommend and someone I will continue working with.

Stephanie Gabrielle Betts - Head of the Next Generation Stewardship Hub and Senior Member of the Governance Committee at Women in Banking and Finance
I registered to take part in Bianca's Stand out at work challenge, with some amazing women leaders predominantly from Financial Services backgrounds including Bianca herself. We first created a 'badass list', this activity was designed to help you identify your superpowers and aid you to being confidence in an instant. We then moved on to how we help a company to make or spend revenue, que interesting discussion on cost centre functions v investment centres. Who do you need to know at work and who needs to know you an interesting area about promotions decisions and timing. Networking in person and now on social platforms in a way which you feel comfortable Lastly we talked about perfect timing to stand out at work a really interesting discussion on rhythm. What I learnt most , the more you put in the more you get out. That I do have a voice and an opinion on a lot of these topics, I extended my network and have been able to show up in a really positive way. It has been great to get an insight into a completely different industry. Thanks Bianca for a great challenge

Anne Tickner - Senior People Manager
An outstanding Leadership Coach, I consider Bianca an integral partner in my current journey of reinvention. She has helped me build resilience, vision and creativity. A brilliant thinking partner she has guided, inspired and challenged me to move forward beyond my own limitations. I would highly recommend Bianca to women who want to get ahead in the corporate or entrepreneurial space.

Jenny Du Preez - Employee Value Proposition Specialist
Before working with Bianca, I was burnt out and on the verge of throwing it all away. I felt that my team were not up to the job and that I constantly had to intervene and help them. Working with Bianca helped me realise that, despite my best intentions, the one thing standing in the way of my team's success was actually me. By telling them exactly what to do and constantly intervening in their work, I wasn't letting them take ownership for their results. Bianca helped me find ways that allowed me to support my team's development without doing everything for them. As a result, I have more time for strategic thinking, and my team are feeling like they're making a real impact. Its a win-win. I'd 100% recommend working with Bianca!

Dan C.