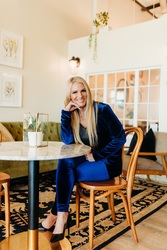 Cassie Callister

Payson, Utah
Life Coach, Relationship Coach, Spirituality Coach
Certified Professional ICF Accredited Life Coach, Sound Healing Practitioner, Reiki Energy Healer
I coach those who are currently struggling with life transitions; Divorce, faith transitions, children, loss, grief, career, self love & true self transformation, and relationships new/expired.
About Me
I am a SurThriver who has experienced just about everything to some degree. From raising 3 kids, divorce & life after divorce, dating, leaving careers & starting new ones, following my passions, sudden loss & grief from losing a grandchild, leaving the LDS religion-then tapping into other spiritual practices, overcoming religious abuse, overcoming betrayal trauma, boundaries, etc.
I have studied the psychology of my own life experiences & those of others for the past 6 years. We always hear "Hurt people-hurt people." But we need more "Healed people-healing people." That is me...and is truly the greatest gift I have to offer!
This is MY PURPOSE & I'm paying it forward.
I am passionate about ASSISTING OTHERS GROWTH as I have my own. I know as I continue to spread my knowledge, wisdom, love, & light-that it will largely have a POSITIVE IMPACT on humanity.
I assist my clients in getting from point A to B by creating a game plan with pieces of accountability.
I am your sounding board, motivator, and partner-as we co-collaboratively build your ideal life.
I am encouraging, understanding, curious, & a SAFE PLACE.
I help you identify what is preventing you from MOVING FOWARD with ENHANCING your LIFE in wherever is needed.
I see clients who:
-Want to ORGANIZE their life.
-Are experiencing LIFE TRANSITIONS.
-Are seeking healthier RELATIONSHIPS
-Looking for some DIRECTION in DATING, GRIEF, FEELING LOST.
-Who want to be HAPPY & live a life of FULFILLMENT, PEACE, & SERENITY.
-Who would like support with different aspects of life. Ex: Spiritual, Emotional, Relationships, Career, Physical, Mental, & Purpose
I have added other modalities to my practice such as becoming a Sound Healing Practitioner & Reiki Energy Healer.
I've been recognized on different PODCASTS & social medias.
I know WITHOUT A DOUBT you can BE, DO, or HAVE anything in this life you want!
Reviews
Cassie doesn't have any reviews yet.