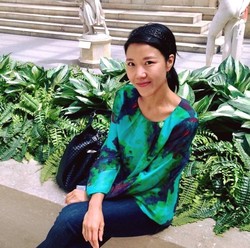 Clare SungHae Hahn

Bergenfield, New Jersey
Life Coach, Relationship Coach, Entrepreneurship Coach
Women Leadership from Cornell University (~2023)
I am a Transformative Life and Mindset Coach helping women over 40 go from a survival mode to a THRIVING MODE in their personal and professional life.
About Me
I used to think life after 40 was too old and too late.
Too late to try something new.
Too late to fix a relationship.
Too late to change a career.
Too late to make money.
Too late to lose weight.
And...too late to dream.
The realist and pragmatist in me always took me to the land of improbability and told me to just settle and accept life as-is. So I did.
I played small, stayed invisible, ignored my inner nudges, and continued to keep recycling my very familiar past.
After all, why disturb the comfortable life when I had many things checkmarked on my to-accomplish list? You know, the solid career, stable marriage, decent financials, etc
Except that… I wasn't fulfilled. I wasn't satisfied. I was just existing in this world.
That's when I realized the good ordinary life I was living wasn't cutting it. I wanted more out of myself.
I wanted to THRIVE and live an EXTRAORDINARY LIFE.
But it was always my age (that scary 40+) and the fear of judgment by others (and my own inner critic) that held me back from taking the first action.
I finally gave myself the benefit of the doubt and took the plunge.
And the results I created for myself are…
> Left my 14+ years of a solid corporate career (at 40)
> Built a 6-figure Amazon business from the ground up (at 43)
> Turned around and saved my deteriorating marriage (at 44)
> Got me a prestigious life coaching certification (at 45)
> Lost last 8 lbs and in the best shape of my life (at 46)
And, most importantly...
> Finally created a fulfilling and purposeful life I've always wanted for myself (currently)
The truth is... With the amount of "raw and real" life experiences under your belt, 40+ is really the best time to REINVENT yourself, REDESIGN your life, and PURSUE your true desires.
And that is what I genuinely want and wish for all amazing women out there who are hiding away from their life.
Come out and live your life with no regrets.
You can do it. I can help.
Let's do this together!
Clare
Reviews
Clare SungHae doesn't have any reviews yet.
The Smart Way To Find A Coach

1 Describe Your Goals

2 Get Matched

3 Free Consultations
Find My Ideal Coach Now