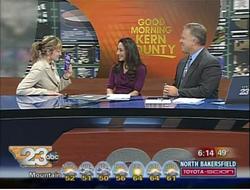 Claudia B Vogas

Greiz, Thuringia
Christian Coach, Entrepreneurship Coach, Business Coach
Certified Professional Coach ICA, EFT Practitioner, Tony Robbins & T Harv Eker Programs
I coach aspiring changemakers to overcome fear and doubt so they can step up boldly and create social enterprises and projects that create movements that change the world.
Details

Greiz, Thuringia
Hourly Rate: €100 to €1,000 Euros
Gender: Female
About Me
I am a best-selling author, a coach for changemakers since 2010 and since 2020, she is working on a social project called "Dare To Be Bold" which promotes moral courage across the globe through different avenues such as coaching and training people who experienced or witnessed violence in speaking up and stepping up in difficult situations. She also uses various behavioral awareness campaigns to create awareness in people for the fact that not speaking up for yourself also causes pain to others.
Reviews
14 reviews (5.0)
"Claudia is an excellent human being, with a great attitude, always willing to help you and get the best out of you. She not only offers you her services but the thing that amazes me the most is that she really gives you her heart once she starts working with you. When she takes you as her client she is 100% committed and reliable. You can see and feel her passion for her profession with her words, gestures, advice, and how she takes your achievements as if they were her achievements too. She wants to help you achieve your goals in all areas of your life, and she will do everything she can to help you to achieve them. When you get her as your coach you are getting a lot more than that, you will get a close friend, who has your permission to tell you things the way they are and help you all the way to open your eyes, to become a better person and to enjoy life as much as possible. Since I started working with her, I have seen a lot of improvements in different areas of my life. I feel more capable of achieving my goals, I feel a more free, complete and happy person. Just to name a few things that she helped me to overcome: -Recognize my fears and most of the times understand that they were not as big or bad as I thought they were. -Live in the present moment and focus more in what I have instead of what I don't have. -Heal wounds from my childhood that I wasn't even aware of, and they used to affect my life in a negative way. -Take control of what I used to call my "chocolate addiction." I highly recommend Claudia and I feel confident that she can help you to improve your life and become a more loving and happier person. When you decide to have Claudia as your coach, honestly you have nothing to lose and a everything to gain." Service Category: Career Coach, Year first hired: 2010, Top Qualities: Great Results, On Time, High Integrity, November 10th, 2011, Lizbeth Plascencia, MBA student & Business Owner, New York (Mexican decent)

Lizbeth Plascencia, MBA student & Business Owner, New York (Mexican decent)
"I had the pleasure of speaking with Claudia on Sunday, and I wanted to share that she truly is an inspiration to people. After our discussion, she opened my eyes in realizing that my true calling is in helping my Latino brothers and sisters; that I need to focus on empowering those that can't empower themselves. Claudia, re-lit the fire that was once there in helping my community. It's time to stop running and start helping those that can't help themselves. Como muchos antes de mi recibieron el llamado…ahore es mi oportunidad. Aqui esto para empezar a revolucionar la comunidad hispana, gracias Claudia, por dejar que Dios te use para abrir los ojos de este siervo." February 1st, 2011

Jonathan Baez, CEO & Founder at Beyond Computer Repair LLC
"Claudia is an excellent coach. Right now I am tackling problems and habits I have had my entire life and wouldn't have been able to solve if it wasn't for her help. She knows how to dig and discover the real reasons I have certain habits…which allows me to fix them. She is also a great accountability partner as well and really challenges you to change for the better. She has also helped me cure negative thought patterns when it comes to relationships. As a result of Claudia's coaching my life is much better now that I am crushing obstacles that used to hold me back for years. I highly recommend Claudia as a coach and as a person as well." April 24th, 2011

Kevin Hill, www.kevinhillcopy.com
"Es un verdadero placer recomendar ampliamente a Claudia, por su multifacética labor como coach profesional, estudiosa de los rasgos y talentos latinos, sentido de motivación y empuje para sus clientes y asociados, emprendedora de negocios y actitud desinteresada y genuina de servicio a comunidades y grupos necesitados. Iniciando como una asesoría para "pulir" mi estrategia de consultoría y espíritu emprendedor; la interacción con Claudia se ha convertido en el conocimiento y aprecio profundo por la "alemana con alma latina". Su comprensión sobre la cultura latina; incluidos los rasgos de personalidad y valores familiares normalmente acentuados en nuestras raíces, me han mostrado su admirable entendimiento sobre este segmento de la población. Pero lo que es mucho mejor, es su actitud de servicio incondicional para los demás. Creo firmemente que eso la convierte en un gran ser humano. It is with great pleasure that I highly recommend Claudia in so many aspects : from her personal coaching practice, to an in-depth research about latin traits and talents. From unrestricted support and motivation to her clients and business associates, to her entrepreneur work and genuine care for marginalized social groups. What started as personal coaching to "fine tune" my own consulting practice and entrepreneur initiatives has evolved, due to continuous interaction with Claudia, to a greater understanding and deep appreciation for the "German lady with latin soul" Her latin culture knowledge, including personal traits and family values deep into our roots, has shown me a most admirable bond with this population segment. On top of that, she holds an unconditional service attitude to others. I firmly believe that alone makes Claudia a great human being!" August 5, 2011

Armando Camarillo, Managing Director, Stewart Cooper & Coon - Mexico & Latin America
"Claudia is a coach who gets to the problems very quickly. She helps to see things differently and make it clear where the sore spots are, this all while using her humor as well, what i enjoyed a lot. With the EFT she has helped me to see things more lightly and made me feel emotional free, what I haven't experienced for a long time! I would recommend Claudia to everyone." May 18th, 2011

Yvette Visser, Sales Professional from Netherlands
"My name is Rogelio F. Nochebuena an entrepreneur and Engineering and Management Consultant based in the Pasadena Area. Through the passing of time one of the items that took me to long to realize is that to get peak performance all of us need the services of successful and sensitive coaches, who look us as a work in progress and are able to understand our capabilities and limitations and then set a plan to assist us to reach our true capacity. I would like to highly recommend Miss Claudia Baier who serves as my personal coach and mentor in areas related with motivation and visualization. Using her techniques I have been able to achieve several things that in the past have slow down my progress and her teachings are equally applicable to my business as well as my personal life. I have understood what are the dynamics of change and how to strategize to reach my objectives in shorter time than anticipated. So if you need to make changes in your life I will advice you to contact Claudia, you will be happy that you did." May 20th, 2011

Rogelio Nochebuena, Entrepreneur and Consultant
"To find out what's the career that will suit us it's always difficult – especially nowadays, where most of firms are firing people instead of hiring them. While I was talking about my future projects, even if I wasn't really sure about what my target is, I realized what I don't want to do, which is a good start. I also learnt that I have to 'sell myself', mainly because firms and people that are hiring me have to know that I'm different from the others, somehow 'special'. When I'm writing my CV, I should try to put experiences that are not common. If they had 100 CVs with the same experience, firms would just trash my CV; but if they read something interesting and a bit different, I'll have definetly more chances to be called back. I think that people will find your consult useful, especially people that don't have a lot of experience on the field or the ones that are looking to change their life or find other opportunities."

Chiara Q, Italy
"Claudia, is a balanced person who can get inside into your problems. I had long time a hard time in my private life, and she was very patient trying as much as possible to get away my fears and depressions. She is the person who can motivate you in to think really in positive way even livng the hardest time. I strongly recomend her. She is great!"

Patricia Sanchez, Peruvian Business Owner
"Im very glad, that I had a chance to work with Claudia, because she was the first one who helped me to see life colorful again after my broken relationship. As I already mentioned, Claudia was the only one person who knew how to help me to go on after broken relationship. I was so down, that I started to visit psychology, but unfortunately they did not help me. My life was black and I could not "breath" and be happy as i use to be. When Claudia told me she will help me, I did not believe. I remember after first meeting with Claudia I felt already much better and I started to feel motivation and energy again, but what was the most important, I wanted to live my life again and after long time I felt I have my goals which I want to achieve. Claudia also helped me with my self confidence and now we are working on my health as I have problem with thyroid. From my experiences I can only recommend Claudia to everyone who have problems and does not matter if the problem is about job situation, health, loosing weight etc. This person is very smart and she always knows how to fid the right way for you, the right solution and she is very, very helpful."

Antonie Cermakova, Czech Republic
"Im very glad, that I had a chance to work with Claudia, because she was the first one who helped me to see life colorful again after my broken relationship. As I already mentioned, Claudia was the only one person who knew how to help me to go on after broken relationship. I was so down, that I started to visit psychology, but unfortunately they did not help me. My life was black and I could not "breath" and be happy as i use to be. When Claudia told me she will help me, I did not believe. I remember after first meeting with Claudia I felt already much better and I started to feel motivation and energy again, but what was the most important, I wanted to live my life again and after long time I felt I have my goals which I want to achieve. Claudia also helped me with my self confidence and now we are working on my health as I have problem with thyroid. From my experiences I can only recommend Claudia to everyone who have problems and does not matter if the problem is about job situation, health, loosing weight etc. This person is very smart and she always knows how to fid the right way for you, the right solution and she is very, very helpful."

Antonie Cermakova, Czech Republic
"THIS IS MY BIG THANKS, CLAUDIA. I WANT TO SHARE THIS WITH EVERYONE, BECAUSE THIS IS SOMETHING INCREDIBLE. BEFORE WE STARTED TO WORK ON MY HEALTH, MY RESULTS WERE REALLY BAD, I "COULD NOT" WAIT TO HAVE MY SURGERY BEHIND ME, BECAUSE I DID NOT FEEL WELL. I HAD A PROBLEM WITH THYROID AND ONCE I TALKED TO CLAUDIA, SHE TOLD ME SHE CAN HELP ME. WE STARTED WORKING TOGETHER ON MY HEALTH AND LAST WEEK WHEN I WENT TO THE DOCTOR, I COULD NOT BELIEVE WHAT I HEARD. MY RESULTS ARE VERY GOOD, MY BLOOD PRESSURE IS VERY GOOD (BEFORE IT USED TO BE BAD) JUST FEW WEEKS AND I FEEL MUCH BETTER. MY SURGERY MIGHT NOT BE IMPORTANT ANYMORE, BUT I WILL TALK ABOUT THIS WITH MY DOCTOR TOMORROW. THIS IS REALLY SOMETHING I CAN NOT BELIEVE, BECAUSE NOT EVEN DOCTORS DID NOT HELP ME AND CLAUDIA ??? CLAUDIA HELPED ME THE MOST. SO THANK YOU VERY MUCH, REALLY VERY MUCH, BECAUSE FIRST TIME YOU HELPED ME WHEN I WAS DOWN FROM PERSONAL LIFE, NOW YOU HELPED ME WITH MY HEALTH SO I CAN NOT WAIT TO WORK ON MY CARRIER:-) I WANTED TO SHARE THIS WITH OTHER PEOPLE BECAUSE NOW I SEE, THAT IT REALLY WORKS AND OK, I CAN NOT TALK FOR OTHERS, BUT FOR MY SELF I CAN SAY BIG THANKS."

Antonie Cermakova, Czech Republic
"I was wanting a better support system for some issues regarding my career and personal life. I was also looking for some answers to belief systems that might be holding me back. Claudia is very supportive, and she is very easy to speak with. I never felt as if I was being judged. I feel that Claudia was exactly what I was needing and wanting. Claudia has a very high positive energy that makes you feel that anything is possible. She also taught me some tapping techniques that were very useful. Claudia got me through a test that I was panicking and having personal issues at the time. I am not sure I would have passed it without her support, energy, and sense of humor! I would just like to say, that Claudia needs to keep doing things in her own style. I think she puts you to ease, and has a wonderful way of lightening things up, so you feel that you can handle the situation. Claudia has a lot to offer her clients and I love the tapping she has taught me!"

Janet Lane, USA
"I expected to recover my life, my energy and a positive attitude so I could stay away from pessimism and depression. I wanted to be able to work and focus on what's really important to me in order to work on my independence. She helped me to look at the positive side of everything giving me the tips and tools to eliminate bad feelings. She also drove me to work on my own ideas making comments and suggestions to improve almost any corner of the projects I was working on. She gave me a lot of ideas to continue searching for a new job preparing interviews and focusing on the purpose of the meetings. Claudia has a special talent to stimulate positive thinking. She knows a lot of interesting and helpful resources of any kind that suit your projects and ambitions. Claudia has a perfect understanding of the nowadays business trends and markets. I was very confused and lost about my life. I didn't know what to do. After a few sessions with Claudia I started to have a more positive feelings. Soon I started to learn how to deal with negative and unpleasant feelings. After that I started to work on projects making a lot of progress from one session to another. I started to concentrate on Ideas and projects being much more productive and focused. Claudia´s advice and counseling was critical to develop better ideas and projects. I am now emotionally prepared to do anything I want thanks to Claudia's coaching and counseling. It's a pleasure working with Claudia."

Antonio Lopez, Spain
"Claudia is a very focused individual with a very clear path on how to help people. She is very thorough in her assessment and was able to help me beyond my expectations. I would recommend her to anyone that feels the need to improve their life in any number of ways. I wish her all the luck and am grateful to her for all her coaching." Top qualities: Great Results , Personable , Good Value

Face Khan, UK
The Smart Way To Find A Coach

1 Describe Your Goals

2 Get Matched

3 Free Consultations
Find My Ideal Coach Now