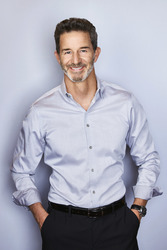 Corey Jenkins

Oceanside, California
Executive Coach, Leadership Coach, Life Coach
Spiritual Psychology—University of Santa Monica, The Nirmana Leadership and Coaching Academy
I coach intelligent, successful people who are bewildered at how to exchange stress, anxiety, and poor habits for serenity, peace of mind, and happiness. I provide spiritual tools for "real life."
Details

Oceanside, California 92054

3108803045

Send Message
Visit Website
Hourly Rate: $200 to $300 US Dollars
Gender: Male
About Me
Are you baffled why you've been successful at so much of life, but don't feel good? Whether it's your emotions, your relationship, your work, or a habit you've fallen into, something is off. For the first time you can't seem to solve the problem on your own.
Albert Einstein taught, "we can't solve problems by using the same kind of thinking we used when we created them." Today's problems include stress, worry, poor sleep, substance abuse, guilt & shame in tandem with meaningless jobs & disconnected relationships. I've experienced these myself and coach solutions to measurable results.
Ask people who've recovered from these symptoms and nearly all of them will reference something spiritual. Einstein is thought of as an intellectual, however he mentions a "God" in many quotes. This "Awareness" is what Einstein refers to as a new level of thinking. My coaching is about accessing your highest consciousness—Awareness—inside you. It's the only, organic, sustainable solution.
I was successful on the outside, and miserable inside. I was checking the boxes—exciting career & growing net worth, a relationship beyond my wildest dreams, and living near the ocean. I naively concluded that I was brilliant and powerful. I even began writing a manuscript offering to tell you how to do what I did—as if outside success created happiness and I was going to give you the key.
Then life got harder. My best thinking (at that time) manifested in shortcuts and decisions causing damage in my relationships and major changes in my financial life. Also, after years of embarrassing events, I finally accepted I had a drinking problem. I was puzzled and full of guilt.
I don't expect you have a drinking problem, but you might have a "thinking problem" as Einstein said. My drinking was a symptom of my thinking problem. What I thought was so shameful that I stayed in denial for years turned out to be Grace—a "nudge" from the Universe introducing me to a solution that I'll share with you.
Reviews
5 reviews (5.0)
Corey helped me to recognize my unconscious drivers and lean into the guidance of my higher power to create transformation that was both powerful and completely unexpected. He helped me to get past my personal blocks and jump into challenging work that has been calling me, yet scaring me.

Annette
I have known and worked with Corey for over 10 years, and know him to be one of the most supportive and caring people in my life. His natural ability to listen, empathize and give very thoughtful and useful direction is extraordinary. I highly recommend working with Corey to anyone seeking depth, peace and meaning in their lives. Corey is not only a coach to me, but has also become one of my closest friends.

KC Hildreth, Entrepreneur
After working with Corey for a little over six months, I've achieved a new level of peace in my life that I never thought possible. Both my career and relationship have dramatically improved. He's helped me to create personalized tools to help manage and overcome anything from everyday challenges to my deepest triggers. Through the process I I've discovered new levels of awareness that have finally begun to align me with my own principles and whats truly important.

Andrew M (Professional salesperson, relationship partner)
Corey's message about the Power of Awareness is leading us to a tipping point of consciousness necessary for humankind to survive and thrive. It comes from noticing more than thinking, or as he says, our Awareness. More power to him!

Brad Blanton, Ph.D., author of Radical Honesty
My work with Corey has been nothing short of miraculous. Since I have started working with him, I have seen amazing changes in my life. I found my wonderful life partner and finally found enough courage to follow my dreams. I am happier than I have ever been. Acting as a fellow traveler on my life journey, Corey has shown me how to take responsibility for my relationship with my Higher Power and myself first, so I can be of service to others. His style of coaching is completely free of ego and self-interest as he creates a safe environment for me to be fully honest with myself. Thanks to Corey's guidance, I am looking forward to growing and learning and living.

LIbby Landvatter, Artist, Mother, and Full-time Employee