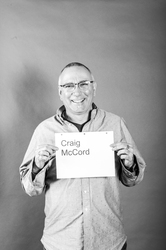 Craig McCord

Ottawa, Ontario
Life Coach, Performance Coach, Career Coach
BS, Chartered Professional Coach
I coach sports coaches and people who are navigating the waterways of life. I help them power up their lives so that have a healthy life balance that allows them to do it all and enjoy the journey.
About Me
• I am back on deck following my coaching passion with Natation Gatineau and helping young student-athletes and their parents become amazing people. I am also helping build better sports coaches in Canada and around the world with Always Forward Coaching and Consulting as a life coach.
• A lifelong learner who sees that giving positive energy, gratitude and respect are the underpinnings of strong relationships that are key to success on the field of play and in life.
• I am a chartered professional coach and have been coaching since 1982; leading the Richmond Rapids Swim Club from 1989 to 2004 and producing Olympian Brian Johns and Paralympian Walter Wu before joining Swimming Canada in 2004.
• At Swimming Canada I was the Head Coach and Program Lead for 12 years of the Canadian Paralympic swimming program, where I supported 175 athletes in the pursuit of sporting excellence at the international level with an overall medal count of 87 Paralympic Medals (30 G, 32 S, 26 B) and 81 World Championship Medals (24 G, 34 S, 23 B).
• During my time at Swimming Canada, I got to work with amazing athletes and people who taught me that you can chose to be awesome everyday and that possibility is a reality. You just have to believe with all your heart. A message I remind myself of everyday.
• I am a parent, teacher, instructor and mentor who realizes that there is learning to be had every situation, even a teacher can learn from their students.
• "We do not know it all and there is always more than one way to overcome a challenge," is what I believe.
• Application of knowledge is the true measure of what you know and when the knowledge is applied properly, you move towards your desired result.
• Sport builds amazing people and the reality is that you do not have to be an athlete to benefits from the lessons learned through sport, a great coach can use his experience to expedite your journey to a better world.
Reviews
Craig doesn't have any reviews yet.