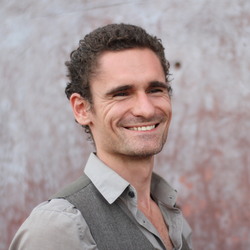 Daniel Shkolnik

New Orleans, Louisiana
Spirituality Coach, Relationship Coach, Life Coach
I work with spiritually-inclined men and women who need help reconnecting with their true Self, discovering their greater purpose, and access the self-love they need to make that purpose real.
About Me
Daniel Lev Shkolnik is a Jungian coach and spiritual mentor. His work is informed by IFS parts work, Jungian psychology, Buddhism, and breath work. Those who work with him typically seek deeper self-love, confidence, life purpose and direction, inner child work, shadow work, relationship intimacy, and support for spiritual awakening.
Daniel is the co-founder of Wisdom Circle, a spiritual support group in New Orleans, and The Open Div Project, which explores open-source spirituality. He was a Glean Spiritual Entrepreneurship Fellow in partnership with Columbia Business School and graduated from Yale University with a degree in sociology.
He lives in New Orleans, LA and offers workshops and talks on Jungian inner work and how to cultivate a serious form of spirituality for a modern age.
Reviews
4 reviews (5.0)
I had the pleasure of working with Daniel for a few months time, where he not only did exactly what I had requested of him during our initial consultation, but he offered me so much more than that. He is extremely personable and cares deeply about his work and it shows in the friendship you will build with him during your progress. When I had felt down or emotional, Daniel felt like my biggest fan, cheering me on with understanding and compassion. When I felt confident, he reminded me of the many reasons I deserved to feel that way. He will assist you in confronting what holds you back and help you move past those obstacles to live a more joyful life. I am grateful for the work we did together and the friendship we've shared through the process!

Christina
Daniel helped me more in a few Jungian Archetype workshop sessions than a year of therapy did! Tapping into the Lover's energy and learning to forgive and love myself changed me so much. The following week tapping into my inner Warrior brought me strength as well as peace, even getting my car towed while in class didn't bother me... I feel just those two alone helped me grow and mature emotionally and spiritually, allowing my manifestations to happen quicker and easier than ever before. It took these workshops to allow me to love myself and feel confident in my life to go after what I really want. A loving relationship, a healthy body and hopefully a new career. Thanks for everything!

Brad M.
Ive had many coaches throughout life, and Daniel is one of the great ones. He gets you to imagine what goals and changes are possible in your life, teaches you the tools and techniques needed for the journey, and helps you to work through any emotional obstacles impeding your progress. Daniels coaching sessions will be truly valuable for anyone ready to do the difficult work of personal growth.

Janet
The body work is uniquely powerful. I've never felt different parts of my body let alone have I interacted with them. Its a totally different type of frequency and feeling doing the individual work and knowing where things lie within myself, how to get to them, and how to get in and out of these states on my own. It really works. You just have to give it time. What I appreciate a lot is that Daniel didn't come in with an agenda. Each session you helped guide me into a state where I could ask myself what I needed. At a certain point I became mindful enough to know what I needed to speak to you about It really opened up my sense of awareness and understanding of Self. This is the very beginning of the journey. This is not an instant transformation. He does wonderful things but you cant work magic on your own. These sessions have been a lesson in understanding self: self-purpose, self-worth, self-confidence, self-awareness. And knowing what to do with that sense of self, moving forward, now that Daniel has given me the tools. Daniel does a really amazing job putting people in a place of comfort, making that vulnerability easy and natural to talk about.

Benjamin L.