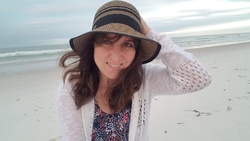 Danielle Palli

Parrish, Florida
Life Coach, Spirituality Coach, Career Coach
NBC-HWC
I coach people seeking more joy, peace, and fulfillment in their lives. This includes discovering strengths for career and personal growth, finding emotional freedom, and developing self-awareness.
About Me
I am a free-spirited outlier enamored with life, and I think life is more fun when you color outside the lines. I approach life with playfulness, curiosity, and a sense of wonder.
Professionally, I am a Board-Certified Positive Psychology Health & Wellbeing Coach. My specialties include Emotional Intelligence and MBTI (personality type) coaching for self and social awareness, mindfulness coaching for stress reduction, book coaching for authors, and working with mid-life career changers seeking renewed purpose in life. Many clients who choose me are tired of the "shoulds" in their life and are seeking to discover who they are and what they want for themselves.
Additionally, I am the owner of Birdland Media Works LLC, a Multimedia Content & Coaching Company, a multi-genre author and professional writer, and podcast producer and co-host.
I earned my Bachelor of Science Degree in Media, Culture, and Communication with a minor in Theater and Music from New York University, my Masters of Professional Writing degree from Chatham University, and a Masters of Metaphysical Sciences degree from the University of Metaphysical Sciences.
I live in Southwest Florida with my husband and an abundance of pets. I find joy in nature, travel, theater, and the arts, and I am known for singing and dancing around the living room at any hour of the day or night.
Reviews
7 reviews (5.0)
I have had numerous coaching sessions with Danielle Palli and I looked forward to every single session! On the very first session (and continued this way each session) she made me feel calm, comfortable and gave me space/time to think, breath or reflect depending on what was needed. As much as I thought I was "all over the place" she helped me focus on what I knew was the most important and always left the session with something I realized I wanted to do, and I broke it down it a very small attainable step. She has the positive and accepting demeanor, exactly what you want in a Coach! I highly recommend Danielle Palli!

Kai
Danielle is a keen, thoughtful listener. Her singular focus and motivational challenge provides a meaningful exercise in coaching. Danielle incorporates personality strengths and guided direction in each session.

Patricia Lewis
Danielle is such a positive and grounding presence. She asks really good questions and guides you along the path of your own self-discovery in a way they leaves you feeling supported and empowered simultaneously. Id recommend her to anyone looking for a gentle nudge in harnessing their own power to recognize and manifest their deepest desires.

A May
I would highly recommend working with Danielle, she has a wonderful way of asking the right questions at the right time. She helped me to unveil a new fulfilling career and kept me accountable in the process. Five stars for sure!

Brenda McGowan
Danielle recommended I complete EQI and MBTI which, in concert with the coaching, granted me quite a few insights into patterns I didn't realize I had developed.

John P.
Danielle's coaching helped me to gain insights and motivation into landing a more purposeful, fulfilling career! She makes a great accountability partner In a kind and positive way. Highly recommend her services!

Brenda McGowan
Danielle has the rare gift of being able to pull out of you the solutions to your problems. She combines empathy, compassion, logic and feeling to direct you to the pathway to help yourself go to the next level. She is authentic and trustworthy, all in all a delightful experience.

Cindy R.