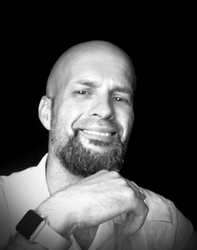 David Cunningham

Indianapolis, Indiana
Spirituality Coach, Life Coach
P.C.C., Neuro Linguistic Programing Certified Coach, Certified Life/Career/Executive Coach, Sober in Recovery 21yrs
Are you a tired, too busy, worn out, and feeling flat? Do you secretly dream of a beautiful life but don't know how to get there? Spiritual, but disconnected from God? I am here to walk with you.
About Me
My clients are spiritual seekers but feel disconnected from God and possibly from those close to them. They often suffer from a low grade depression which can lead them to seek some kind of relief in food, alcohol, relationship, and work. They stay up at night thinking that there has to be more to life than this... fearful that they aren't good enough to have what they desire: a loving marriage, happy children, a successful career, and a positive impact on the world.
Through utilizing Nuero linguistic programing in a unique and powerful way, I take clients on spiritual journeys where they uncover their deepest truths, free themselves from the bondage of old programming, and experience the power and healing of real conversation and connection with God. My clients move from being the victim of their circumstances to creators of their lives, feeling powerful and capable of achieving the life that has always been their soul's desire.
I am a spiritual counselor, healer and an ICF trained coach with over 125 hours of training from a Master Certified Coach. My spiritual journey began 21 years ago when I got sober from drugs and alcohol. Through 12 step programs, therapy, and finally coaching I began to heal the trauma left by a childhood that was marked with serious abuse, neglect and abandonment from my immediate family. Since then my passion has been to help others heal, grow and become who God created them to be. Professionally, I worked for 18 years as a professor and was known for my holistic approach to teaching; helping student's overcome the obstacles that prevented them from achieving their dreams.
I am a firm believer in miracles. I am one. I have witnessed many and facilitated many more still. I know what the power of a highly skilled coach, an honest and willing client, and the God of the Universe can achieve.
Reviews
6 reviews (2 verified) (5.0)
Just completed my first session, and although I suspected hed be a good fit, I was blown away. David is a natural- professional, highly articulate, kind, compassionate, and I feel he can also provide the structure and goal setting Im looking for.

Brad
lucy
Coaching with David has been very helpful and of great value. In fact, it has exceeded my expectations. Before coaching, I could feel unwanted, negative, unhelpful things growing in me, but I was having a hard time resolving them. During my coaching sessions, I was able to reframe some issues in my life: letting go of unhelpful or inaccurate meanings I had assigned to life events/experiences, and coming to a better (and often more realistic) understanding of them. This reframing moved me to a place where I was ready to take needed, constructive action on situations in my life that weren't working. Not only has my mindset improved irrespective of circumstances, but my circumstances have improved as well due to the constructive action I've felt more emboldened to take. Also, sometimes it is just nice to get to say some things to someone without any resistance or judgement or personal record-keeping or affirming, especially negative emotionally-driven things that you don't fully mean or want and that you couldn't say to the people involved. There is just something about being able to voice it in an unadulterated way (without any resistance or judgement from the person listening) that helps the emotions attached to the statements dissolve and puts the feelings in perspective for you (most of the time without any feedback). Sometimes you just need someone who is willing to be that fully-present empty space for you. Coaching played that role for me as well. I am grateful. Thank you David.

John
David is someone that truly listens and helps you break through your mental obstacles. He helps you discover root thoughts and mindsets that are potentially holding you back from achieving your goals. If you are someone that is trying to work towards your goals, but more importantly grow as a person, then you should talk with David. He truly knows what he's doing, and can help guide you in the right direction.

Immanuel J
I have been friends with David for many years, early in his coaching journey, he asked if he could practice on me. At the time I had been in therapy for several months. My first session with David, was far more productive than the months of therapy Id done. By the end of that session, I was ugly crying happy tears as the result of becoming familiar with my true self.

Brody H.
David is a gifted and caring listener that in return asks the right questions, helping to guide you in the right direction for self betterment.

Bart Leonard