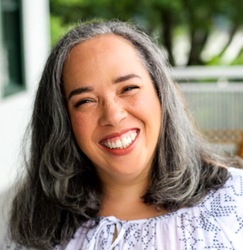 Deborah Guy Skriloff Annapolis, Maryland
Life Coach, Career Coach, Relationship Coach
Certified Career Coach, Advanced Relationship Coach, Strategic Interventionist, Fear Mastery Expert, Self-Management & Addiction Recovery Coach
Your Results Coach for the Personal Side of a Professional Life. Get out of your own way & on with magnifying your career, your relationships, your life. Create the Life your Soul Intended.
About Me
Your smart, successful, stressed and something's gotta give!
Things are looking great from the outside but, on the inside, you know you need to get out of your own way and raise yourself to a higher level in one or more areas of your life.
Perhaps you know it's time to take your career, your future, into your own hands, yet you're not gaining any traction. Perhaps you've... well you know what it is and you're just not sure where to begin or how to see it through. Does this sound familiar? Then Deborah's your gal!
Deborah started her professional career right after college at an employment agency and has been helping people realize their dreams ever since.
Throughout her 25-year NYC career in International trading and Institutional Financial Services, she developed her coaching, leadership and success facilitation skills. After designing her own career trajectory successfully, even coaching her own superiors successfully, Deborah was handpicked by the chairman of a Fortune 100 company to be the Director of his Executive Coaching and Mentoring Program. A few years later she started her own Coaching & Consulting Practice and continues to help leaders in their fields & professionals like yourself to transform overwhelm into success in far less time than going it on their own.
She is a Seasoned Career Coach, an Advanced Relationship Coach, Strategic Interventionist, Fear Mastery Expert, Self-Management trainer & Addiction Recovery Facilitator. Using the most trusted job search & relationship solutions to help you create clarity, confidence and forward movement in the next best steps for you, your career, your life.

Personally, in her spare time, in addition to producing/directing several plays, she served on the Executive Board of the revered Community Children's Theatre of Dutchess County for several years before relocating to the DC area. Happily married for over 25 years to the love of her life, together they have raised three amazing human beings.
Reviews
Deborah has 22 reviews.
Deborah Guy Skriloff is without a doubt the best Life Coach I have ever experienced. In the past, trying to find a therapist that "fit" was difficult. It wasn't until I began working with Deborah that I was able to become aware of my subconscious and break down personal barriers. The amount of persistence and patience Deborah has with her clients is inspiring and extremely comforting. She is understanding and continues to support me in clearing a path to be my best self. She is not afraid to tell it like it is and holds me accountable for making the best decision for my present and my future. I like to describe Deborah's method of coaching as "a perfect balance between wise counsel and creating a safe space for me to figure it out for myself."

Alexandra, Graphic Designer, NYC
First let me say that Deborah has been hugely impactful in my business. When I started working with Deborah my business just had a poor 1st quarter and a terrible 2nd quarter. In the next six months her work with me raised my business 51% in Q3 and 69% in Q4. Secondly my entire life has improved. I am sharper, more clear, focused and engaged in my business and my life. I will be working with her for years to come. One of the best decisions I have made is working with her.

Chris, Business Owner, Kansas City, Kansas
I was worried about my son, he is in the equity finance industry and had had set backs both personally and professionally that had left him aimless, anxiety ridden and 'hiding out' from life. A friend of mine, who had worked with Deborah in the past, recommended her highly and suggested I seek her out. I told my son. He hired Deborah in July of 2015. Here we are in November of 2015 , and I've seen so many changes,. . . My son, is focused, happier, sees clearly what steps he needs to take and is developing the skills to do so. Deborah is a blessing. I would recommend her without reservation!

Murray, New York, New York
I have had the pleasure of working with Deborah over the last month and although our work is not yet complete, I have found insight that has eluded me for years and conquered a number of fears that had been holding me back. I was wary of the process in the beginning but that was just the fear of the unknown. Once I had my first conversation with Deborah, I was immediately put at ease and we went right to work. I've found new direction in my life, built new confidence and due to the work we've done together, I'm about to embark on a new chapter in life. Working with Deb had been invaluable and I would highly recommend her services to you! Thank you so much for all you've done for me Deb!

Tim Moon, Sales, Washington D.C.
I just wanted to thank you again for all of your help the past year and a half. During our time, I have truly felt myself become a stronger and more confident woman who is gaining control of her mind and emotions.

Although I have my moments, I now look at those moments as little challenges and an opportunity to continue to practice the tools you've taught me rather than letting those moments set me back. I have noticed that I have shorter and shorter amounts of time in between my irrational and rational self.
I am becoming more and more aware of my actions as they are occurring and feel myself taking initiative to see every moment as it is, rather than seeing it with a cloud of irrationality and emotion.

I've become mindful and present, two things I have wanted to be for a long time. While I am well aware that I'm still a work in progress, I now have the tools I need to continue my practice thanks to your guidance and constant support. I am now a lot closer to a rational, peaceful mindset.

Thank you again, from the bottom of my heart.

A.R. Director of Graphic Design, Tech Start up, NYC
A while back, my life and all its various aspects felt as though they were in shambles. My personal life was a mess – a divorce, unhappiness, discontent and conflict. My professional life was a mess – disenchantment with the company, with my management, with my role. Every aspect of my life seemed out of alignment, out of balance, and I felt as though I was drowning underneath all the demands and expectations of everyone around me. This lack of balance, this lack of clarity in ability to evaluate situations within my life with clarity – both personal and professional - revealed itself directly in my performance as a life partner, as a father, and certainly as a highly compensated employee of a major corporation. I was at the brink of voluntarily quitting the company I had served for so long, as my career became the scapegoat focal point of blame for much of what I felt ailed my life.

It is at this point that a close friend of mine suggested that I try working with Deborah Guy-Skriloff of Crossing Bridges Coaching. I was dubious at first, but I was also at the end of my rope, so I decided I had nothing to lose by trying.

Today, you would not recognize me as the same person. My personal life is happy and contented. My professional life is reinvigorated – the energy, drive, and creativity which my employer valued is restored. Rather than treading water and performing poorly until I was fired, or quitting in a funk of disenchantment – I am again performing at a superior level, and leading large teams in the accomplishment of company strategies. And I'm smiling every day.

My participation in the programs of Crossing Bridges Coaching, and specifically the professional life coaching expertise of Deborah is directly responsible for that turnaround. This is not psycho-therapy. This is not "feel good" counseling either. This is the application of proven methodologies, practices and approaches toward finding the way to success in all aspects of one's life. This is learning and re-learning skills toward achieving a balance, and a perspective on life – which supports accomplishing ones goals both personally and professionally. And it works. I'm proof.

The insights and skills to which I've been exposed, that have helped return me to an energetic and accomplished leader of large teams – are directly applicable in today's rapid paced, extremely challenging business environment. A core asset of any strong company is its best people. The knowledge, skill, and experience embodied in those people is the result of huge investment on the part of such companies. I am a firm believer, through real experience, that professional coaching can be a key to not only building, but perhaps more importantly - maintaining high performance teams…the hallmark of any successful organization. Protecting your company investment in your high performers can be achieved through coaching services such as those provided by Crossing Bridges. I would urge you to consider how such services, training, and consultation could benefit your company bottom line in the very real areas of job performance, job satisfaction, and reduction of staff turnover.

James W. Wanke, Vice President, LexisNexis
For me, Deborah acts as the perfect cognitive mirror. She allows me to see and hear my own thought processes, including where I tend to derail myself. She acts as a second set of brains that allows me to align my thoughts with my values and distill those thoughts into a cohesive action plan. In essence she's helping me right my ship.

Eric R., Certified Financial Planner, Investment Portfolio Mgr, Bond Trader, Washington D.C.
I watched my sister's transformation. In just a few months she went form being constantly stressed out to a self-assured woman. She was getting out of debt, advancing her career, pursuing her dream and much happier in her marriage. When I asked her what she was doing, she told me she was working with Deborah. That was all I needed. I called Deborah's office the next day. On a scale of 1-10 reading a self help book is like a '2' and working with Deborah is a 10 Plus!.

Susan, Mom and business owner, American Fork, Utah
I love the results I'm having. Your approach and coaching group have launched me into a new and amazing direction in my life. I LOVE the resuts I'm having. The new me is getting great reviews from my family, my friends, and most importantly, for the first time from ME!

Richard Ortiz, Director, Information Technology, New York, New York
"Working with Deborah has changed my life! I never realized how 'often I procrastinated or made decisions 'reactively' instead of 'proactively for my business and my family. Now I recognize how 'fear' looks and feels and can choose to move through it and accomplish our goals from a place of freedom. This work is powerful and inspiring. Thank you for helping me turn my life and my family around.

Linda Carlos, Kingston Floral Shop, Kinston NY
I came to Deborah in turmoil, struggling with a huge decision to close my business and give up something I poured my heart and soul into for eight years. I had so many mixed feeling of inadequacy, guilt and frustration but session by session Deborah worked with me on executing the right "next steps" for me. So I could accomplish what I needed to do. Along the way she uncovered lingering issues I had with my mother's death and father's abandonment. I feel like a whole new person, ready to speak her mind and take on anything! Deborah I cannot thank you enough! You helped me transform my life, find the courage to speak my mind and embrace new exciting opportunities.

Deborah is an awesome coach! I got so much out of our work together!

Dana Lamberti, Mompreneur
For me, Deborah acts as the perfect cognitive mirror. She allows me to see and hear my own thought processes, including where I tend to derail myself. She acts as a second set of brains that allows me to align my thoughts with my values and distill those thoughts into a cohesive action plan. In essence she's helping me right my ship.

Eric Randolph, Director of Fixed Income, Hopwell Financial, Washington DC
Deborah is an amazing coach, session after session she helps me turns those 'light bulb moments' from our work together into actionable steps in my life. She is fully present and hears all that is being said and more! She creates a safe space for me to look more deeply into situations and see the things I've missed because of my own personal blind spots around certain areas in my life.

She has changed my life! She's my secret weapon! "She truly has a marvelous way of working and nurturing each one's unique and full expanison. I fully recommend her as an EXCELLENT COACH!

Sharon Wikoff, Radio Host of "Voice of Change", Nevada City, CA
Deborah clears up the fog. She has advised me in two distinct phases of my life over several years-- personally and professionally. In both, she was a true expert in listening, organizing my ideas, and facilitating my discovery of a more purposeful path and effective methods. I could not have achieved nearly the same results by talking to friends or family on the same subjects. Deborah understands this like a science. I have recommended her to others, and they have likewise been impressed and grateful.

Rachel Stone, Sr. Business Intelligence & Research Analyst, Washington DC
Deborah's approach got me on track fast both personally and professionally. I never realized how much my personal 'mind game' was zapping my energy and focus.

Lizz Hodgin, Musicalme.com, Santa Cruz, CA
Deborah helped me take my business from a hobby that I loved to a full-time career that I love! I bought our first home. I can raise my family with confidence!

Rick Sherman, NYCMAGIC.COM
I was going on and on about how discouraged and frustrated I was, and about how much trouble I having with a new script idea when a friend confided that he had recently started working with Deborah and recommended I do the same. My reaction was typical. When I heard the words, "Life Coach", I smiled and nodded, but inside I was rolling my eyes - big time. The whole thing just sounded, frankly, silly to me. But not anymore. The impact on my life and career has been phenomenal! In the past, I've always set goals, but no one was there to hold me accountable and support me in staying on track when I broke promises to myself

Joseph Doria, Manager of Operations, Perpetual Education Fund, Church of Jesus Christ of Latter Day Saints and Award Winning Filmmaker
Deborah clears up the fog. She has advised me in two distinct phases of my life over several years -- personally and professionally, In both, she was a true expert in listening, organizing my ideas, and facilitating my discovery of a more purposeful pathway and effective methods. I could not have achieved nearly the same results by talking to friends or family on the same subjects. Deborah understands this like a science. I have recommended her to others, and they have likewise been impressed and grateful.

Rachel Stone, Sr. Business Intelligence & Research Analyst, Washington DC
I'm so excited. I feel confident and so motivated. I feel like I have a fire under me and all the right tools in hand. Thank you for helping me formulate a vision for myself, for believing in me and for helping me develop a strategy for success.

Kim, Software Engineer, Wellesley, Massachusetts
Being coached by Deborah was a highlight this year that enabled me to work through many challenging aspects of 2016."

Joel P., Founder and President, Publicly Traded Apparel Brand
Deborah helped me at a time my business and I were in transition. She has the ability to listen and glean from you the important information necessary to work through your process. A great communicator, an astute and timely business woman who has an articulate and sensitive communication method. She connects to people in a very special way.

Marlene Weber, President, Marlene Weber Corp. Hudson Valley NY
Deborah is a rock star life coach! She helped me identify the blindspots that were holding me back and then held me accountable for creating the change I wanted.I have new awareness of strengths that I used to think of as weakness. She gave me tools to find courage in myself and be the person I was born to be!"

Jeanne Cooper, Co-Founder, Brainstorm Health Systems