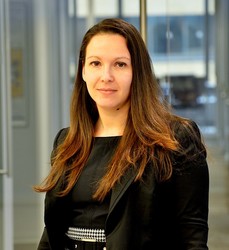 Diana Damyanova

Boston, Massachusetts
Performance Coach, Executive Coach, Leadership Coach
I coach professionals who seek to improve their performance, grow, and / or go through a change in their life such as promotion, career transition, pivot in responsibilities
About Me
My name is Diana Damyanova and I am a growth and performance coach.
After over 10 years of experience in finance and strategy & management consulting in variety of industries and functions, I embraced my passion for talent development and started coaching professionally.
From advising executives to managing talent just entering the workforce, and anything in between I have had the opportunity to watch people grow and perform and be a part of their journey.
Reviews
3 reviews (1 verified) (5.0)
Professional and supportive, always focused on the end goal. Has a way of leading you toward self-discovery and insights. Highly recommended

Sofia
Diana provided invaluable support as a coach, providing both guidance on how to achieve in in my position at the time, as well as how best to develop into my next role. In a challenging time in which I was looking to grow but wasnt clear on the best path forward, Diana acted as a sounding board to determine clear short / long-term goals and create accountability. She was especially adept at engaging me to dig deeper into situations to identify core challenges and work together to build practical solutions. This is definitely a unique quality and a phenomenal benefit of having Diana as a coach - youre never working alone to solve a problem. Since working with Diana, Ive been able to move internally in my company and negotiate / navigate a challenging promotion process leveraging skills I developed with her. I especially appreciated her during these early years of my career, as she is able to help juniors in accelerating their career progression and develop upward management skills (a speciality of hers). I absolutely recommend Diana if you want a partner in your coach, and someone who will push and challenge your way of thinking.

Kate
I came to Diana because I needed help taking action in my life and being kinder to myself. During my 12 sessions, Diana asked very insightful questions to help identify self limiting beliefs and take concrete steps to change my life. I know that it may sound cheesy, but through her positivity, warmth and curiosity I am a more open person and love myself more

KG