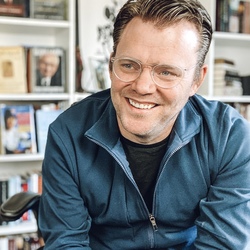 Don Markland

Jacksonville, Florida
Business Coach, Entrepreneurship Coach, Executive Coach
Forbes.com Contributor; Top 40 under Forty Award Winner, MBA International Business, Harvard Certification Entrepreneurship
I help business leaders turn ideas into actionable reality; I help them end the struggle of "want to" and turn it into "now." Stop wishing for a better life and wealth. Let's make it happen -- now
About Me
I am not your typical Executive or Life Coach. Whereas most coaches focus on Weekly Sessions and spend the bulk of time in "Dr. Phil" type discussions, we will spend our time tactically building real habits that turn into quicker results personally, emotionally, and financially. The quickest way to get out of a rut, is to move.
We work together to make action your default response.
I have an energetic and motivational style so that you start to wake up every morning ready to attack the day, get results, and win. Every race doesn't start with the pistol, it actually starts with the runner making the decision they were going to win. My clients learn those success habits and engrain them into their everyday life.
I developed professional strategies called The Power Morning and The 4 Cs of Accountability that helped me become a Forbes.com contributor, Top 40 under Forty winner for entrepreneurship, become Advanced Grant Cardone certified, and a Chief Revenue Officer for a $100M company all under the age of 40.
I've worked with companies like Amazon, State Farm, DirecTV, All-State, CenturyLink, as well as tiny startups and these strategies work in every business, industry, and lifestyle because people are people.
When working with my clients, we focus on how to win. We create custom paths of success: from how they wake up, to planning their day, to even eating habits, relationships, and strategies for career growth and personal wealth creation. Winning is a habit in every aspect of your life and my clients live this mantra.
I couldn't be more excited to work with you and find the next steps to help you win personally and financially.
Let's get started today.

Reviews
12 reviews (8 verified) (4.92)
Dons a great coach. If youre looking for someone to show you step by step how to grow your business and ultimately change your life forever then this guy is for you! benefits: business GROWTH, confidence, no more uncertainty, and absolute motivation. Worth every penny.

Ethan
Anonymous
So far so good, Don is an excellent coach and has deep digital marketing expertise.

Nathan
Don immense knowledge comes in handy. He always has a different approach and a way of thought...!

DEEPAK VARMA
Mark
Don really cares about someone as a whole person. While is an expert at sales and business processes, he also considers other pillars of one's life, such as family, physical fitness, etc. in a holistic way to find a complete solution to push one's business forward.

Peter
The dude flat out rocks! I love me some Don Markland. Inspiration, vision, etc. are great additions, but its all about execution with Don. The worst thing you want to happen is become addicted to the "talk" and not living the "walk." Don inspires and makes sure you walk the walk.

Blair McNea
DEEPAK VARMA
Don was great. He really helped me to see so many clear ways to increase my business. He was inspiring and motivated and highly recommend him!!

Kyle Gouvin
Don has helped my business tremendously. My team is excited to learn and grow with more of Don's guidance.

Jesse M. - Digital Marketing CEO
"As I've been working with Don, I've noticed my cash flow and sales process will never be the same! My small business continues to get better week over week. He is very motivational, dynamic, and above all helps me be accountable. He focuses not only on "The Why" things aren't working, but "How" we can get things better and quickly. I highly recommend him to entrepreneurs and small business owners."

Sami T. Empowerment Specialist & Career Coach, Los Angeles, CA
"I worked with Don as he helped me pivot from a long career in financial services to now where I'm a web designer for a leading SaaS company and even fighting multiple off competing job offers after only two years into this industry! His regular calls were really helpful and uplifting. I loved it."

Travis M., Web Designer, Salt Lake City, Utah