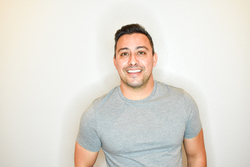 Edward Rocha

Cambridge, Massachusetts
Business Coach, Career Coach, Life Coach
BA, MS, Certified Professional Life Coach, ICF Accredited Certification
I coach Entrepreneurs from startup to evolution I am a: -Harvard graduate -Published author -Certified life coach -Entrepreneur I want to share my proven success strategies with you!
About Me
I coach Entrepreneurs in many business paths, from startup to evolution. With a strong emphasis towards accountability, productivity and goal setting, all leading to tangible results and real growth
Anyone who has met me will call me a serial-entrepreneur. They will also tell you that I am compassionate, loyal, focused, and fun. My passion is building things, creating processes, and helping people reach their goals. My journey as a Certified Professional Coach started over 10 years ago, as I, myself, was on a personal and professional path to happiness and fulfillment.
My career began at Harvard University, where I studied Government. Later, I continued my studies at Boston University, earning a Master's in Management. Today, I own and operate 3 businesses and have explored many industries over the course of my career. These industries include, but are not limited to:
-Finance
-Education
-Construction
-Wellness

I look forward to learning about your passions.
Goals are exciting, but many people can get wrapped up in thinking about that final product. I am here to help you with the nuts and bolts. This process will help you take your ideas out of your head, get them on paper, make a plan, and put it into action.
I believe in:
Simplistic planning
Tangible goals
Consistency
I want to understand your values and beliefs to guide our journey together.
And remember, coaches need coaching too! Through my relationship with a life coach, I have:
-Completed 6 marathons
-Focused my business ventures
-Eliminated debt
Reviews
9 reviews (1 verified) (5.0)
So far, so good!

Peter Spiro
If you are looking for an amazing Career Coach.. Ed is the perfect coach for you! He is energetic and has helped me with one of my goals!! He is very informative in his field. He is definitely motivating and has an gravitating spirit about him! Ed and his team are the best!! I would recommend him to others, if they are in need of a Career Master Coach!!

Angela king
Ed is awesome! He is supportive, encouraging, and keeps you accountable. In our work together focusing on my business plan, he provided clarity and helped me realize my confidence and strengths. Love his energy and style. By the end of our session, I had an action plan and motivation to make great changes. Thanks Ed!

Shireen Quaizar
I was lucky to meet Ed during a Master Class we took together. A few weeks later he invited me to an event he offered on "how to get your business up and running." It was an intimate group of us who shared questions and ideas. Ed had great concepts, resources, and feedback as well as, challenging us with where we should see our business in a year. Ed's high-energy personality and passion are contagious. I left not only with extra tools to apply for my business, but I felt less overwhelmed and excited to tackle the tasks ahead of me.

Monselete
It was an absolute pleasure working with Ed. I came to the table with some questions about my own business and Ed was able to help me clarify some actions that I could take that would help my business be more outstanding. Ed has enthusiasm and drive and helps other business owners create possibilities that are really doable and realistic. Because of this, I have no doubt that I will see my business thrive even more.

Carol C.
Ed has a knack for working with you to identify what exactly you want to accomplish (whether you know it or not!), laying out a step by step plan of how to work towards those goals, and setting benchmarks to hold you to along the way. He manages to bring an energy and also a humor that will keep you naturally motivated so he doesn't feel like your personal drill sargeant!

Erica Adelson
Edward is incredibly intuitive, a wonderful listener and highly pragmatic. He is a successful businessperson who also happens to be a trained professional coach. Edward sees the best in you and helps you to build a plan for how to place those strengths and passions in your career. Equal parts business, coach, and cheerleader, he helps bring your vision to life.

Delainie Baker
Working with Ed has turned out to be one of the best decisions I have made in a long time! I reached out to him after hitting a wall within my startup. After just one call with Ed, he was able to provide me with an action plan of steps to take and within just a couple weeks, under his guidance, I grew by over 10 new clients! My only regret is not reaching out to him sooner!

Coddy Macneill
I have known Ed for over 18 years and would randomly from time to time reach out for advice. Advice on starting something...anything. I admired him as an entrepreneur. During the Summer of 2020, I found myself reaching out again, except this time Ed was running his own coaching company. He asked me to give him a try and a try I gave. From the first session there was an action plan in place and goals to achieve or stay on top of before we spoke the following week. He held me accountable to stay on track with the goals we set out. With Ed's help, I have started a brand and have a pretty decent vision for the future. I also started a podcast, which was something I've always wanted to try and do. With Ed's constant encouragement and accountability for reaching goals, I confidently recommend him to anyone aspiring to do and be better with whatever venture in life they pursue.

Vince Schmit