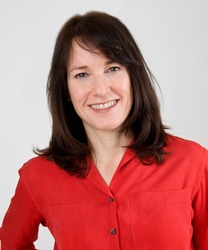 Elizabeth Barrekette

Boulder, Colorado
Executive Coach, Business Coach, Performance Coach
MBA Columbia University, BA Economics Washington University, Diploma in Executive Coaching and in NLP
Would you like your efforts to get better results for yourself and your company? I specialize in helping executives and busy professionals focus on key actions to improve performance and satisfaction.
About Me
Elizabeth is a highly solutions-focused coach. Using her sharp intellect, creativity and humour, Elizabeth has a unique ability to quickly build rapport and trust with her clients. She coaches them through a goal-oriented development plan that allows her clients to understand the impact of change on all aspects of their lives and how to undertake this change. Perhaps most critically, Elizabeth uses her extensive experience to help her clients to find their own "value proposition", to be proud of this and to leverage this as part of their personal brand.
She has an outstanding record in strategy and marketing with large corporates and small/medium-sized enterprises worldwide and has devoted much of her life to helping others find their own direction. A true believer that executive coaching, career coaching and personal "life" coaching cannot be separated, Elizabeth facilitates the ability to help oneself. This approach empowers her clients to continue to develop long after the coaching contract is over. In Elizabeth you will meet a coach with energy, warmth and inspiration.
Elizabeth holds a BA in Economics from Washington University in St Louis and an MBA from Columbia University in New York. She is also NLP-qualified from ITS and graduated with a distinction from the Academy of Executive Coaching. Elizabeth is qualified in psychometric testing. She is also a member of the International Coach Federation (ICF) and an ShL partner.
Working for years as a management consultant with Booz Allen & Hamilton (now Booz & Co.) and later as a marketing executive, Elizabeth's experience crosses many sectors including financial services manufacturing, telecommunications and non-profit. She has advised on strategy and operations as well as assisting in organizational and performance management. Elizabeth has lived and worked around the world and across cultures spanning from Australia to the UK, Europe to the US and the Middle East.
Reviews
4 reviews (5.0)
I highly recommend Elizabeth for any aspect of coaching. Her openness and ability inspires confidence in the process. While goals are ever-present throughout the coaching process, they do not interfere with it. Her positive and friendly demeanor relaxes you immediately and allows for deep exploration.

Joe, Business Owner
I found working with Elizabeth incredibly helpful. With her guidance I was able to explore different paths towards reaching my goals. She has an exceptional skill at analyzing situations and providing insightful observations.

Rand, COO
"When I first met Elizabeth, I was in a bit of quandary about where my career was going and my future. After a few sessions though I was able to focus more on directing my career into areas that I really wanted to go, which was working in fashion. Although I didn't change my job, which is what I originally intended to do, I was able to see that there were really good opportunities within my company that I could tap into. This renewed focus would not have been achieved without the help of Elizabeth. I am now working in the retail sector as a senior analyst specialized in fashion, a role that I am very happy with. "

Isabel, Senior Analyst
Working with Elizabeth has been great! Elizabeth has helped me to realize and identify the things that have been holding me back. The shifts that I have been experiencing have been subtle, but they are absolutely there. I'm now approaching this year with a renewed excitement and enthusiasm. Thank you for helping me to take those big steps forward; I can't wait to see where they lead!

Natasha, Entrepreneur