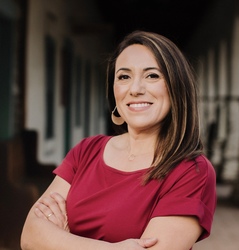 Erika Olivarez

Salinas, California
Performance Coach, Health and Fitness Coach, Life Coach
Licensed Marriage and Family Therapist in California, Board of Behavioral Sciences
I help coach Elite Athletes Culturally Connecting their mind and body-with presence & intention. We work on mental fitness, strength & endurance from within so that their Mindset will WIN their game!
About Me
Erika is a Mental Fitness Coach with a focus on cultivating growth in Elite Athletes. Helping Athletes work on their Mindset, Performance & Health Goals. Elite Athletes conquer their mental strength & endurance from within so Mindset will WIN the game!
Her style is a partnership helping clients overcome performance barriers related to performance anxiety, negative thought patterns of perfectionism, pressure & competition stress. Making the uncomfortable an opportunity to reach their success! Helping Elite Athletes Get out of their comfort zone & accessing their confidence to maximize their strengths!
With a holistic minded approach & over 20 years in the psychology field—Erika endows strategies to elite athletes through a unique style of coaching, Mental Fitness Coaching. Specializing in getting Athletes the growth mindset to achieve confidence. Culturally Connecting your mind and body-with presence & intention.
Born in Salinas, Erika grew up in a traditional immigrant Mexican family where her core values of enduring the grit & grind of life made her strength of perseverance so prevalent today. Erika is anchored in commitment towards her goals & dedicated to accountability partnerships to endure challenges. As an endurance runner Erika is strengthened with a mental-physique to overcome adversity. With overcoming many challenges, comes many lessons—Erika embodies essence through instilling a strong sense of community, empathy, trust, respect, integrity, determination and interweaves that into her coaching.
With a background as a Licensed Marriage & Family Therapist in California, Erika has inspired many people to become an agent of change. Through experiencing so many aspects in life as wife/mother/runner/entrepreneur/clinician & mental fitness coach. Erika always intends to build something special that allows internal growth within her clients through insight mental fitness coaching. It is Erika's mission to help Athletes see the benefits of mental strengthening!
Reviews
Erika Olivarez has a high level of knowledge and skill in the areas of psychology and coaching and she is a true expert in the field of mental fitness. She is passionate about bringing out the best in others and helping them to overcome what is holding them back. And the best part is that she is a wonderful person to work with and has a caring, warm, and highly professional coaching style.

Erna Herzfeldt