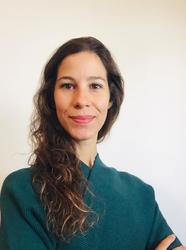 Farah AbuAlia

Amman, 'Amman
Life Coach, Spirituality Coach, Health and Fitness Coach
BSc. in Architecture, Yoga Instructor
Do you feel like you are looking for something, or that something is missing in your life? I can help you connect with yourself by integrating fun wellness habits that pave the way for a quality life.
About Me
I have learned some techniques through coaching and other wellness practices like energy work, yoga and breathing exercises that have brought wellness and joy into my life and I am here to help you with the same.
The type of coaching I do is called co-active coaching, which is a form of life coaching that is guided by the co-active model, focusing on the client's fulfillment, balance and ability to process life's events through psychosomatic exercises. I pair this with learnings from other modules of healing I have acquired to guide my sessions with you.
I will help you learn how to listen to your body, how to listen to your mind and how to train your brain to execute life at its best potential. After learning about yourself, you'll be able to reach a place of stillness and peace, moving through life intentionally and with control. I also offer custom meditations for my clients to help you reinforce your learning from the session.
If you are feeling as if something is missing or you're overwhelmed, I can help you connect with yourself and structure your life to cater to you. By walking with you through your struggles, I teach you tools to help you reach an overall state of wellbeing and harmony in your life.
Reviews
6 reviews (4.83)
It helped me realize I could connect with my emotions through my imagination.

S.Q.
I worked with Farah when I was going through some tough personal challenges. I was experiencing a whole range of emotions and didn't know what action to take. Farah helped me in several ways. Firstly, she is an excellent listener and really made space for me to express whatever I was feeling. She helped me to articulate my frustrations, which made them more manageable. Secondly, she incorporates different concepts in her coaching, including energy. It is easy to be focused on what I do without actually paying attention to the energy I am creating, which has a big impact on how I feel. Thirdly, Farah is incredibly calm but also not afraid to challenge her clients. This helped me to feel safe and at the same time, to address my own contradictions. Working with Farah widened my perspective and I still use many of her techniques today. If you want to feel accepted, understood and grateful, Farah is the coach for you.

Desi Jagger
Farah is an amazing coach. She truly addressed my challenges in a very unique, empathic, and genuine way. Her energy is inspirational. My personal challenge was somatic manifestations of anxiety and depression which with her help were mitigated in no time. I highly recommend her and she will adapt her coaching methods according to your needs!

Mariella Suleiman
Farah guides with an elegant grace. She keeps me calm, allowing me to explore my journey with safety and peace.

Nourah
I felt supported by Farah at all times, regardless of what my decisions were. She allowed me to realize things about myself I never knew I had in me, giving me more balance and a wider perspective.

Aida B
Co-active coaching with Farah has been one of the most rewarding experiences of my life. I learned how to truly harness my strengths.

Sarah