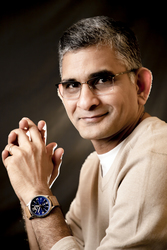 Gopal Subramanian

Bangalore, Karnataka
Life Coach, Career Coach, Relationship Coach
Computer Science Engineering, Psychologist, Diploma in Counselling, Certified Enneagram Coach
I coach frustrated mid-career or mid-life professionals who are looking to balance their career, relations, personal development. I will partner with you to help you find that balance in life.
About Me
Are you frustrated with the way things are in your life? Frustrated with your career, worried about your financial situation, stressful relations, guilty of not spending enough time with your dear ones, angry at not able to have your "me time". At the end of hard working day you just feel like a football, getting kicked around, and not happy with what you have done and not sure why you are doing this.
I help my clients through a structured approach to gain clarity about their strengths, create a career and life plan to achieve clear, concise and achievable goals.
You can choose not to go through life as is and have a more balanced life. It is possible that you are not seeing it today because of
1) Lack of clarity, about yourself and what you want to do in life,
2) Thinking negatively, having limiting beliefs and mindsets,
3) Not having a clear action plan.
This is where my "balance-life" coaching program will be useful. You will gain clarity of what drives you, gain a deeper understanding of yourself and your behaviors, prioritize and set goals in your life areas. You will see your life with a fresh perspective. I have personally gone through a shift like this from computer science to behavioral science.
My clients have acknowledged that with our tools and techniques they have gained a deeper understanding of their self, gained clarity and confidence to deal with situations, improved their relationships. They feel more lighter and able to bring back that energy in their life.
I come with 30+ years of industry experience, starting as a Software Engineer and after 20 years grew up to be head of Engineering, Quality and Project Management. However, I did not feel complete and felt uneasy within. It was then, at the age of 40, decided to switch careers. I earned a Masters degree in Psychology, started counselling, got certified as a coach and left corporate job to start my own practice. Since then I'm enjoying what I do and feeling more at ease with myself.
Reviews
3 reviews (4.67)
we are having this re-org of our organisation, and Gopal is really helping us in times of tide and bringing so much for us of us to Streer the ship. Your commitment and clarity help us a lot whenever we are lost ... we are happy to have you ... Thanks for being a great person to be with...

Rakesh B Jain
I was able to get more clarity in functioning and able to widen my view on different aspects of understanding an issue. Also Gopal was instrumental in making me aware of the holistic views and development at the same time enabling to come terms with finding solutions to the immediate concerns.

Bhamini GS
I had enrolled for Gopal's coaching sessions and overall the sessions helped me in various ways. We spoke about areas related to anxiety, overthinking, effective communication and sparing time for self. All the areas were well dealt with via conversations with him. One best thing about Gopal is that he never answers your doubts, rather converses with you in a way to bring out the solution to be tried out for a problem area, which actually helps in self reflection and knowing self better. His sessions made me understand the significance of the listening attribute for effective communication. His sessions made me realise that over thinking and taking stress on things which are beyond our control can be and should be avoided. His sessions made me realise that feedback is feedback neither positive nor negative. It is only meant for bettering something or someone. Now I know where I was going wrong or doing things which could have been avoidable. I know why I was unable to figure out time for self. The key takeaway from his sessions is that small changes can lead to a big forward leap. Certain behavioral awareness/changes can make a huge positive difference in your life.

Prantik Nayak