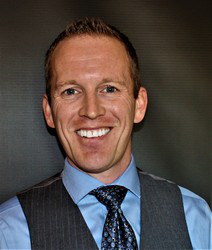 Grant Melbye

Denver, Colorado
Business Coach, Life Coach, Performance Coach
NLP Practitioner Certification, Life Coaching Certification
I coach those looking to take action. Are you struggling to figure out what to do next? Maybe you know what you SHOULD do, but you can't seem to take action. Together we'll get real, lasting results!
Details

Denver, Colorado 80241
970-988-4709
Send Message
Hourly Rate: $125 to $200 US Dollars
Gender: Male
About Me
Hi, my name is Grant and I'm excited you've started looking for a coach. I've had the opportunity to work with a variety of different people and businesses in a variety of situations which has allowed me to find commonalities as to why some people are successful, and some aren't. Sometimes it's a lack of knowledge and understanding, while other times it's simply acting upon the knowledge we have. That's where I come in. I've studied business trends and life cycles as well as practical psychology to determine what your customers really want. That same knowledge has also allowed me to help leaders and individuals understand themselves, and the people around them too.
So you're stuck. The first thing we need to do is figure out why and what direction you want to be heading. Let's figure out what you're REALLY after so we can create a plan to get maximum results in the shortest amount of time. My focus is on helping you create measurable lasting results using proven systems. It's time to level up, and I'm here to help make that happen.
Reviews
12 reviews (4 verified) (5.0)
Before I started working with Grant, I was going through the motions. My goals, vision, creativity and ideas were gridlocked in my head worse than Times Square on New Years Eve! In the past 3 months that we've been working together, I read very valuable books, doubled my data sets in the thousands, and built my foundation with systems and programs that I wasn't thinking of or didn't have clarity on. I set goals for the year and completed 2 way ahead of schedule, and I have a solid daily structure with tasks that have resulted in all of these accomplishments thus far and a lineup of impressive stats that were non-existent. The best part is the peace of mind and confidence in the direction and support as things evolve. I can focus on building a unique tech recruiting business with extensive market intelligence and not overthink unnecessarily. All that aside, the weekly meets are energizing and informative. I'm blown away by Grants knowledge of business and many industries and an easy connection to mine. His intellect and breadth of experience is stunning, genuine and a serious legit game changer for my business and personal growth. This experience has been beneficial to my work life and for my very special team! Now I know for sure I am a good recruiter--I nailed it with my coach!!!

Claudia Colonna
Working with Grant was just what I needed. I loved his teaching method in that he led me on a road of discovery. I got out of it the things I really needed to know. I like the direction I am headed and I would heartily recommend him to anyone who feels that they need a coach to help offer a nudge in the right direction.

Lorne
I have been in a slump and not achieving what I needed. Grant has actually helped me to identify what matters to me and then to engage in what matters. I have progress in my life and I like it. I would highly recommend Grant as a coach. He is helpful and insightful.

Lorne Redmond
Choosing to work with Grant Melbye was the best decision Ive ever made. He has really helped me see my potential. Since Ive been working with Grant Ive made incredible progress toward reaching my goals and continue to do so with his help. He has helped me see things from a different Perspective inspires and motivates me to do better each week than Ive done in the previous week.

Lori
Grant's been coaching me for three months and I'm very pleased with the improvements I'm seeing in my work and life. I'd recommend him to anyone who wants to move up to the next level in their performance.

Jeff Caldwell
Grant Melbye may have just saved my career, my dreams, my hopes. No joke. I was on the brink of tossing in the towel when I reached out for a last ditch effort. I was incredibly overwhelmed and at a loss for my next steps. Grant introduced a process of goal setting and clarifying my vision that I am still working successfully 6 months later. His mindset strategies, and the belief that making money isn't really that hard, and creating a business isn't really that hard either, have proven to be true. His strategies helped me lay a foundation that I share with my own clients today. I cannot say enough about Grant's practical yet hopeful style that yielded results for me. It was time and money well invested. 

Rachel, Steamboat Springs
Grant Melbye us a very sincere and honest and patient coach. He was always focused on delivering the best and never showed concern for extension of contract. He always delivered above and beyond. He is organized, knowledgeable, flexible and easy to communicate with. He is always available to contact and responds very quickly. He provided additional/bonus self development information and materials to add to my knowledge. He was always prepared for the presentation/session, I recommend him 100%

Ibrahim, Rochester MI
After working with Grant I feel I have a much better idea on where I should be putting my focus and more control over my life. He's really helped me to get clear on what I really want and they best way to make it happen. He's honest and knowledgeable, but also a real and relatable person. I would highly recommend him.

Charlie, Salt Lake City
What I appreciate most is that Grant helped me understand myself first. I was getting in my own way but I didn't know that at the time. After working together he helped me see that I can be successful in many areas and helped me use my introvert strengths. I feel better equipped as a mom and joined an MLM business that I'm really enjoying.

Heather, Colorado Springs
I have worked with Grant Melbye now for about 4 ½ years. Grant is a great business coach. He has helped me set and achieve both short and long-term goals. He is professional, friendly, and dependable. He has an exceptional skill of listening and then guiding me to find the correct path or paths to accomplish my goals. I highly recommend him as a business coach.

Janet, CPA, Arvada CO
Grant really helped me understand my value better. By changing the way I thought and presented my product I was able to get better customers and charge what I should be. I used to think, how much is this going to cost me? (I thought that about Grant too) but now I ask how much is it going to make me? Looking back at the numbers, Grant's services didn't cost me anything because I continue to make far more than I pay him. I always look forward to our sessions.

Jason, Business Owner, Brighton CO
Working with Grant has made a big impact on my life both personally and professionally. I was hesitant to get a coach for a long time because I didn't think they would really understand my business but after a few years of struggling to just get by, I took the chance. Grant helped me see that I was standing in my own way and got me back on track. He helped me get passed my excuses and do what needed to be done. He also took the time to help me understand not only what I needed to do, but why I needed to do it. I really appreciate his approach of wanting me to really understand my customers. Then I was able to take his ideas and apply them to my personal life too. Today I am doing better than ever thanks to Grant.

Brian Coldren, Entrepreneur