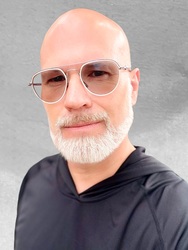 Harlan Snyder

Boulder, Colorado
Life Coach, Entrepreneurship Coach, Spirituality Coach
Certified Stress Management Coach, Certified Elite Life Coach, Business Management Degree
Are you a high achiever discouraged by a lack of fulfillment? Is it time to change your success strategy? With my C.O.R.E. Energetics System Reboot, I'll have you thriving and happy in no time!
Details

Boulder, Colorado 80301
Gender: Male
About Me
I coach fun, success-minded entrepreneurs, business leaders, and high performers who have worked themselves into a lack of fulfillment and need to reboot their life with a sustainable success strategy.
Are you consumed with your quest to achieve career or financial success? Do you find yourself choosing between work and family? Don't have enough hours in the day to focus on other important life-goals?
Have you sacrificed your health, happiness, or your integrity to get ahead?
Are you living on autopilot and feel disconnected, numb, or burned out? Are you stressed and anxious…can't remember the last time you felt happy, peaceful, and fulfilled?
It doesn't have to be this way. You can be a high achiever and create a more sustainable sense of well-being.
The reason you don't have it now is because you've put your focus on external aspects of success and you've failed to align your choices with your core values.
This is where I come in. I coach you to create a heart-centered, holistic life practice that syncs all aspects of your life. We look at what matters most in your life, and then we systematically manifest that into your reality.
My clients tell me they feel a freedom and peace they've never felt before. A calming assurance that comes from knowing themselves intimately, and understanding it's about making intentional choices.
After working through my process, they've developed skills to recognize which of their choices are truly important, creating a life of balance and fulfillment.
Having spent decades in corporate leadership roles, my life had all but disintegrated. Anxiety, depression, stress, health issues, and a broken family pushed me to my limits.
That's when I got serious about my choices and where I was headed. After successfully restructuring my own success, I knew it was time to help others do the same.
As a Success Coach, I've guided and uplifted people from all walks of life for over 7 years now helping them manifest their optimal life.
Reviews
7 reviews (5.0)
"I've struggled with low self-esteem all my life. It has affected almost everything I do, including work, marriage, famiy, and my personal choices. Thank goodness I found Harlan! We talked and he told me he could help me build my self-esteem. Over the past 12 weeks I can't believe all that I have learned. I now know how to deal with criticism, ask for what I want, and not give into the bad thoughts I used to have about myself. Even my boss and my wife have noticed a big difference! If you are struggling with low self-esteem, you have to work with Harlan. He really has helped make such a positive difference for me."

Tyler J. *****
"When I started working with Harlan, it was to assist me in the progression of starting a new business. I knew nothing of coaching, but met him through a friend. He utilized 8 guided visualization as well as some self-work, that helped me see exactly what it is I wanted from my business as well as how to make conscious choices to get there. He provided the tools, support and encouragement necessary to unblock my negative perceptions and energy and eliminate my limiting beliefs. In working towards these business goals I have learned a tremendous amount about myself. I didn't realize that my behavior patterns were affecting both my professional life as well as my personal life. While exploring and committing to make the best of one, I was gifted with improvement in all aspects of my life. So in improving my business and career, I have inadvertently created a more fulfilling and authentic life for myself and my family. I finally feel I am who, and where I should be. It is such an overwhelming and liberating feeling. My business is growing and on track, and I am doing what I love. The personal growth and discoveries have allowed me to experience relationships, both professional and personal, on a whole new enjoyable and enriching level. Harlan provided a safe, non-judging, compassionate, and insightful environment that allowed me to explore, experiment, and discover who I was truly meant to be, and I cannot thank him enough!"

Tanya H. *****
"The best choice I made was to schedule the two hour coaching session with Harlan. He really made me feel comfortable and I was able to open up and really take a good look at myself without feeling judged. I can't believe how much I've learned about myself and all the self-imposed negative thoughts that have been holding me back. I am more confident in my choices and don't have to feel overwhelmed with the stuff life throws at me. I'm more focused and feel empowered. The sessions weren't always easy and I felt like giving up sometimes, but Harlan always reassured me that I could and would be successful if I stuck with it especially when my challenges were really tough to work through. I'm so glad I stepped out of my comfort zone to realize my true potential. Thank you, Harlan, for helping me to change my life so profoundly. I'm so grateful to have met you and worked with you. I would definitely recommend Harlan and Ohm Energetics to anyone searching for a life coach."

Mandy B. *****
"I have enjoyed my sessions, I now have more focus, direction, and am more confident."

Anand B. *****
"When I hired Harlan I wasn't sure what to expect I just needed a radical change in my life... after being only half through the sessions I can't believe how much more aware of my beliefs, values, patterns, emotions. Harlan helps me change my life step by step and I'm so grateful!"

Audrie M. *****
"I met Harlan last year at one of his seminars he offered. I don't usually attend these types of thing but I was in a huge transitional time and it looked interesting. I can't imagine (and I don't want to) the path I would be in right now if it wasn't for Harlan. I'm guess broken and unfulfilled would come to mind most quickly. The lessons that I have learned with him have been life changing in a way I wouldn't have imagined. I am so thankful to him for the guidance and patience I have received over our sessions. Now my older children are starting their sessions soon as well so that they can start their adult lives with their own knowledge of how to achieve true happiness and purpose. I refer him to anyone looking for more direction or purpose from their life. I couldn't be happier with all of the work and energy he has put into my process!!"

Jessica D. *****
"Harlan Snyder's Ohm Energetics program has greatly enriched my daily life. His professional caring approach has helped me unlock the tools to live authentically and deliberately. I highly recommend this program for anyone who wishes to take control of their life and realize their fullest potential."

Sarah L. *****
The Smart Way To Find A Coach

1 Describe Your Goals

2 Get Matched

3 Free Consultations
Find My Ideal Coach Now