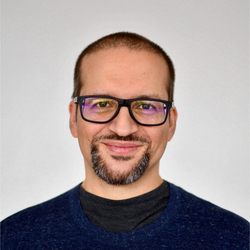 Hugo Breton

Burlington, Ontario
Business Coach, Executive Coach, Entrepreneurship Coach
Certified Business Coach by ActionCOACH
Are you a growth-driven business leader who struggles with new client acquisition, burnout or creating a culture that attracts top talent? I'll be your unreasonable ally to help you level up!
Details

Burlington, Ontario L7S 1T7
844-425-8661
Send Message
Visit Website
Hourly Rate: $180 to $1,000 Canadian Dollars
Gender: Male
About Me
I help business owners, executives or entrepreneurs in video games, technology and professional services who struggle with new client acquisition, burnout or creating a culture that attracts, retains and develops top talent.
Do you want to build a business that works well even when you're not there? Are you looking for creative and cost-effective ways to generate leads for your business? Do you want to create a company culture by design? Are you tired of spending too many hours in your business and not seeing the expected results?
It doesn't have to be this way. The ActionCOACH system is used by over 15,000 business leaders working with 1,000 coaches across the globe to build businesses that yield massive results. This is where my coaching comes in; I will be your unreasonable ally by bringing you business knowledge, focus and accountability. My clients constantly tell me I help them reach clarity on their goals and structure complex problems while making them feel at ease. After working through my Company Build Guide program, which we adjust to their budget, desired speed and accountability, they have a new toolkit for growth.
I am a Certified Business Coach and the Managing Partner at ActionCOACH Halton and have over 20 years of top management experience. I began my career as a business consultant at McKinsey & Company, leading transformations in the Americas and Sub-Saharan Africa. I later joined Citibank, where I implemented new marketing and retail banking processes. I led the Latin American operations team for Riot Games, supporting the most popular online video game and the launch of four new titles. I began my entrepreneurial path as a freelance resume writer and career coach, helping many professionals find their next big adventure. I co-founded Octhopus, a virtual assistant platform with social impact.
I hold an MBA and an M. of Eng. in Manufacturing from the University of Michigan. I love writing, reading, movies, music and video games.
Reviews
3 reviews (5.0)
Hugo is an absolute pleasure to work with. He is extremely knowledgeable and really shows that he cares about your success. He takes the time to explain concepts thoroughly, and helps you find solutions yourself, making them that much more effective. I would recommend Hugo as a business Coach to anyone looking to better themselves, their practice or their business in any way!

Janina Soup Company
Through the Halton Region - our company was awarded a grant for business development - by which we have had the privilege of consulting with Hugo Breton from ActionCOACH. We focused on the optimization of our processes and strategies. In my experience, I have found Hugo to be an exceptional listener, upon addressing our immediate concerns with the business - Hugo has always delivered with amazing feedback that has opened new doors for our business! It is so exciting to work with Hugo I think his unique background adds tremendous value to what he could provide for your company. If you are in the position to scale your business and are seeking professional business coaching - I strongly recommend the services of Hugo Breton from ActionCOACH. Thank you all, it's been my pleasure to leave you this review.

Fred - DetailGuys.Ca
Hugo is not only a clever coach who knows how to tackle the important things that are in the way of an entrepreneur, but also someone who understand the hardships and doubts of the journey of becoming one. Thanks Hugo for your advice! I recommend Hugo extensively.

Susana Silva