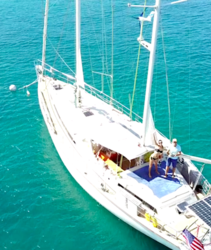 Isabelle Powers

San Diego, California
Performance Coach, Business Coach, Life Coach
MBA, Certified Professional Coach, Neuro-linguistic programming (NLP), UC Berkeley "The Science of Happiness"
My ideal client is a young career woman motivated to take her life and her career to the next level. Positive, energetic and ready to enjoy the ride and reap the benefits.
Details

San Diego, California 92101
Send Message
Hourly Rate: $95 to $200 US Dollars
Gender: Female
About Me
Unusual profile picture, right? I know. Because I do what I like or love and Sailing and coaching others are among those things. Currently I'm cruising around the world. I want to be living proof that you can have your dreams come true.
Reviews
10 reviews (5.0)
I was distracted and confused about what direction to go with my practice when I started working with Isabelle. I was scattered and unsure what my priorities should be going forward. Through Isabelle's tough questioning and purposeful approach to coaching, I found a new focus and path that feels comfortable to me. I got my 'mojo' back and now I'm excited and moving forward every day.

Edward Aldama, Phoenix, AZ
Isabelle is a very talented career coach, she has experience working in a corporate world as well as being a small business owner, so she has great perspective and understanding of the both worlds. From the very first session she helped me put a plan together for seemingly small actions I needed to take, and that brought great results. She was very patent listening to my challenges and helped me figure out the underlying causes for my confusion and inability to follow through on things I needed to do. If you are looking to improve professional or personal area in your life, I would highly recommend to talk to Isabelle, you'll be surprised how effective it is to hear different perspective and having a professional to help you to overcome your challenges.

Katya N., Real Estate Broker
Isabelle has been instrumental in helping me with a key point in my career, and life. After only a couple sessions she helped clarify a crucial decision in the different career paths I was considering. Since then, I have moved forward with confidence and a clear action plan, and best of all, have seen excellent results. She has a very straight-forward and direct style, but is always motivational and inspiring. We continue to make great progress and I'm grateful for Isabelle 's coaching. If you are considering Executive Coaching, I can't recommend Isabelle enough.

Todd Walsh, Digital Marketing Executive, San Diego
I have had a terrific experience working with Isabelle! Before we started working together, I was doing well with my business, but was also extremely busy and so it was a constant struggle to make sure that other parts of my life weren't getting neglected (like my health and my family), and also that I wasn't missing opportunities in my business as well. It's very easy to get so busy doing something that works that you miss seeing something that would work even better! Within the first three months of working with Isabelle, and very much as a result of her clarity and accountability, I had taken significant ground in all three of these areas of my life. I started going to the gym and invested in working with a personal trainer, something I had never done before. I created order out of chaos in an area of my home -- my attic -- that had been a source of irritation for several years. Now my attic, which had been so full of junk and disorder that you could hardly walk, is an organized and usable space that just makes me happy every time I think about it. And in my business, Isabelle helped me to formulate and create a new proposal for a project that was accepted by my client and has resulted increasing my income by about 70%. I highly recommend working with Isabelle, she is a terrific coach and it's been a great pleasure to work with her.

Ann H., Sales Manager, RI
My name is Arman. I am 20 years old male. My story and therapy started when I realized that I was not that social person and had very few friends, but I believed that the reason for that was I am new in this country, and that was what I thought. Then I decided to make friends, but ? wanted to have a girlfriend so mostly tried to talk with girls, and that was exactly where I thought that there was a problem. Every time ? tried to talk with a person, especially a girl, I got nervous and scared. I was trying to figure it out what was my problem, I was feeling depressed, and it was bothering me till I met Isabelle. When I met with her and told her about my problem the first thing she said "You are not confident and think too much." She was very kind to me and told me that she can help me out but the important was she figured out my problem right away and she was right. Then we went out and talked for a long time. I was feeling very relax and comfortable myself with her because things she said made sense and were correct. Every day after, when I go to school or somewhere else, I tried to apply the things that Isabelle told me. I did not turn into a super confident guy, of course, but I really saw that I really think too much. My first step was making eye contact then little smile :). Some of them smile at me back and some of them did not but I did not care because I was able to do that, and that was my goal. I found my confidence and bravery. My second step was, starting a conversation and being just who I am. I just expressed the feelings inside me, and you know what, girls liked it. They liked that sincerity and confidence. Furthermore, that confident also helped me out with my communication skills. I am able to go up and make presentation to a class very proudly and confident. I can express what I want or feel directly to the person who is facing me. My life changed and keeps getting better. I really understood that confidence is one of the key points in this life. Never give up, just look for the solution because there is one.

Arman G., student, San Diego
I'm so glad that I started this journey! Isabelle is very supportive, gentle and compassionate yet skillfully adept at helping me focus on what is really important to me, what stands in my way and what next steps I want and need to take to accomplish my goals. She is a great listener. I feel that my sessions with Isabelle are always productive and every time I leave it with more clarity what my next step should be in my life. She helps to remind me as well of my values and coaches me in a gentle but firm way. I recommend life coaching with Isabelle to anyone!

Sigita S. Data Analyst, San Diego
Isabelle is not only professional, but a great coach who cares about her clients. She quickly builds a great rapport that gives clients deserved confident in her abilities. Isabelle ensures that she understands her clients needs then works in an effective and strategic way to help them move towards success.

Cheryl Vinson, Opened Doors Coaching
"Isabelle Powers studied at World Coach Institute, at which I served as one of her Instructors. I found her to be skillful and innately sensitive in her ability to Coach both within her niche and outside of it. She is a very competent Coach who possesses the most important characteristics: skill/mastery over core competencies as recognized by the I.C.F., intelligence, an above average intuition, and a genuine caring. I feel confident her future clients will be well served by entering into a professional coaching relationship with Coach Isabelle."

Master Coach Tom Mueller, CMC, CHt Instructor at World Coach Institue
Isabelle was not only an excellent coach but I felt comfortable and safe with her very quickly. She was exceptional at leading me to see the core of the problem that I was facing and she did it with great sensitivity and ease. She opened me up to a new perspective that I had not considered, yet needed to, and it's made such a profound difference in my life! I highly recommend Isabelle. Her coaching is exceptional!

Jennifer - stay at home mom
Isabelle is an amazing coach. She is truly gifted, a perfect balance between strength and support. Her ability to truly listen and hear what I didn't even know I meant, was amazing. She coached me through some tough issues and brought me to great results on the other side. I am truly grateful for her dedication and support. If you are looking for a coach that will take you where you need to go, trust Coach Isabelle. My life personally and professionally have both benefitted from working with Coach Isabelle and I am happy to offer this personal recommendation.

Kimberly Davidson - President, Katalyst Change Managemen
The Smart Way To Find A Coach

1 Describe Your Goals

2 Get Matched

3 Free Consultations
Find My Ideal Coach Now