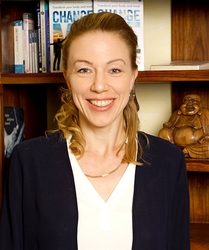 JASMIN WALDMANN

Gurgaon, Haryana
Life Coach, Entrepreneurship Coach, Health and Fitness Coach
NLP Germany, Gestalt Therapy, Positive Psychology, Diploma in Sports & Health
Are you a stressed, overwhelmed entrepreneur? Whether you want to become more successful, improve your wellbeing, develop yourself or work on your relationships, I help you to change in a simple way.
About Me
I coach stressed out, busy and overwhelmed entrepreneurs who want to balance a very successful business with their personal life and happiness.
Do you find yourself struggling with balancing your private & professional life? Do you feel you don't have enough time to get your work done? Do you feel like leaving everything and just take care of yourself, wellbeing and happiness?
Are you constantly stressed out of the never ending demands of your business and personal life? Does your doctor tells you to calm down and go golfing or meditate?
Does your thinking not let you sleep properly?
Do you have many arguments with your life partner, children or employees?
Do you feel not very happy since long time?
It doesn't have to be that way. You can have it all - a successful running business, more time for yourself, great relationships with your family members and employees, better health and being happy. The reason you don't have all these things now is that you have failed at set up a structure, limited your time and set boundaries in your life. All you do is to work on and in your business.
You say yes to too many people or things and you don't take enough time to take care of yourself.
This is where my coaching comes in. My "Change Me" program is all about setting boundaries, structuring and delegation. We start by looking at what really matters to you in all aspects of your life as well as business, then we systematically prioritise which ones matter most, and figure out ways to either eliminate or delegate the rest.
My clients tell me how calm and composed they feel after working with me. They know what truly matters in their lives and understand that it's all in the choices they make.
After working through my program, they've developed skills to recognise which of their activities are truly important.
I am trained in NLP, Gestalt Therapy and Positive Psychology. I also have a Diploma in Health & Fitness and 13 years of entrepreneurial experiences.
Reviews
3 reviews (5.0)
I found myself in a quite bad shape, both mentally and physically. I looked for somebody to help me to get fit, lose weight and even more important to make the necessary changes in my lifestyle. It was important that I can find somebody I can connect with. This combination seems to be really hard to come by. But then I found Jasmin!! She helped and taught me more than I would have believed is possible (or would have known how). When we started together, we had a full assessment together and set goals for the rest of the year. We then set continuously monthly or weekly goals with coaching sessions, highly personalised workout- and nutrition plans. Also I got always different ´homework` because of my life my coaching sessions. Jasmin has a way of keeping one motivated throughout and also helps through difficult or low motivation phases. She always helps me to keep focus. She always comes up with the right mixture to balance mind and body in a perfect way. This includes all aspects of my new lifestyle and mental health and truly finds an individual approach. This really worked well for me!! We have since then managed to achieve almost all set goals like 30 kilos weight loss and specific improvement of my fitness level. But more importantly she helped me to find a true connection between my mind and my body and make changes in my lifestyle that I simply did not see or did not know how to make. So in that sense we focused on a true transformation rather than make some forced short-sighted changes. I can say that it was the best thing that could have happened to me, to start working with Jasmin and I hope that we can continue for a long time!!

Svenja M.
Changing jobs is a critical decision and often plagued with uncertainties. However, Jasmin ensured that all my worries and queries were answered to my satisfaction and my interests were addressed. She helped me address and overcome my doubts. I benefited from my 6 sessions with her as I was able to make a strong decision with regard to finding a great company to join, negotiating a great salary package and transitioning into my new job smoothly. Thanks Jasmin, for supporting me.

Ayur Jain
Jasmin helped me deal with anxiety in a way I was never able to do by myself in the past. She helped me get a fresh perspective and after only one session with her, I was able to apply what she adviced me and feel the change. Jasmin's aproach is fresh and original and I beleive she can really help the ones in need.

Sahiba Grewal