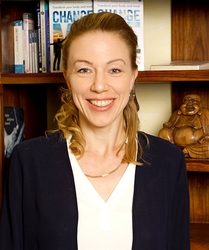 JASMIN WALDMANN

Dubai, Dubai
Life Coach, Leadership Coach, Health and Fitness Coach
NLP Germany, Gestalt Therapy, Positive Psychology, Diploma in Sports & Health
I coach and train middle age leaders, managers and entrepreneurs in the areas of wellbeing, leadership, negotiation, relationships, and holistic success.
Details

Dubai, Dubai
Hourly Rate: $200 to $250 US Dollars
Gender: Female
Training: NLP - Zentrum Berlin
About Me
I coach leaders, managers and entrepreneurs who want to thrive in leadership, become great negotiators, increase their happiness - quotient, become mentally, emotionally & physically health, reaching their monthly financial goals and become holistically successful.
Enough with struggling in your private & professional life. Create a different life for yourself and people around you. Have enough time to get your work done, and get the feeling that everything goes great in your life- in all aspects!
Life is too precious to feel constantly stressed, never ending demands and a to do list which is endless.
Does your thinking not let you sleep properly?
Do you have many arguments with your life partner, children or employees?
Do you feel not very happy since long time?
It doesn't have to be that way. You can have it all - a successful running business, more time for yourself, great relationships with your family members and employees, better health and being happy. The reason you don't have all these things now is that you have failed at set up a structure, limited your time and set boundaries in your life. All you do is to work on and in your business.
You say yes to too many people and you don't take enough time to take care of yourself.
This is where my coaching comes in. In my signature program I will help you step by step to create a life you are made for, a life which is extraordinary. I will help you to make decisions, show ways to become inner calm and composed, how to structure yourself, how to negotiate, how to lead other people and yourself successfully.
After working with me, you'll have developed all needed skills and gained many experiences, which will change your life forever.
Reviews
7 reviews (5.0)
Having one-on-one session with Jasmin has been a wonderful learning experience. I learned a lot from her during a leadership program on focus, prioritisation, team building, knowledge sharing, and thinking from different angles, like stakeholder perspectives. I was privileged to have had a chance to be coached by Jasmin Waldmann and can highly recommend her and her company.

DS Rawat, Delhi
After several months of professional and personal hardships, I reached out to Jasmin to help change how I felt about my situation and build some perspective. I have never worked with a life coach and wasn't sure what to expect. Jasmin was able to establish a connect very quickly, and that made the entire process very powerful. She designed just the right frequency, and the length of the program that suited me. For me, the sessions were activity based - that helped me reflect my current and past approaches, and helped me to realise a path forward towards my goals. Jasmin's sessions are depth focussed, yet enjoyable at the same time. She ensures that the sessions are action oriented with clear takeaways, and would also follow-up subtly to checkin on the progress made. If you are looking for a coach to un-block yourself, re-energize yourself or find support in your journey, all while having fun, then Jasmin is the coach for you!

Ankit Agarwal
Jasmins commitment towards her clients, her focus and great communication skills make her an exceptional life coach. She is very compassionate - not just towards her clients, but towards all beings - this is a feature which I believe makes her so successful at what she does. Jasmin exudes positivity and just a few minutes on a zoom call with her really lifts up my spirits and makes me stop and think before I act. Thank you for being a great coach and a friend.

Divya Parthasarathy
I had 6 sessions with Ms. Waldmann during a phase of professional and private overload. In a very short time, Ms. Waldmann understood how to engage with me and to develop solution strategies for my inner self-discovery, organization and joy in life. I am very grateful to Ms. Waldmann for the work she has done and can highly recommend her as a business and life coach.

Dr. Fernando D.
I found myself in a quite bad shape, both mentally and physically. I looked for somebody to help me to get fit, lose weight and even more important to make the necessary changes in my lifestyle. It was important that I can find somebody I can connect with. This combination seems to be really hard to come by. But then I found Jasmin!! She helped and taught me more than I would have believed is possible (or would have known how). When we started together, we had a full assessment together and set goals for the rest of the year. We then set continuously monthly or weekly goals with coaching sessions, highly personalised workout- and nutrition plans. Also I got always different ´homework` because of my life my coaching sessions. Jasmin has a way of keeping one motivated throughout and also helps through difficult or low motivation phases. She always helps me to keep focus. She always comes up with the right mixture to balance mind and body in a perfect way. This includes all aspects of my new lifestyle and mental health and truly finds an individual approach. This really worked well for me!! We have since then managed to achieve almost all set goals like 30 kilos weight loss and specific improvement of my fitness level. But more importantly she helped me to find a true connection between my mind and my body and make changes in my lifestyle that I simply did not see or did not know how to make. So in that sense we focused on a true transformation rather than make some forced short-sighted changes. I can say that it was the best thing that could have happened to me, to start working with Jasmin and I hope that we can continue for a long time!!

Svenja M.
Changing jobs is a critical decision and often plagued with uncertainties. However, Jasmin ensured that all my worries and queries were answered to my satisfaction and my interests were addressed. She helped me address and overcome my doubts. I benefited from my 6 sessions with her as I was able to make a strong decision with regard to finding a great company to join, negotiating a great salary package and transitioning into my new job smoothly. Thanks Jasmin, for supporting me.

Ayur Jain
Jasmin helped me deal with anxiety in a way I was never able to do by myself in the past. She helped me get a fresh perspective and after only one session with her, I was able to apply what she adviced me and feel the change. Jasmin's aproach is fresh and original and I beleive she can really help the ones in need.

Sahiba Grewal
The Smart Way To Find A Coach

1 Describe Your Goals

2 Get Matched

3 Free Consultations
Find My Ideal Coach Now