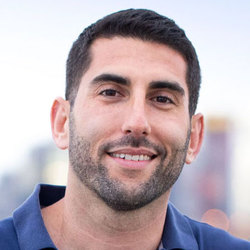 Jason Eisner

Los Angeles, California
Leadership Coach, Executive Coach, Business Coach
Finance, Psychology, Certified Master Business Coach, Certified Professional Life Coach, Psychological Safety Certified Coach
I help business leaders and entrepreneurs to build scalable, sustainable businesses through continual process improvement so they can experience more freedom, balance, adventure, and fulfillment.
Details

Los Angeles, California 90291
Gender: Male
About Me
You're a leader. An entrepreneur. You're chasing the dream of freedom -freedom to do what you love, to feel proud of your work and to make a lot of money. But that dream also comes with a huge set of challenges that rest mostly on your shoulders. Your time and attention are limited, and let's be real, you have some weaknesses that show up when you're under stress. With the blurred line between business and life, you're struggling to prioritize between health and money; personal goals and career goals.
That's where I come in.
Tom Brady has a quarterback coach, an offensive coach, a head coach, a speed coach, a strength coach, a nutrition coach, and a few more that rotate in and out. And while you might not be the G.O.A.T. in your sport, you are definitely someone who wants to perform at the highest level on a consistent basis while also enjoying the journey.
I'm a Master Business Coach with 10+ years of Operations leadership in Financial Services, Tech, Advertising and CPG. I've coached top-performers including CEOs, Olympic athletes, and TV stars. I've also had incredible coaches myself. I've battled depression and self-limiting beliefs. I've traveled the world. I've overcome major setbacks. My passion is to help entrepreneurs live out your dreams and realize your full potential.
Everyone has specific needs, which means you need someone to truly listen to you and help figure out the best path forward and to break through challenges as they come up. My background in Entrepreneurship, Operations, Finance, Marketing, and HR helps, but it's my ability and desire to listen that will benefit you most.
Together, we'll:
Assess your business and personal life from a high level to uncover your biggest dreams,
Create a plan to get there
Take actions every week that keep you moving forward
My job is to guarantee that happens by getting you to realize the highest version of yourself and holding you accountable.
I offer a free 45-minute session to start, let's talk!
Reviews
16 reviews (4 verified) (5.0)
Jason is great - very smart and attentive, and feels like he is really on my side. In our first session we explored where I am currently, discussed some blocks I am facing and started a great visioning exercise. We also put together a plan for future sessions. I'd definitely recommend him!

Jack
I really enjoyed working with Jason. He is a great listener and analyses your information with great care and a strong understanding of your situation. He is to the point and very clear with his communication, guidelines and recommendations. I felt very comfortable working with Jason and highly recommend him for leadership coaching.

Morgan F.
Jason was excellent. I felt more organized and able to move forward after just the trial session.

Shlomo Vile
Before working with Jason I was mostly working in my business instead of on it. I wanted to step into the role of CEO and start to scale and grow but was having a hard time expanding. Jason helped me to refocus and create a clear vision of my goals & what I needed to work on in order to move in that direction. He helped me realize weak areas of my business that I need to work on and really gives invaluable business advise and suggestions. Most importantly he helps me stay on track on accountable which can be difficult for a solo entrepreneur. Since working with Jason my business has already transformed in just a few months. Ive really been able to step into the role of CEO, hire several contractors and grow my client base. The ups and downs of everyday business were very stressful before but now I feel can handle anything that comes my way and it wont set me back. For anyone thats considering working with Jason I would say its an investment for both your business and your life that you wont regret. Its really exciting to know that your ultimate goal is obtainable with hard work, focus and the right business coach!

Julie Fiedler
Jason To thank him for the past 2 years of my personal growth and career growth is an understatement. I cant articulate enough how secure and safe I felt when exposing so many of my deepest insecurities throughout the emotional journey of becoming the best version of myself. Jason not only helped me identify them he helped me heal and diminish them from my subconscious. A mentor, a life coach, a familiar old close friend, Jason is able to mold himself into the kind of person you may feel like you need in order to start that journey of healing. I realized I was replaying some of the same narratives in my head for years without even considering an alternative route for my thinking process. Jason helped me pinpoint the themes I was holding onto by transforming my way of thinking. With his advice I even started to notice painful stress points in my body start to alleviate and physically feel better. Working with Jason is an investment into yourself, your career development, your future, but ultimately into a place of healing and empowerment.

Michelle M
Jason is great! This was my first experience with a coach and I'm so happy with the results I got with him. He helped me narrow in on my long term goals and work towards smaller goals each week. I was able to send him projects I was working on between sessions and he gave me incredibly helpful and prompt feedback. He's easy to talk to and got me looking at my work from a different perspective.

Kirby Pallis
Immediately after I started working with Jason he was able to help me identify my goals, set realistic steps in how to achieve them and monitored my progress along every step of the way. He has a foolproof process in which he held me accountable while still playing the role of a mentor, friend, and my biggest supporter. I would recommend his assistance to anyone who has an objective, is truly willing to put in the time and Jason will help you get there. His expertise and drive was clear throughout my entire journey and in the end, I was able to achieve everything I want too.

Michael
I started working with Jason to mix things up, get new perspective on my goals, and set up some structure on how I would achieve them. Over the course of 8 weeks meeting with Jason felt very comfortable, conversational, and productive. I was able work with him to sculpt the coaching in a way that was beneficial to me personally and it did not feel like a curriculum from a template. Instead telling me what to do or how to do it, I was given tools, resources, systems and the confidence to approach challenges on my own and recognize obstacles easily. I achieved incremental goals and now have a set of tools to directly refer to when I approach new challenges. Jason was knowledgable, very open-minded, motivating and challenging. In the end I feel much more confident in my decision maker, I better understand myself and who I am, and I will certain continue to work with Jason on future goals.

Mike DiCola
Jason Eisner is nothing but an ally in business. Whether it's offering a helping hand personally, a guide map professionally, or a guiding light spiritually, he simply knows how do deliver the words you need to hear. In my time working with Jason as a coach and mentor, he has been able to push me better than any superior in command. Note I said PUSH, because that is what he knows how to do. Jason is not a coach that just sits by and allows people to make mistakes without acknowledging them and learning from them. He is a leader through and through with integrity and moral character well-beyond that which most experience in New York City. I would recommend a conversation with Jason to my closest colleagues and would hope my enemies never come into contact with him... or they might catch up!

Cody Merrow
Working with Jason, I was able to overcome my imposter syndrome and improve my management style and working relationships in my last job, helping to position me as a top performer and leader in the company. When I relocated to the West Coast and began my search for my next opportunity, he helped me to identify my strengths and use them to get an offer for the position that I wanted. With his encouragement and guidance, I was then able to negotiate a higher salary and benefits something that I have always struggled with so that I was finally able to secure a salary commensurate with my skills and experience. I cannot thank him enough for helping me reach the next level in my career.

Elise Parker
Working with Jason was one of the best decisions I made in my life. Through his guidance, I was able to change the way I look at the world. I always had the power in me to be happy and fulfilled, I just needed to change the way I think. Jason is extremely knowledgable with a variety of experience that easily related to my situation. After a few months working together, my business is booming, my relationships are the best they've ever been, I'm getting in the best shape of my life, and I've finally learned to accept my truest self and pursue my deepest passions.

Adam Frater
Where to begin. At every crossroads I faced while bringing my business to life, Jason was there to advise me, support me, and guide me on making the most intelligent, strategic decisions possible. With years of experience launching and running his own business, his knowledge and expertise was invaluable. He also happens to be one of the most calm and level headed people i have ever met, and helped keep me composed and focused during some of the more stressful times. His entrepreneurial spirit is contagious and motivated me to continue driving my business forward. Jason single handedly encouraged me to take my passion project from an idea to a business and I am forever grateful for his mentor-ship, guidance, and support every step of the way.

Lindsay
I'm an entrepreneur in the emerging tech space. After cofounding my second startup ContextGrid, I realized that there were things about myself, my relationships, and general leadership skills that could use improvement. Working with Jason, he was able to show me my strengths and my blindspots. He taught me how to fix these issues and guided me with list of tactics to change some of my nonproductive habits into good ones. Jason's coaching is invaluable. He gave me skills I could start using for immediately, which has greatly improved how I handle situations with my team, lead with confidence, and use my strengths to my fullest potential.

Charles Walsh
Working with Jason Eisner was an eye opening experience. Jason has the ability to smack you in the face with what you don't know, but more importantly has a great ability to lead you to water and allow you to drink yourself. I started working with Jason when I decided to leave my corporate job and become an entrepreneur. I had a great product and a big vision, but was lacking the confidence and know how to make it the success I knew it could be. Jason always pushed me in subtle but effective manners to do everything the right way and leave no stone unturned. Some areas that Jason effectively coached me on included: Website development, website analytics breakdown, ad creation, ad placement, ad testing, public speaking and effective branding. I would not be where I am today without his effective motivation and candid coaching

Jason Kraus
Jason is a highly intelligent coach who helped me become more effective working with others and more aware of how I operate on a daily basis. Jason allowed me to understand my habitual behaviors and subconscious thoughts that drive everything I do. In this way, his coaching is priceless, as I continue to utilize the principles that he taught me in multiple areas of my life, from professional to personal. He coached me to become more organized and efficient, focusing on the tasks where I provide the highest and most unique value, while outsourcing responsibilities that were previously time consuming. In this way, Jason allowed me to create a life where I am more energy efficient, happier, and more productive.

Ryan Schaffer
My experience with you has been extraordinary to say the least. When we first started our journey, I was skeptical but open to the idea of having a life coach. Ive known coaches before and have always been intrigued by the idea of helping someone better their lives, but have never taken the leap. I wouldnt say I was in a bad spot in my life but I knew I deserved a better one, as everyone does regardless of background. The life I was living was not the life I envisioned for myself. I was ordinary and felt myself slipping in to a stagnant lifestyle. What Jason did was simple, but its one of the best things anyone has ever done for me. We came up with it together. He just opened a door to a better life. Led me to a life of endless possibilities by opening my mind. Teaching me that most powerful thought in the world is not motivation, not determination, but DISCIPLINE. The discipline to instill small methodologies that may seem insignificant, but strung together are monumental. The discipline to believe that small wins aggregated over a period of time are larger than a Big one. As anyone who has studied finance knows, its compounding interest, but in your everyday life. If a good day is defined by one event, how could one possibly have a good week, a good month etc. Bad days are inevitably needed to balance life. To quote one of NY finest poets, Sunny days wouldnt be special if it werent for rain- 50 Cent. Now if a Good Day were defined by a series of events that you have total control of, for example: making your bed and brushing your teeth in the morning, then good days come more frequently and bad days are less and less frequent. If you make your bed and brush your teeth and spill your morning coffee you are technically still up 2-1. Throughout the day, you had a great lunch, got some work done and received an upsetting email. Still up 4-2. Have the discipline to appreciate the little wins and youll see how your mentality changes. I understand that things in life carry more emotional weight than spilling your morning coffee but you understand my drift. Jason knew exactly what buttons to push and how to hold me accountable for my actions. He knew what to say and when to say it. The reason he was effective in his method was again a simple concept. In our initial conversations, Jason simply LISTENED to what I was saying. He asked that I be honest with him and myself more importantly. Traditional coaches, by title, inherently think they have the right answers. Jason took knew he didnt have the right answers because him and I are very much different. He knew that my answers were hidden deep in own mind. He just showed me the path to them. By no means am I living the life I envisioned for myself but I know I am on the path to a better one. One that I deserve. Thank you Jason, for taking a leap with me. Looking forward to everything life will bring me with you as my trusted friend.

David Ayo
The Smart Way To Find A Coach

1 Describe Your Goals

2 Get Matched

3 Free Consultations
Find My Ideal Coach Now