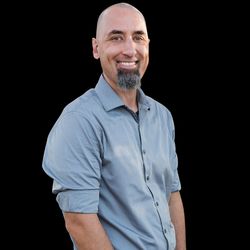 Jed Jurchenko

Alexandria, Minnesota
Relationship Coach, Christian Coach, Entrepreneurship Coach
Master of Arts in Psychology (MACP), Master of Divinity (MDIV), Certified Neuro-transformational Coach, Coach.me certified.
I support hardworking professionals in developing success habits, elevating their home life, and in moving forward with confidence. I've helped 100+ entrepreneurs gain clarity and pursue their goals.
Details

Alexandria, Minnesota 56308
Hourly Rate: $65 to $95 US Dollars
Gender: Male
About Me
Would you like to gain clarity, build momentum, and form new habits? Are you looking to grow your closest relationships while pursuing your goals? As your coach, I'll help you orchestrate a series of small wins, fast!
Hi, I'm Jed, and I am passionate about helping hardworking professionals, gain clarity, build success habits, deepen their closest relationships, and forge their unique path.
I'll provide you with practical tools and a common language for success—one you can apply to your business, relationships, and personal goals!
My clients are:
• Highly-motivated and eager to grow.
• Multifaceted—they want to succeed professionally, personally, and relationally.
• Looking for practical tools that bring results.
• I have a background in ministry. Many (but not all) of my clients are Christians. They want to grow their faith as they reduce their stress, gain clarity and insights, connect with their loved ones, and feel happier.
When you hire me, you get:
1. Access to my 20+ years of education and experience. I hold a Master of Arts in Counseling and Psychology (MACP), Master of Divinity (MDiv), and am a certified neuro-transformational coach.
2. I help my clients feel better, find clarity, gain new insights, and provide and a common language for success.
3. I specialize in making complex principles easy. I help clients gain momentum by developing tiny habits.
4. I'll help you examine all of you're options and choose the path that's best for you.
I've helped over 100 professionals clarify their message and take consistent action. I've also helped couples develop a closer relationship, and busy parents connect with their kids. I have a diverse background, love to help, and am here for you!
If you've got a trail to blaze, are ready to act, then this could be a great fit. I look forward to helping you reach your goals!
Reviews
11 reviews (5.0)
Jed is an amazing coach and is such an incredible encourager and support. He is easy to talk to and has great answers to questions. He is relatable and has a great in communicating with his students. He has a wealth of knowledge and experience. I throughly enjoyed working with Jed.

Michaela S. Cox
Awesome visit with Jed, I look forward to more

Mike R
I like coach Jed's passion and patience with his clients. He's also a very passionate book writer. Up to this day, I still remember and use the timed mind mapping technique I learned from him (great help!). I wish you all the best, coach Jed! :)

Edrian Madriaga
As a result of coaching, I was able to conquer some of the goals I had set to do. He first helped me set the priority of goals and then assist in questions I had regarding them. I'd recommend Jed as a coach because he has a tremendous amount of experience in what he does as well as integrity and he also cares about who he works with. Hope this is helpful to you.

Billie Woodruff
I had the privilege of being one of Jed's coaching clients during the writing and publishing process of my books. Jed helped me get past my limiting beliefs and mindset, and he was instrumental in helping me complete my book projects. As a result of his coaching, I was able to accomplish my goals of writing and publishing multiple books. Some of my wins as a result of Jed's coaching include becoming a #1 bestselling author and gaining confidence and success in the book publishing industry. I'd highly recommend Jed as a coach because he is one of the best at helping you get unstuck, keeping you motivated, and holding you accountable to accomplish your goals.

Anita O.
Jed was a great coach to work with. He really helped me gain clarity and direction on the project I was working on and used his experience to ensure I was successful. I highly recommend working with him!

Madison Gonzalez
Jed was a phenomenal coach for me! I'm very grateful for his knowledge and expertise. What I appreciated most from our sessions was how he was able to take the entire project and then help me break them down into practical very doable steps. Jed gave clear, direct feedback that helped me to move forward in a way that felt easy. I was writing a non-fiction and I had so many ideas and concepts. I was worried about whether my ideas would fit the market, but Jed was able to set a proper framework and that really helped me to stay on track. It's amazing that I could get all my writing support, questions about publishing, and marketing, all through one person. I highly recommend Jed if you're considering a coach to help you with writing, publishing, and marketing a book successfully. Also, Jed's written and published over 15 books, so he's clearly experienced!

Phi Do
Jed and I did a coaching agreement for completing and publishing a #1 Bestselling book. With his guidance and my actions we accomplished this together in under 90 days! It feels great to be a published author, but I don't know if I would have been able to figure it out without him. Thank you, Jed! *You can find my book (From Chains To Saved) on Amazon ;-P

Adam G
Jed is a phenomenal coach! He has a wonderful positive personality, he was able to understand my project, vision and needs clearly. He was passionate about working with me and provided me with really valuable guidance. Jed not only helped me to get through my blocks and achieve my outcomes but he positively encouraged me when challenges popped up. As a result of Jeds coaching I was able to get my idea of a book into an actual book. I was able to learn how to improve the skillset I already had as well learn new tools to create an amazing outcome. Jed has the ability to really see your vision and provide you with clear and effective strategies to get you there. I highly recommend working with Jed. He is full of passion, awesome skills and very personable. A true assett to anyone wanting to create amazing changes! Thank you Jed! Kalí

Kali Alfaro
As a result of Jeds coaching I was able to self-publish my first childrens book on Amazon and IngramSpark. He walked me through the launch process that got my book listed as a best seller in several categories and got me more than 50 reviews! More important than the outcome however, was the quality of coaching I received. Jed was very kind, patient and perceptive, making the process enjoyable all the way through. I am ever so grateful and definitely recommend Jed as a coach!

Venus Martinez Sharp
I am so grateful to Jed for helping me accomplish the goal of writing my first book. As a published author himself, Jed guided me through the process of narrowing the focus of my audience, and helped me to pinpoint what problem my book would solve for my reader. I'd recommend Jed as a coach because he is knowledgeable, positive and encouraging. I am proud of my finished product and much of the credit goes to Jed for his amazing coaching.

Mary H.
The Smart Way To Find A Coach

1 Describe Your Goals

2 Get Matched

3 Free Consultations
Find My Ideal Coach Now