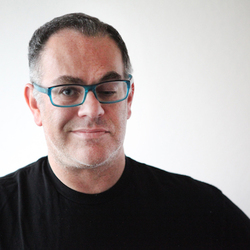 Jeff Leisawitz

Seattle, Washington
Life Coach, Entrepreneurship Coach
College prof, international award winning musician/ producer, distributed filmmaker, critically acclaimed author, NLP practitioner
I work with creatives—writers, screenwriters, songwriters, visual artists, designers, etc. + heart-centered solopreneurs— to laser focus, overcome fears, finish projects, find joy and earn money!
About Me
Jeff Leisawitz burns with a mission— to inspire and teach writers, artists, musicians, filmmakers, songwriters, solopreneurs, heart-centered businesses, entrepreneurs, organizations (and every other human with a heartbeat) to amp up their vision, tap into their potential and shine in the world.
Besides being a creativity coach, Jeff is an award-winning musician/ producer, a critically acclaimed author and internationally distributed filmmaker who has devoted his life to creativity.
As the guy behind Electron Love Theory, Jeff fused interviews with Seattle's WTO demonstrators into electronic music, garnering more than a quarter million downloads worldwide.
Jeff has released five studio albums and has landed thousands of music placements in film, TV and multimedia for clients like HBO, MTV, Discovery, Microsoft, NBC and many others. His album of electronic U2 cover songs has had over a million streams around the world.
As the founding writer for Seattle's taste-making alternative rock station 107.7 The End, he chronicled the alternative grunge scene in the 90s.
After training as a Life Coach and practicing NLP (Neuro-Linguistic Re-Patterning) Jeff landed a gig as an adjunct faculty member at Pacific Lutheran University— teaching college students to rock. (Seriously!)
His critically acclaimed book 'Not F*ing Around— The No Bullish*t Guide for Getting Your Creative Dreams Off the Ground' has helped many thousands of creatives move forward in their work and creativity.
Need help:
• finding focus
• reframing fears
• stepping out of your comfort zone
• dealing with your inner critic
• creating positive habits
• checking in with an accountability partner
• understanding your business and how to market it effectively
Click over to say hi to see how Jeff can help you more fully realize your creative and business dreams!
PS > Jeff LOVES coaching— empowering people to find the joy and truth in their creativity and work. And he wants to work with you!
Reviews
7 reviews (5.0)
Just like the title of his book, with Jeff as a coach you're 'Not F*ing Around.' He helped me with actionable steps to raise awareness of my author brand, challenged me to step out of my comfort zone, and move past the limiting beliefs holding me back. Thanks to Jeff, I'm writing more, staying focused, and bringing my creative dreams to life.

Marcus Lopés
Jeff is awesome! I learned about him through his mighty little book "Not F*ing Around". Jeff helped me to clarify my vision, get in touch with my deeper purpose, and get "unstuck" in my work on the debut album (now released!).

Sergey Ivanenko (www.AskingEveryone.com)
My experience coaching with Jeff is very positive. We met after I attended one of his in-person workshops and really appreciated his ability to quickly demonstrate actionable steps to move me out of my blocks. Since then, we've been doing online video coaching sessions and not only am I impressed with his willingness to meet my availability, but also with his genuine interest in my growth and success. The quality of connection that he builds is rooted in trust and respect. I feel seen, heard and understood. I know this is true because of how charged I feel after a session. I am motivated to accomplish what I say I want, and Jeff (with compassion) holds me accountable... and when I veer off path, he kindly holds up the mirror so I can see for myself that I've strayed. Those reflections are priceless.

verysheri
Just like a doctor doesn't heal you, but allows you to heal yourself, so too does Leisawitz. He will show you the problem - you'll stare at it together as if it was a flat tire. We cussed at the problem for a short while. Then, we made a plan that made sense and executed. It sounds simple and it is, but given the years of trying to "self-help" on my own, there's much much more going on here. In the end, results matter more than anything else and that's what I got.

Steve Butcher
My first coaching experience with Jeff was amazing. He is so patient, which I find extremely helpful since I can get easily frustrated. He asks you questions that you know you need to be asking yourself and helps you reach deep within to find the answers. I always come away with more insight and aha! moments. If clarity, and encouragement is what you seek, then I highly recommend working with Jeff. He's a down-to-earth light worker, with a peace giving hippie vibe.

Jenae
I've worked with Jeff on and off for years because he is a reliable source of positivity, creativity, and compassionate leadership. When I am struggling with challenges in my personal life or in getting my gusto back for running my business, I schedule a sesh with Jeff. I am always inspired by his creative ideas for how to make the world a better place. And when I say a better place, I mean a place to NFA in. A place where dreams become reality. Thanks Jeff!

Jen H
Jeff helped me stay accountable with business help and creative wisdom. Hes especially amazing with mindset work and helped through the fear while I seriously up leveled my business and launched a course. Hes the real deal if youre ready to realize a big dream.

Nichole Crawford